Both works added in 2016 to the collection.
"Marius Bercea (b.1979) was born and grew up in Cluj, Romania, where he still resides. Following from the 1989 Romanian Revolution, Bercea experienced the shift from Communism into a Capitalist free market economy. The artist's practice is coloured by this moment in time, when polarised ideologies collided and the stark divisions between East and West softened. Deriving from this context, modernist architectural forms have continually pervaded Bercea's pictorial space, seeming science fiction-like in their extended imaginative potential. Signifying histories of both liberation and oppression, colossal structures originally intended by the likes of Le Corbusier for modern urban living are represented as having been corrupted by post-war fascist regimes to signify state supremacy. The artist's works are highly distinctive, as memory, recollection and reality seemingly merge upon the canvas' surface giving rise to a visual sensuality that has made Bercea one of the leading artists of the Cluj School.
Bercea has also been described as one of the strongest colourists of his generation. Colour is applied with force: a flash of orange or a scrape of ochre butts up against an energetic mix of vibrating vivid greens; a lick of sumptuous brown is delicately laced with a dappling of white. Bercea understands the impact of the push and pull necessary to make a painting resonate. Fast-paced strokes are offset with steady washes and the consistency of his paint is varied; thin translucent areas are complemented by thick opaque mark making. At times buttery and fully suspended, at others sand-paper dry, his grounds are as interesting to examine close up as from a distance.
The artist's most recent paintings are born out of Bercea's travels from his hometown of Cluj, through the rural landscape of California and into Los Angeles. A series of psychological and sensorially-rich encounters that weave through time, space and memory. With a pastiche of iconic motifs recognisable from both Romanian and American cultures, canvases depict landscapes of colour and concrete which oscillate between suggestions of utopia and dystopia. The topographical regions of Transylvania and California merge; the city of Cluj and its surrounding Carpathian mountains converge with sun-soaked environments, from the lonely Mojave desert to Hollywood's hills and bright lights.
While socio-political references clearly influence Bercea's practice, the artist presents himself as an emotional observer of the effects of the consumerist phenomenon. Often verging on the surreal, Bercea combines sublime visions of the natural world with the jarring electric lights and sprawling architecture of urban developments. Vibrant landscapes slip in and out of immediate focus as urban life is conveyed in a wash of dynamism and transience – fluctuating between the utopian and dystopian, between flux and stasis – thus blurring the boundaries between reality and imagination."
Das waren die Worte seiner Gallerie. Ich füge mal meine eigenen an….
Marius Bercea fügte ich schon 2016 in meine Sammlung hinzu und dennoch habe ich die Werke kaum gezeigt. Zeit das nachzuholen. Marius lernte ich im Frühjahr 2016 in Cluj kennen als einer der vielen Künstler, die die Fabrica de Pensule als Atelier nutzten. Bei einem Abendessen wurde er mir vorgestellt, dennoch war der erste Kontakt eine Verwechslung. Eine meiner Gehirnwendungen legte Marius beim ersten Kontakt als örtlicher Reiseführer an, vielleicht weil er der englischen Sprache so mächtig war, was in Rumänien auch heute noch nicht selbstverständlich ist. Spätestens beim Atelierbesuch klärte sich dieser Irrtum auf und ich war peinlich berührt, denn den vermutlich damals schon renommiertesten Maler der Cluj-Gang kannte ich nicht. Damals bereitete er eine Vielzahl von Werken für eine Ausstellung bei Ghebaly in Los Angeles vor. Die Show war ein echter Triumph und ich war damals schon ziemlich geflasht von seiner profunden Art mit Farben zu arbeiten. Damals fügte er Acryl in seine Ölwerke ein und erreichte ein neues Farbenspiel, dass die Eindrücke seiner Kalifornienbesuche verarbeitete. Neon und Halogenfarben fügten sich ganz neu in die vorher sehr düsteren Werke. Seine Motive spielten nicht mehr soviel mit der sozialistischen Vergangenheit, er entwickelte Phantasiearchitekturen und vermischte Eindrücke seiner direkten Umwelt mit denen der eigenen Vergangenheit, Träumen oder aber kalifornischen Settings. Marius war enorm produktiv und in seiner Persönlichkeit war damals Angst ein beherrschendes psychisches Motiv. Die Zeit vor dem Kollaps des Regimes erschien in der Nachbetrachtung wie ein Alptraum, Marius Familie lebte in politischer Isolation und fürchtete die Repressionen der Securitate. In späteren längeren Gesprächen begriff ich erst, welche Narben dieses Regime hinterlassen hatte und dass Marius damalige Überlegungen, vielleicht auszuwandern oder in der Schweiz zumindest Geld in Sicherheit zu bringen, von echter Angst getrieben waren. Diese Angst ist erst nachvollziehbar, wenn man wie er den Kollaps eines Systems erlebt hat. Auch beschäftigte ihn die nahende Geburt seines ersten Kindes, ich versprach ihm dass die Geburt seines Sohnes ihm nicht nur einen neuen Horizont eröffnen würde, sondern die Zeit ängstlichen Grübelns positiv reduzieren würde.
Ohne ihn persönlich jüngst wieder getroffen zu haben sehe ich schon an seinen Instagramposts, wie vernarrt er in seinen Sohn ist und wie ihn auch der Erfolg in gewisser Weise beruhigt hat und eine neue Phase auch künstlerisch einleitet. Die ersten Werke erstand ich dann im April 2016 in London bei Blain/Southern, letztlich auch durch den freundschaftlichen Kontakt zu Adrian Sutton (Direktor), der ein unheimlich netter und interessanter Gesprächspartner ist. Die ersten 2 Werke sind die Ölarbeiten "1986" (verarbeitet die Tchernobylkatastrophe) und "Untitled", welches nicht nur den typischen Himmel über Cluj in seiner Farbenpracht präsentiert, sondern auch viel über ihn als Künstler erzählt in der Darstellung einer sozialistischen Phantasiearchitektur ("build to enslave people, not to free them"). Marius zählt zu den bedeutendsten Colouristen seiner Generation und im Kontakt mit den Originalen wird klar, wie sich die Wirkungskraft dieser Farbpalette auf den Betrachter auswirkt.
Marius hatte mittlerweile die Fabrica verlassen und ein neues Atelier in einem Altbau bezogen, dass ihm mehr Ruhe und räumliche Ausdehnung für seine intensive Arbeit ermöglicht. Seine erste Retrospektive in Cluj 2017 "A Full Rotation of the Moon" illustrierte seine ganze Schaffensbandbreite auch auf Papier und ohne Öl. Im Februar 2018 erwarten wir eine neue Show in Berlin, ich bin schon sehr gespannt und voller Vorfreude!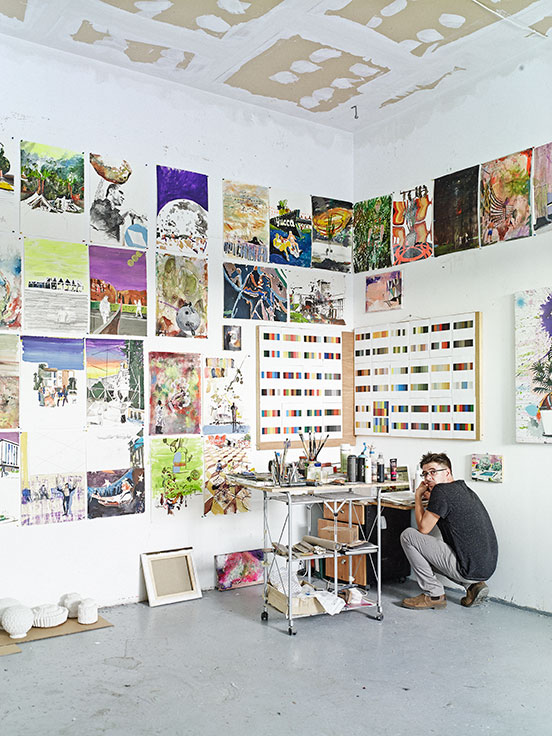 CURRICULUM VITAE
MARIUS BERCEA
1979, Born in Cluj-Napoca, RO
Lives and works in Cluj-Napoca, RO and Los Angeles, USA
EDUCATION
2005
M.A., University of Art and Design, Cluj-Napoca, RO
2003
B.A., University of Art and Design, Cluj-Napoca, RO
SELECTED SOLO EXHIBITIONS
2018
Time Can Space, Blain|Southern, Berlin, DE (forthcoming)
2017
A Full Rotation of the Moon, Muzeul de Artă Cluj-Napoca, Cluj-Napoca, RO
2016
(On) Relatively Calm Disputes, François Ghebaly Gallery, Los Angeles, US
2014
Hypernova, Blain|Southern London, UK
2012
Concrete Gardens, François Ghebaly Gallery, Los Angeles, US
2011
Remains of Tomorrow, Blain|Southern, London, UK
2010
Qui Vivra Verra, François Ghebaly Gallery, Los Angeles, US
2009
Time will Tell, Chungking Project, Los Angeles, US
If Through the Copper Woods You Pass, Eleven Fine Art Gallery, London, UK
2008
Shorn lambs fall behind, Mie Lefever Gallery, Ghent, BE
Under 18, H'art Gallery, Bucharest, RO
Yellow Side of Glamour/Melted Guidelines are passé, Contemporary Gallery of Brukenthal Museum, Sibiu, RO
2007
The Games we Played, Eleven Fine Art Gallery, London, UK
Lapte Gros and Stuff Like That, H'art Gallery, Bucharest, RO
2006
Soft Snapshot with Gentle Atmosphere, Mie Lefever Gallery, Destelbergen, BE
It was Supposed to be so Easy, Contemporary Art Museum and K.O.K.E.M. Gallery, Miercurea Ciuc, RO
SELECTED GROUP EXHIBITIONS
2017
The Wanderers: Contemporary Painting from Cluj, Richard Taittinger Gallery, New York, US
2016
SEE Art Gates: States of Reality, 17th Art Biennial, Pancevo, RS
2015
The Mapmaker's Dream, Haines Gallery, San Francisco, US
Appearance and Essence, Timisoara Art Encounters, Timisoara, RO
Objects of desire, Sabot Gallery, Cluj-Napoca, RO
Young Collectors 2, Elgiz Museum of Contemporary Art, Istanbul, TK
Love: The First of the 7 Virtues, Hudson Valley Center for Contemporary Art (HVCCA), Peekskill, US
2014
Deface, Boulder Museum of Contemporary Art (BMoCA), Colorado, US
The Romanian-Bulgarian Union. A Retrospective, Part of Salonul de proiecte Curatorial Program at
National Museum of Contemporary Art Bucharest, Salonul de proiecte, Bucharest, RO
The Art School of Cluj, Województwo Małopolskie, Kraków, PL
Between Worlds, Galerie ISA, Mumbai, IN
This Side of Paradise, S2, London, UK
2013
Hotspot Cluj – New Romanian Art, ARKEN Museum of Modern Art, Ishøj, DK
2012
Crossing Cluj, Art Market Budapest at Millenaris Cultural Center, Budapest, HU
Nightfall, MODEM Centre for Modern and Contemporary Arts, Debrecen, HU; travelled to Galerie
Rudolfinum, Prague, CZ
Referencing History, Green Gallery, Dubai, AE
European Travellers, Mucsarnok Kunsthalle, Budapest, HU
Art Los Angeles Contemporary, Los Angeles, California, US
2011
Selektionseffekte, Blain|Southern Berlin, DE
Palets, Galerie Barbara Thumm, Berlin, DE
2010
No New Thing Under the Sun, Royal Academy (RA), London, UK
After the Fall, Hudson Valley Center for Contemporary Art (HVCCA), Peekskill, US; travelled to Knoxville Museum of Art(KMA), Knoxville, US
Mircea Pinte Collection, Cluj Museum of Art, Cluj-Napoca, RO
2009
Close to Home, Galleria Davide Di Maggio, Milan, IT
Invisible Body, Conspicuous Mind, The Luckman Fine Arts Complex, Los Angeles, US
Prague Biennale 4, Prague, CZ
2008
Memorials, Laika Art Space, Cluj–Napoca, RO
7 Parallel 7, Museum of Young Art, Wien, AU
Under Natural Circumstances, MODEM Centre for Modern and Contemporary Arts, Debrecen, HU
15 Hungarian and Romanian Painters, Plan B Gallery, Cluj-Napoca, RO
2007
PLUS 2, Museum Kuppersmuhle fur Moderne Kunst, Duisburg, DE
Donau Donumenta, Regensburg, DE
2005
I Love Pictura, Under Construction Space, Continental Hotel, Cluj-Napoca, RO
Blackout, H'art Gallery, Bucharest, RO
2004
Maps Without Roads, KKL Art Center, Luzern, CH
Air-Bag, National Art Museum, Cluj-Napoca, RO
2003
Re-location, Casino de Luxembourg, Luxembourg City, LU
SELECTED PUBLICATIONS
2015
Charlotte Mullins, Picturing People: The New State of the Art, Thames & Hudson, London, UK
2014
Michael Bracewell et al., Exhibition Catalogue, Blain|Southern London, Marius Bercea
2013
Antawan I. Byrd, Cities of the Future: 21st-Century Avant-Gardes, Phaidon, London
Stine Hoholt, Dorthe Juul Ruggard, and Christian Gether, Ehibiton Catalogue, Ishøj, Arken Museum For Moderne Kunst, Hotspot Cluj: New Romanian Art
2010
Jane Neal, Exhibition Catalogue, Prague, Galerie Rudolfinum, Nightfall – New Tendencies in Figurative Painting
Jane Neal, Exhibition Catalogue, Debrecen, MODEM, Museum of Contemporary Art, Nightfall – New Tendencies in Figurative Painting
Marc Straus and Mihnea Mircan, Exhibition Catalogue, Hudson Valley Center for Contemporary Art, After the Fall
2009
Nicola Trezzi, Barbara Spinelli and Gea Politi, Prague Biennale 4/Prague Biennale Photo 1, Giancarlo Politi Editore, Italy
2008
Exhibition Catalogue, Debrecen, Museum of Contemporary Art (MODEM), Under Natural Circumstances
Exhibition catalogue, Wein, Museum of Young Art, 7 Parallel 7
2007
Exhibition Catalogue, Duisburg,Museum Kuppersmuhle fur Moderne Kunst, PLUS 2
Exhibition Catalogue, Regensburg, Donau Donumenta
Bazis, nr.1 January
2006
Open Studio, nr. 13/2006, January – March
2005
Exhibition Catalogue, Bucharest, H'art Gallery, Romanian Painters,
Open Studio, April-June
SELECTED ARTICLES AND REVIEWS
2016
"In conversation – Ali Banisadr and Marius Bercea", turpsbanana.com , Issue 16
2015
"Incadrare in atemporal, Despre Marius Bercea", Tribuna Magazine, March
2014
R.Francis, "Romania"s 10 Contemporary Artists and Where to Find Them", The Culture Trip, November
C.Albu, "A Brush with Cluj", Christie's Magazine, October
Zeenia F. Baria, "International artists showcase works in Mumbai", The Times of India, 7 July
V.Reshamwala, "State of Flux", Time Out Mumbai, June
J.Sam, "Marius Bercea paints Romanian Diary", The Asian Age, 18 June
J.Sam, "Marius Bercea paints Romanian Diary", Deccan Chronicle, 18 June
S.Nastac, "Marius Bercea – Hypernova", Arta Magazine, May
C.Gleadell, "Market News: Lowry lots fly", The Telegraph Luxury, 1 April
J.Wullschlager, "Critics" Choice – Marius Bercea: Hypernova", The Financial Times, 22 – 23 March
J.Wullschlager, "Critics" Choice – This Side of Paradise", The Financial Times, 15 – 16 March
A.Farrell, "The March Culture Guide", Vogue Blogs, March
A.Dymoke, "Romania Dreaming", City AM, Issue 10, February p. 10-11
2013
"Tíz kérdés: 08 – Hog y kezdesz munkához? Vannak szertartásaid?", Flash Art, September – October
J.Neal, "The Romanian Art Scene", L"Officiel Art, September
T.Ross, "Lovende rumӕnske kunstnere indtager Kobenhavn", Politiken, 22 July
2012
"Hit List", Modern Painters, December
"Green Art Gallery introduces the works of renowned eastern European artists to the region", Art Daily, 26 September
"What Lies Beneath: Painting and the Archeaology of Invisiblity", Flash Art, July – August
"Something New, Captivating and Disquieting" This Artweek. LA, Huffington Post, 22 May
"Marius Bercea "Concrete Gardens" on View at François Ghebaly Gallery", Art Daily, 25 April
2011
B.Iacob, "Marius Bercea at Blain Southern", Iacob"s Review, 11 November
R.Wright, "Marius Bercea", Studio International, 10 October
C.Milner, "Movers & Shakers", The London Paper, October
"Marius Bercea: Remains of Tomorrow", The Week, 24 September
D.Grant, "Romanians of the Day", Art News, 10 May
M.Schwendener,"18 Journeys Forged in Communism", The New York Times, 14 January
2010
M.Maertens, "l'école de Cluj", artpress, May, p. 58
R.Unwin, "City Report", Frieze, March
2008
B.Iacob, "The good, the bad, the beautiful; schoolyard version" re-title.com
PUBLIC COLLECTIONS
ARKEN Museum of Modern Art, DK
Hudson Valley Center for Contemporary Art, US
Olbricht Collection, Berlin, DE
Space K Museum, Seoul, KR
Zabludowicz Collection, UK