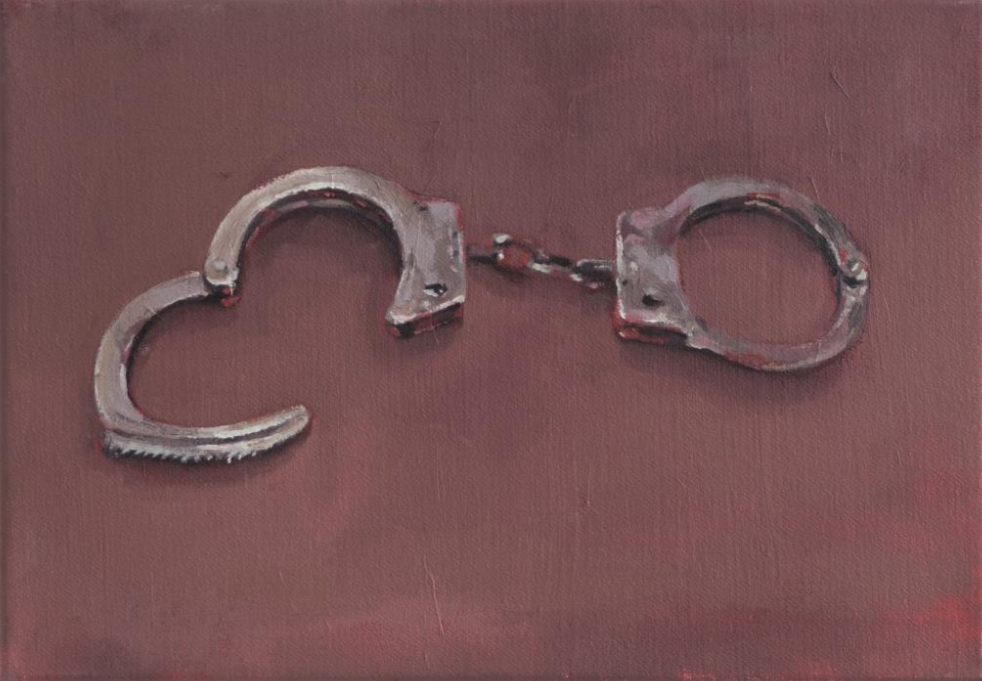 Ioana Iacob: Still Life (2011), Oil on Canvas, 29x42cm, added to the collection in 2018
There is a debate necessary on women in art. Always. "Do woman have to be naked to come into the met.museum?" the Guerilla Girls once asked on one of their feminist posters. Further one could ask, if something as a female approach to art actually exists. What do woman see or do differently than men, is there a certain quality to be seen? Or this this discussion already doomed since there cannot be such a difference, it is just the individual difference that is natural to humans. Woman are on the rise in many ways, in corporations, in politics and in art although it still is a long way to come to something like equality or sometimes even a fair treatment. For some now famous female artists like Yayoi Kusama it seems that the claim "To become famous when you are approaching your 80s" is rather typical, despite so many male artists having copied her work for decades and became famous along the way far earlier than her. So is there is glass ceiling to be destroyed first? Maybe the most mundane idea of male art is, that they themselves cannot have babies, so the natural ability of woman to reproduce therefore reduces their ability to create which is of course nonsense. It is far more obvious that power is with men in almost all societies and where there are more women in charge, the same applies for contemporary art. Reception, debate, this still is far away from being equal. Monika Sprüth founded her gallery in Cologne in 1983 and is maybe an exception since she quickly understood the importance of the question of female art for society and consequently switched the whole gallery program to female artists in 1985. Since painting was more or less dominated by men, many of these female artists chose photo, video or installation as a way to recognition. Jenny Holzer, Cindy Sherman or Rosemarie Trockel are now well known examples for this, however male domination continues in the art world. It is always a struggle to achieve your reputation in the art world, it still is more difficult as a gifted woman.
Ioana Iacob is one of the brave woman who tries to find her niche in painting today. It always takes guts! To me, Ioana is not only incredibly cool, she is incredibly reflected and self conscious, I guess stronger than most man, certainly of her young age. Born in 1987 she is the youngest generation that has emerged visibly from Cluj-Napoca (Romania). Some years ago she wrote: "Having an academic background in painting, my interest in the medium extends beyond simply deploying it and into passionately and, yes, affectionately question it, test it, play with it and try to understand it as a culturally informed mode of art, rather than just sensuous deployment of matter (although I still hold this to be one of painting's most touching charms). Therefore, I resort to both painting and installation to concomitantly glimpse at the forcefulness and the limitedness of the visual, to confront and tease the publics' socially generated expectation that art should provide sensual and mind-boggling illusion or enchantment."
Her work can be irritating – Ioanas works sometimes are appearing decorative, but that is not her nature, that is only "love at first sight". And which love succeeds at the second look? You have to have personality, you must have personality and you must be special which is always what I think of Ioana. While some painters like Ghenie, Victor Man or Marius Bercea are ten or more years older, she started almost after the height of the "Cluj hype" at the 2014 exhibition at Arkens museum. Some became superstars, others now have to fight off the new normality after the hype. Ioana is living the life of a young romanian in a struggling european union of 2018. Everyone is unclear about where Europe is going. In a nationalistic, cruel society In her education, she exposed herself to different approaches, even conceptual art, rejected a lot of it and some of these ideas when she tries to find scenes or uses a performance / enactment to find her motive. To me, Ioana is always very sensitive and precise about her subject, having a very analytical view on the subject matter. I particularly light the smaller sizes she uses, they have the same magnitude and power of larger canvas by other painters. The first look however can distract from her intention as a painter: Earlier works such as the ones she showed during 204-2016 contained pornographic imagery – that was sometimes viewed as "we saw this already", but thats simply not true – first, they were not at all pornographic; they rather asked questions back to the viewer, their curiosity, their understanding, their desire. This metalayer was achieved by a optical layer between the painted video screen and themselves, it appeared to be liquidious, almost like fog or even spearm.
Ioana was rather looking for the visual impact of pornography and erotic imagery as a falsely close and deceptive way to portray human compassion and relationships. Titles like "Friend Lover Sister Mother Wife" also ask the viewer to question for the roles we play in our life and the power as well as the responsibility that comes with it. "Soul Sanctuary" is as well deeper as what you would expect from a scene where you look at a screen in a unknown space, showing a woman sitting on a nude man. What does our soul experience during this practice and especially, can your soul survive this or is it harmed? As with some female artists like Rosemarie Trockel, you never know what art to expect from Ioana. You may expect something else and get something completely fresh and new then. Ioana is trying to innovate, not only experimenting with styles. Ioana Iacob is an acute observer of the human condition and exposes the most intimate and vulnerable moments. Through her choice of images, Ioana catches a person or its surroundings off guard and exposes their most inner soul. Ioana Iacob reveals an ambiguity in these scenes, and imbues them with a sense of intimacy in her more recent works, while conveying an almost nostalgic desire for honesty and truth.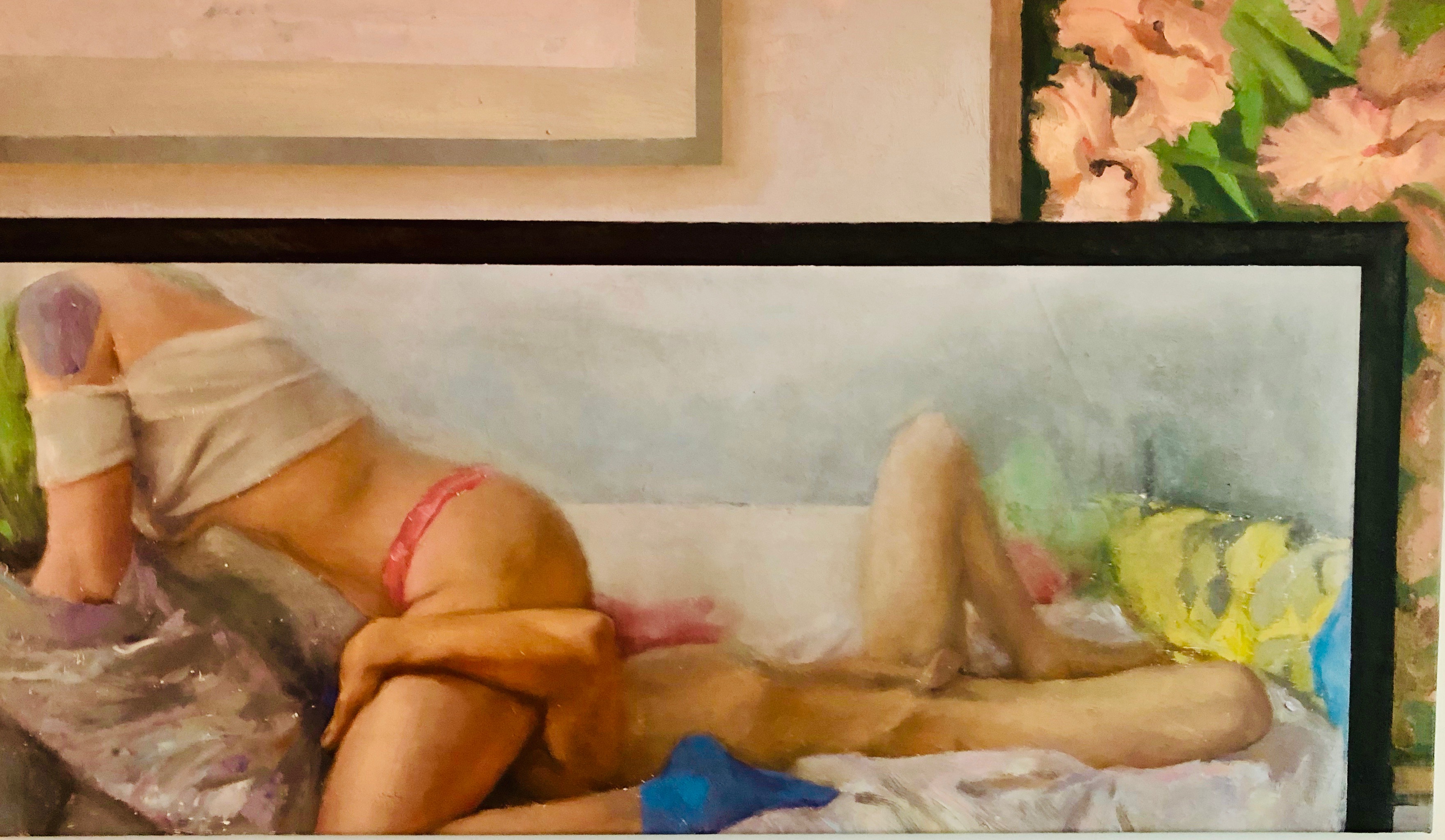 Ioana Iacob: Friend Lover Sister Mother Wife (2017) 58×100, oil on canvas.
The piece "Still Life" which I recently acquired is one of these very special still images she does from time to time. At first, you see very ordinary things, stuff you would sometimes not even consider to be worthwile looking at, let alone painting it. Ash trys full of old cigarettes, plastic bottles such the one I got in 2016 or her own palette. Still lives for masters are there to be a certain prove of skill, but as with any still life they also are a document of the time they were done in. While the scenes depicting sexual scenes can be seen as evident documents of sanguinity, these dead objects seem to stand in opposite to them (to genre painting). As a european tradition, "Still Life" always want to show a commonplace object in a very realistic (sometimes hyper-realistic way), but how common is a pair of "Handcuffs"? They are used in policing (security) but also could be viewed as a sex toy, an istrument of power. A sex toy is not the right word for a tool that wants to eliminate the freedom to move away meaning not to move away from a certain sexual treatment (do used as a fetish). What does thr viewer come upwith when he/she views a handcuff? In either way and as with many sexual scenes she indirectly always asks the question about power, maybe last but not least about the power of woman in society. "Still Life" revives the notion of still life, a tradition that has come almost to a total halt, in its most natural medium, painting and adding a contemporary allegory to the depicted object.
About Ioana Iacob
Born in 1987 in Zalau, she lives and works in Cluj-Napoca. Studied painting at the University of Arts and Design in Cluj where she is currently preparing her PhD. She was awarded an internship at the Peggy Guggenheim Collection in Venice in 2009 and took part in the workshop Construire une exposition at the Louvre Museum in Paris in 2010.
Selected Group Exhibitions
2018 Dark Smoke (Dan Beudean, Ioana Iacob, Dan Maciucca), Patrick Heide Contemporary, London
2015 Painting Cluj (Dan Beudean, Szabolcs Veres, Dan Maciucca, Ioana Iacob), Martin Kudlek, Cologne
Selected solo exhibitions
2013 Collectibles, Mie Lefever Gallery, Gent, Belgium
2013 Too Much, Calina Gallery, Timisoara, Romania
2012 Do not Dispose After Use, Anaid Art Gallery, Bucharest, Romania
2011 Stairway to Heaven, Mie Lefever Gallery, Gent, Belgium
Ioana Iacob is represented by Patrick Heide Contemporary Arts in London and Martin Kudlek, Cologne.