Jonathan Callans sculptures are (to the most extent) made out of books and he invented a form to question how information can be portrayed and transported, taking it out of the original context and transforming it into something new. He deals with the nature of information and its many forms, but then goes into a meticolous process and applies various skills of craft to it. Obviously we have to view the work in our modern context where the importance of the book as a cultural medium is fading. Callan explores what happens when you add something of any kind, nail it, saw it, punch it, when you bend it, squish it, form it or when you take it away, often even destroy it. For some collectors this is loosely connected to Georgina Russels work, however I do believe that Jonathans work is more versatile and in a way going deeper. After the process a lot of Jonathans relation to the work has ended, it changes form because of context and shape and becomes an aesthetic, sculptural object. Turning a book, that mainly lives from the thoughts in the brain of the reader, an insufficient substitute for the real experience, into a real experience that cannot be described by words alone due to the limitations of language. To an art object that lives in itself as well as how the viewer creates its meaning and relation to it in his own mind, Jonathan offers almost unlimited angels of access to it.
Jonathan in his own words:
"I have made a lot of work using books. Not because I have any fetishistic attitude towards them but because of the realisation that words are the poor and inefficient servants of experience. I might add that I'm not attempting any criticism of writers or the craft of writing but that having grown up within what is historically a literary culture I found myself valuing and gauging experience (which included art) only if it could be expressed and explored with words. As a visual artist this represented an interesting problem. Most people will rarely think of a book as an object, the words within are regarded as far more important than the form without. Because this seemed to perfectly express the problem I had in thinking about how art was discussed and how its meanings were valued, I began to regard books in the same way a potter might regard clay. In some senses I think of this as another way of approaching the equation of form and content, and how arguments have always been conducted about their relative importance.
The work I make with books is rarely illustrative of the text. This a deliberate choice. For almost everyone the text in a book is regarded as sacred. For me, to have an illustrative approach to each specific book would be to accept the false divisions that are made between form and content. So the new meanings that I try to write across the books are usually more oblique. Many are so oblique that the viewer might never know of any connection to or from a book. This would be so in the two dimensional pieces where fragments of images found in books are isolated and abstracted from their original contexts."
My first object of this kind that I collected is "Art with Veins of Aggression bound with Anathesia", which did not stay alone for long and today I added a very contemporary piece with an almost too obvious political connotation to the collection: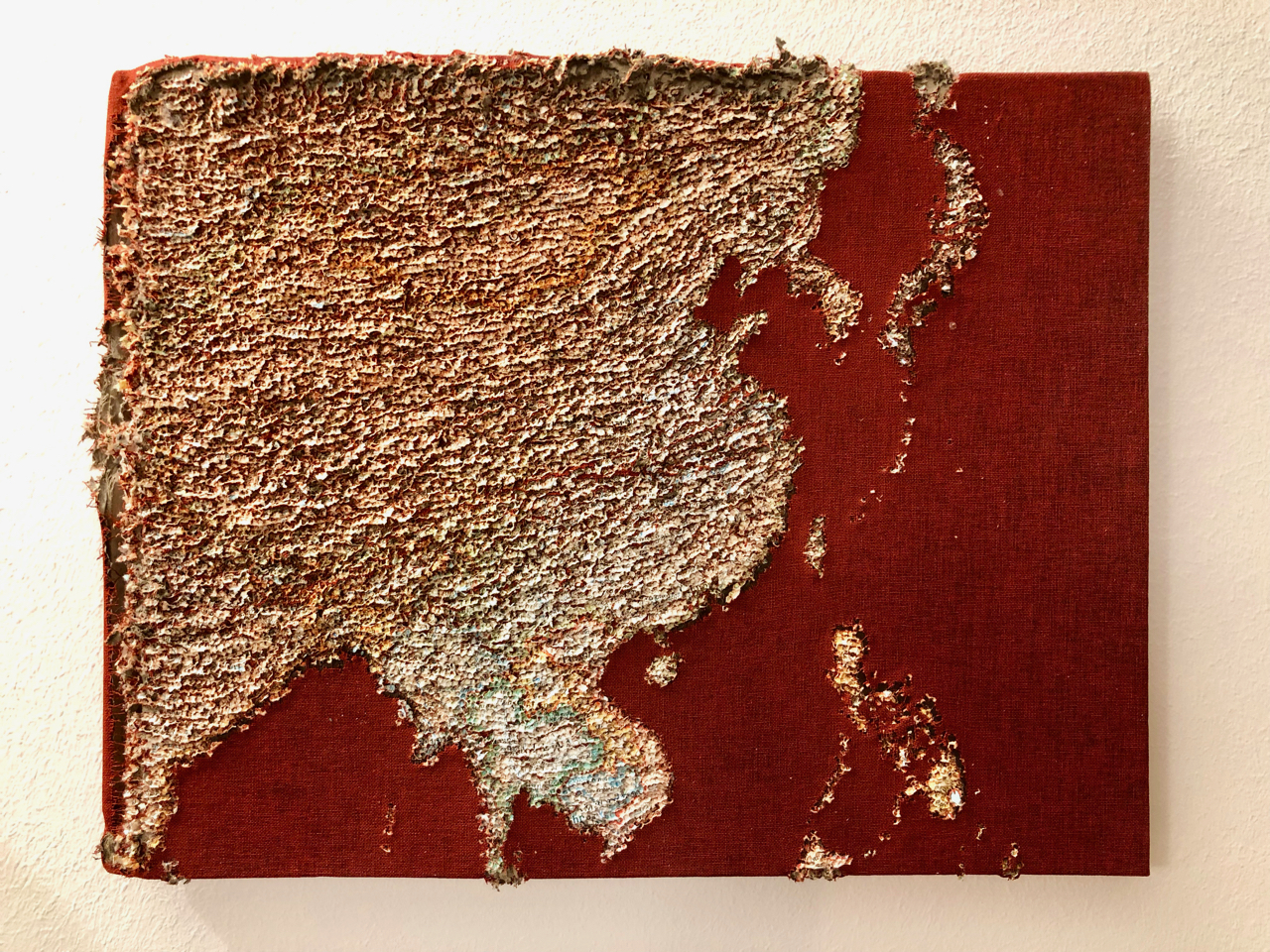 Jonathan Callan: South East Asia and China in Images of the Rust Belt (2017), 30x23x3 cm, Paper, added to the collection in 2018
The work points to a very obvious political crisis that is an outcome of the ongoing globalization, the loss of an old industry, the emergence of new powers, a once prospering and developing area that suddenly turned into a poor area with all the social problems involved. It is a cultural shift and a shift of economic power. The piece uses the geographical shape of a map/continent to discuss the clash of cultures and how much the economy changes lives, the social climate as well as how it changes the actual land. And as recent studies had shown, this situation called "China shock" was underestimated in its political effect for a long time and it indeed hit America the hardest as we know today. It is the reasons populists like Trump become possible since people clearly understood there are winners and loosers within one country and this has ultimately divided America. After the Financial Crisis 2008 the trust in the elites further eroded. Pensions were lost, fortunes burned, but the bonus was still being paid to Wall Street after the Bail Out by the state used everyones money to do that. The majority of the political elite did not help these "losers" in the rust belt, they pushed jobs in new economies, but many people could not adapt to the new economy and did not gain any new wealth, in fact wages started to deteoriate. America is no social wellfare state, it is utterly based on the game of winning and loosing and for a long time politics only focussed on the new winners. This politically opened up a lot of room for the Alt-Right and populist politicians, for suprematists, racists and rednecks. Jobs nonetheless continued to move to Southeast Asia or Mexico and they stayed there, making China a new superpower and leaving behind an instabile United States that elected Donald Trump, a populist and billionaire as a promising man to destroy the system that created loosers and people trusted him that he would give them a better future.
Trumps base is as we know the no longer the pro-democrat rust belt, which it always was, the Right-Wing picked Clintons votes and promised the return of steel and "clean" coal to the rust belt despite all its negative implications on health and the warming effect on global climate. It was a role backwards to the golden past that no longer exists and will never be golden again. The motto MAGA ("Making America great again") encapsulated what people wanted, they wanted a come back, a new opportunity. And that seemed to make sense to a lot of people, who all translated it as "make me, make my ego, make myself great again now please, greater than all the others!" and also I do no longer care whatever happens to others, especially the minorities. People described and portrayed in Michael Ciminos "The Deer Hunter" are these kind of people, it is not the first and not the last time they are being betrayed by an new elite as they feel it. These people and their even poorer children have changed the face not only of the rust belt and the US, they are now changing the world, establishing a mobocracy using social media to always make most stupid idea to win, harm others and is without empathy and cruel. A game build on lost hopes can only create destruction and consequently Jonathan destroyed this book cover meticulously. However, we still have to also note that the emergence of a new power bring a lot of uplift to the people who live there. A game of give and take?
On Jonathans brilliant personal website he also shows another piece "Europe in Nigel" that touches the political arena of Brexit in the UK and since I know how much the Brexit concerned and worried Jonathan I believe it obviously shares similarities, a very similar problem translated from the US to the UK. The Artwork is not political itself, it has no statement, it offers no advice, no critique, but it shows what is going on in our contemporary work.
P.S. Jonathan will show his recent works in the Museum Zanders, Bergisch Gladbach, starting 14th of September 2018 and I am really forward looking for the show. "Art with Veins of Aggression bound with Anathesia" will be shown there and more interesting and exciting pieces by Jonathan Callan, some new and some from other collections whom I am looking forward to meet there.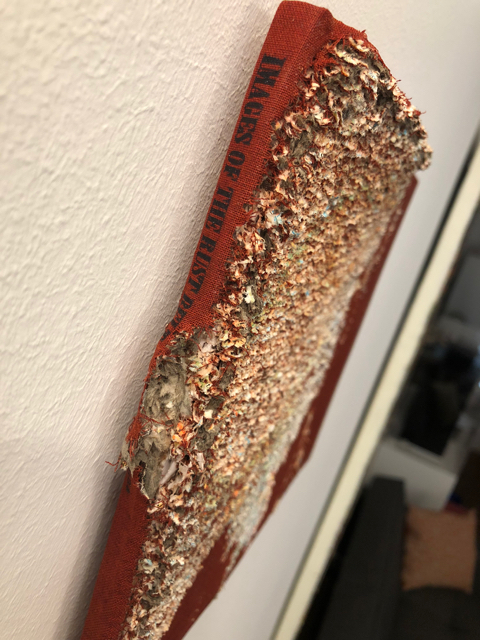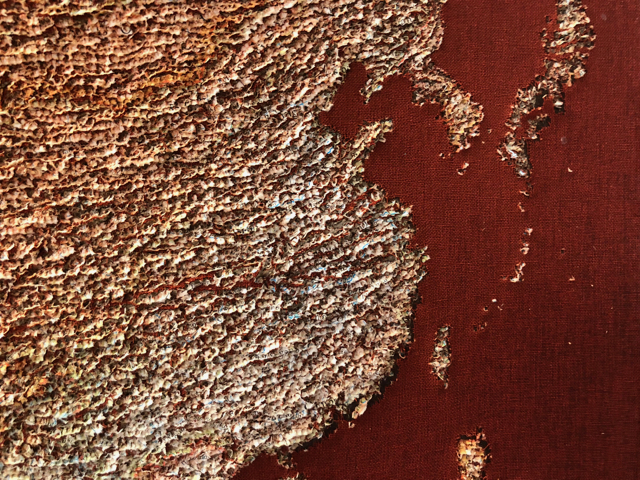 Jonathan Callan – Curriculum Vitae
1961 Born in Manchester/ UK
1980-1984 Goldsmiths College of Art, BA Honours (1st Class)
1988-1990 Slade School of Fine Arts, HDFA (Sculpture MA)
Currently lives and works in London, England.
COLLECTIONS
The Museum of Modern Art, New York / USA // The British Museum / UK // Princeton University Art Museum / USA // The Henry Moore Institute / UK // South London Art Gallery / UK // Whitworth Gallery, Manchester / UK // Progressive Art Collection Ohio / USA // The British Council / UK // The Ferens Art Gallery, Hull / UK // The High Museum Atlanta / USA // Leopold Hoesch Museum / D and several private Collections in the UK, Europe, USA, Korea and Japan
SOLO EXHIBITIONS
2018 "Title not yet available" – Museum Zanders, Bergisch Gladbach / D
2017 I don't believe you, Galerie Martin Kudlek, Cologne/ D
2016 Colony, Josée Bienvenu Gallery, New York/ USA
2015 Vacation, Hopstreet Gallery, Brussels/ B
2014 Words Will Fold, Galerie Martin Kudlek, Cologne/ D
2013 Bind, Josee Bienvenu Gallery, New York/ USA
2012 Prospero, Martin Asbaek Gallery, Copenhagen/ DK
set, Galerie Martin Kudlek, Cologne/ D
2011 New Works, Hopstreet, Brussels/ B
2010 Faith, Kudlek van der Grinten Galerie, Cologne/ D
Blancpain Art Contemporains, Geneva/ CH
Making Subjects and Verbs agree, John Michael Kohler Arts Center, Sheboygan/ USA
2009 I can't tell you why, Grusenmeyer Gallery, Deurie/ B
Nicole Klagsbrun Gallery (with Jason Tomme), New York/ USA
2008 Access Denied, Kudlek van der Grinten Galerie, Cologne/ D
2007 The Library of Past Choices, Grusenmeyer Gallery, Deurie/ B
2006 Martin Kudlek Gallery, Cologne/ D
2005 Mattress Factory, Pittsburgh/ USA
Empires and Other Works, Houldsworth Gallery, London/ UK
The Apartment, Athens/ G
Trace, Zinger Gallery Tillburg/ NL
2004 Martin Kudlek Gallery, Cologne/ D
BearSpace London/ UK
2003 Interference, Firstsite Gallery, Colchester/ UK
Nicole Klagsbrun Gallery, New York/ USA
2002 Interference, The New Art Gallery Walsall/ UK
2001 New Work, Zwemmer Art, London/ UK
Grant Selwyn Fine Arts, Los Angeles/ USA
2000 Nicole Klagsbrun Gallery, New York/ USA
Santa Barbara Contemporary Arts Forum/ USA
Hales Gallery, London/ UK
L'Oeil de Poisson, Montreal/ CAN
1999 Grant Selwyn Fine Arts, Los Angele / USA
1995 Hales Gallery, London/ UK
1994 Entwistle Gallery, London/ UK
Winchester Gallery, Culmination of residency at Winchester School of Art/ UK
1992 Hales Gallery, London/ UK
 
GROUP EXHIBITIONS
2017 Walk the Distance and Slow Down: Selections from the Collection of JoAnn Gonzalez Hickey, Boulder Museum of Contemporary Art (BMoCA), Boulder, CO/ USA
Deep Cuts: Contemporary Paper Cutting, Currier Museum of Art, Manchester, NH/ USA
On View, Josee Bienvenu Gallery, New York City, NY/ USA
2016 Unknown Portraits, Hopstreet Gallery, Brussels/ B
Bookish, Thomas Park, Seoul/ KOR
2015 The Suspended Line, Josée Bienvenu Gallery, New York/ USA
2014 Odd Volumes: Book Art from the Allan Chasanoff Collection, Yale University Art Gallery,
New Haven, CT/ USA
Parti Pris, 1989 – 2014, Blancpain Art Contemporain, Geneva/ CH
A book between two stools, Boghossian Foundation, Villa Empain, Brussels/ B
2013 The Feverish Library >>continued<<, Capitain Petzel, Berlin/ D Drawing Up!, Josee Bienvenu Gallery, New York/ D 2012 Met anderen Ogen, Teylers Museum, Haarlem/ NL Passing Time, Wesleyan University Museum, Boston / USA Walking the line IV, Galerie Martin Kudlek, Cologne/ D 2011 Espaces de Destin – Espèces de Dessins, le 19, CRAC Montbéliard/ F WALKING THE LINE III, Kudlek van der Grinten Galerie, Cologne/ D Gravity's Rainbow, Ingleby Gallery, Edinburgh/ UK Summer Group Show, Patrick Heide Contemporary Art, London/ UK 2010 Summer in the City, Martin Asbaek Gallery, Copenhagen/ DK Eraserhead, Fruehsorge Contemporary Drawings, Berlin/ D monochrom, Galerie Linder, Geneva/ CH The thought of Stuff, Royal Society of British Sculpture, London/ UK 2009 On Paper, Galerie Karsten Greve, Paris/ F 2008 Bookish, Lewis Glucksman Gallery, Cork/ IE Walking the Line, Kudlek van der Grinten Galerie, Cologne/ D Papier Raum, Galerie Thomas, Munich/ D Uncoordinated: Mapping Cartography In Contemporary Art, Contemporary Arts Center, Cincinatti/ USA 2007 New Lexicon, The Apartment, Athens/ G Play, Bearspace, London/ UK Microwave, five, Josée Bienvenu Gallery, New York/ USA Rummage – Sculptors Drawings, The Winchester Gallery/ UK Drawings and Papers, Grusenmeyer Gallery/ B 2006 Crossing The Borders, State Museum of Contemporary Art Thessaloniki/ G Draw, Paper Sccisors, Domestic Setting, Los Angeles/ USA Portraits, Marc Selwyn Domestic, Los Angeles/ USA Anniversary show, The Apartment, Athens/ G Off the Shelf, Vassar College NY/ USA Artists books, Hosfelt Gallery San Francisco/ USA In a Certain Place, Nicole Klagsbrun Gallery, NY/ USA Sculpture / Object, Potteries Museum Stoke on Trent/ USA From the Island Of Misfit Toys, Ben Maltz Gallery, LA/ USA Black & White, Hellenic American Union, Athens/ G Everydebris, St Pauls Gallery London/ UK The Constant Possibility of Erasure, Dorsky Project Space, NY/ USA Reading Writing, Nicole Klagsbrun Gallery, New York/ USA 2005 Group Show, Paul Kopeikin Gallery, LA/ USA Martin Kudlek Gallery, Cologne/ D Nicole Klagsbrun Gallery, New York/ USA Papier = Kunst 5, Neuer Kunstverein Aschaffenburg/ D Leopold-Hoesch-Museum, Düren/ D Cristina Guerra Contemporary Art, Lisbon/ P 2004 Surface (Two man show with Reinhard Doubrawa), Martin Kudlek Gallery, Cologne/ D & Pistilos y Petalo, Girona / I Heimweg, Travelling exhibition including Hamish Fulton, Kasper Konig, Richard Long, Yoshitomo Nara & Lawrence Weiner 2003 The Book Show, The Nunnery, London/ UK Chaotic Order, Houldsworth Gallery, London/ UK Perforations, McKenzie Fine Art, New York/ USA The Map is not the Territory lll, James Hockey Galley, Farnham/ USA Fake/Real, Hunter College, New York/ USA 2002 AOP 2002: The 37th Art on Paper Exhibition, Weatherspoon Art Museum, The University of North Carolina/ USA Complexity: Art and Complex Systems, Samuel Dorsky Museum Of Art, State University of New York/ USA 2001 The Silk Purse Proceedure, Arnolfini Gallery, Bristol/ UK Avalanche, Hales Gallery, London/ UK Perfidy: Surviving Modernism, Kettle's Yard Cambridge/ UK 2000 From a Distance: Approaching Landscape, The Institute of Contemporary Art, Boston/ USA Barbara Gillman Gallery Miami/ USA Santa Barbara Contemporary Arts Forum, Santa Barbara/ USA 1999 Nature/Culture, Gimpel Fils, London / UK Hales Gallery at Old England, Paris/ F Drawings, Nicole Klagsbrun Galley, New York/ USA Manufacturers, The Paper bag Factory, Deptford, London/ UK 1988 Now, Saks Fifth Avenue Project, New York/ USA Project 8, Total Museum of Contemporary Art, Seoul/ KOR Drawing Center, New York/ USA Lombard Freid Fine Art, New York/ USA De Praktijk, Amsterdam/ NL Not Nothing Nowhere, London/ UK 1997 The Mag Collection, Ferens Art Gallery Kingston upon Hull/ UK Young British Artists at Marlene Eleini, London/ UK Parasite, Toison D'Or, Brussels/ B 1995 To Whom it May Concern, Anna Bornholt, London/ UK 1994 Tight, The Tannery, London/ UK 1992 Whitechapel Open, Whitechapel Gallery London/ UK 1991 Barclays Young Artist of the Year, Serpentine Gallery London/ UK 1998 Into the Nineties, the Mall Galleries London/ UK