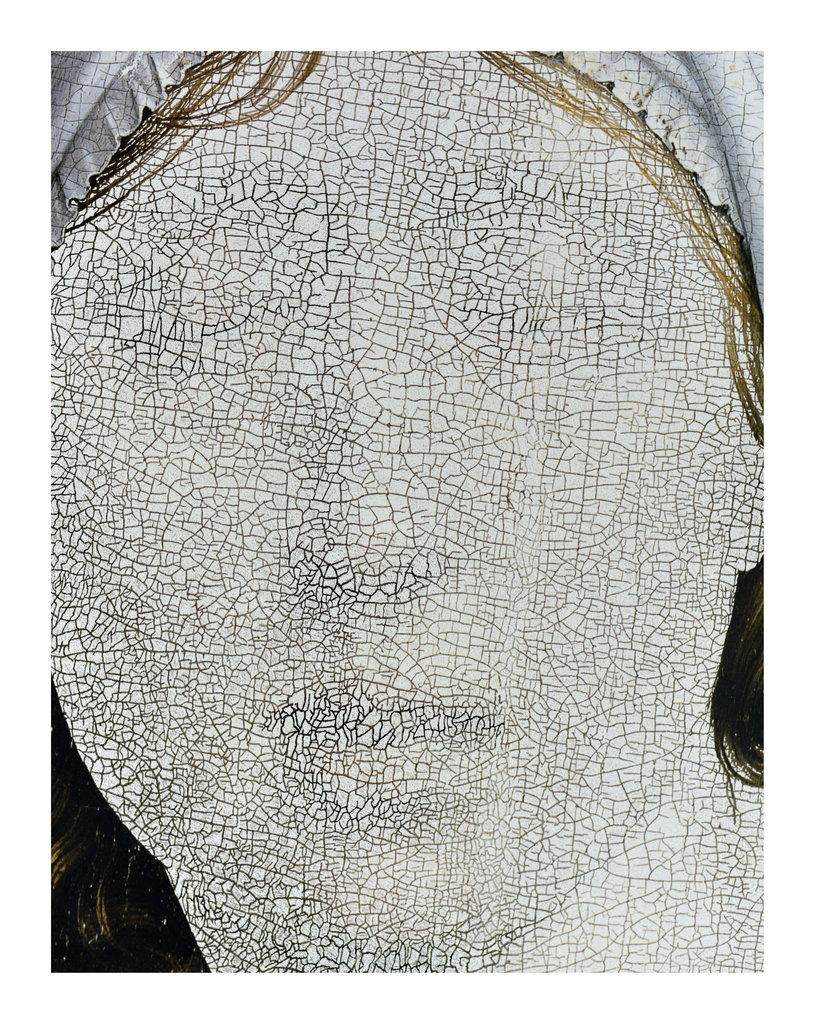 Jonathan Callan: Deposition (2019), scratched chromatic photograph, 33,5 x 26,3 cm
Overwhelming pain and sorrow. This is what one can see looking into the face of Maria mother of god. It is still readable although there is no painting, only the remains of what cracks in the canvas have to reveal. Jonathan Callans almost never repeats himself. It is unimaginable to see how much he distances himself from repetition or a clear signature. If you do know his work better, you can find and identify his works immediately. For outstanders, this is not that easy to read handwritting. This piece is for the "Friends of Callan" an immediate hit: Since 2001, when Jonathan first time erased (actually scratched with a razor blade) everything on the chromatic photography which was not varnish cracks. All the plain oil surfaces that are "intact" are taken away. One of his works, "Head of a man" (2001) made it into the MoMa collection (Museum of Modern Arts, New York, similar to "Head of a Third Man" "http://www.jonathancallan.com/2010-head-of-a-third-man"In this manner, this is obviously a sculpture in paper. Very thin, a sculpture that is not very, but certainly three-dimensional. Everything is taken away that was unnecessary and suddenly, here is the suprise: You see the face even though there is no face – only the remaining cracks of the original painting. The original is again as with the "Head of a Man" a Rogier van der Weyden painting, a flemish master. The original photography is a detail from "Deposition from the cross" (1432-1435), which is on show in the Prado in Madrid.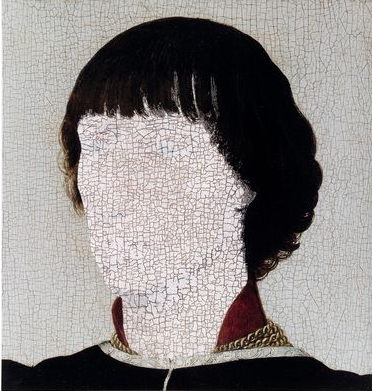 Jonathan Callan: Head of a Man (2001), MoMa, New York
A similiar effect could be seen in works like "Humphrey" or "Partition" – taking everything away that is a face we are surprised that we still have a comic of a drawing – the face are not there, but the remaining shadows form a face, some see as friendly giants, others feel like a monster – you see what your brain is projecting you to see but it is not, was has been there, for sure.
This is contemporary art at its very best and I really love the work – how much joy I feel that "I got a woman!" for the collection instead of a man!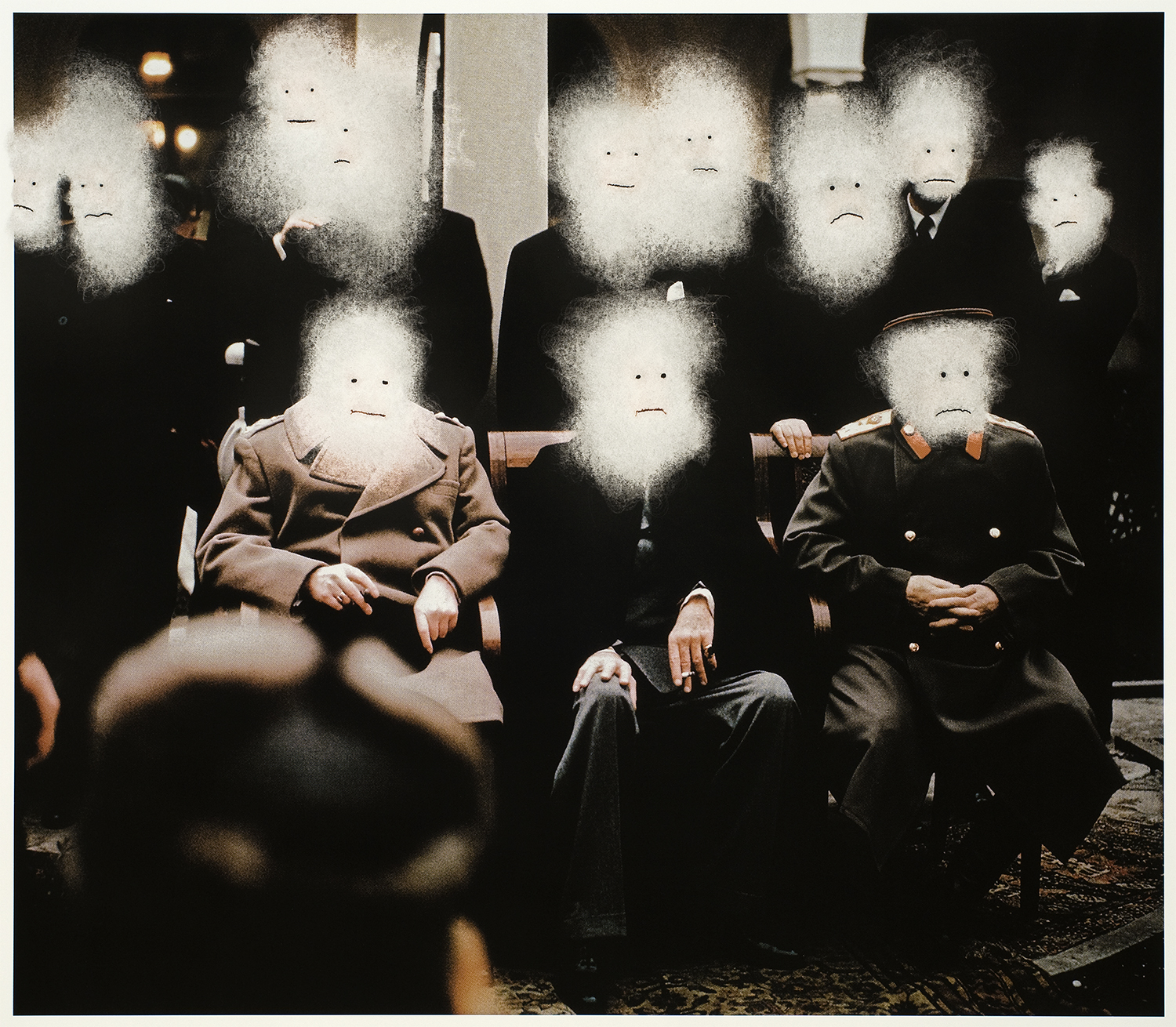 Jonathan Callan: Partition (2008)
Jonathan Callan – CV
1961 Born in Manchester / UK
1980-1984 Goldsmiths College of Art, BA Honours (1st Class)
1988-1990 Slade School of Fine Arts, HDFA (Sculpture MA)
Currently lives and works in London / UK.
SOLO EXHIBITIONS
2019 Carrier, Galerie Martin Kudlek, Cologne / D
2018 Inside out: Jonathan Callan – Andreas My, Kunstmuseum Villa Zanders, Bergisch Gladbach / D
2017 I don't believe you, Galerie Martin Kudlek, Cologne / D
2016 Colony, Josée Bienvenu Gallery, New York / USA
2015 Vacation, Hopstreet Gallery, Brussels / B
2014 Words Will Fold, Galerie Martin Kudlek, Cologne / D
2013 Bind, Josee Bienvenu Gallery, New York / USA
2012 Prospero, Martin Asbaek Gallery, Copenhagen / DK
set, Galerie Martin Kudlek, Cologne / D
2011 New Works, Hopstreet, Brussels / B
2010 Faith, Kudlek van der Grinten Galerie, Cologne / D
Blancpain Art Contemporains, Geneva / CH
Making Subjects and Verbs agree, John Michael Kohler Arts Center, Sheboygan / USA
2009 I can't tell you why, Grusenmeyer Gallery, Deurie / B
Nicole Klagsbrun Gallery (with Jason Tomme), New York / USA
2008 Access Denied, Kudlek van der Grinten Galerie, Cologne / D
2007 The Library of Past Choices, Grusenmeyer Gallery, Deurie / B
2006 Martin Kudlek Gallery, Cologne / D
2005 Mattress Factory, Pittsburgh / USA
Empires and Other Works, Houldsworth Gallery, London / UK
The Apartment, Athens / G
Trace, Zinger Gallery Tillburg / NL
2004 Martin Kudlek Gallery, Cologne / D
BearSpace London / UK
2003 Interference, Firstsite Gallery, Colchester / UK
Nicole Klagsbrun Gallery, New York / USA
2002 Interference, The New Art Gallery Walsall / UK
2001 New Work, Zwemmer Art, London / UK
Grant Selwyn Fine Arts, Los Angeles / USA
2000 Nicole Klagsbrun Gallery, New York / USA
Santa Barbara Contemporary Arts Forum / USA
Hales Gallery, London / UK
L'Oeil de Poisson, Montreal / CAN
1999 Grant Selwyn Fine Arts, Los Angele / USA
1995 Hales Gallery, London / UK
1994 Entwistle Gallery, London / UK
Winchester Gallery, Culmination of residency at Winchester School of Art / UK
1992 Hales Gallery, London / UK
 
GROUP EXHIBITIONS
2019 Judging the Cover, Galerie Martin Kudlek, Cologne / D
RealitätsCHECK, Kunstraum Potsdam c/o Waschhaus w/ Art'us / Collectors' Collective, Potsdam / D
1968, Eagle Gallery EMH Arts, London / UK
2017 Walk the Distance and Slow Down: Selections from the Collection of JoAnn Gonzalez Hickey, Boulder Museum of Contemporary Art (BMoCA), Boulder, CO / USA
Deep Cuts: Contemporary Paper Cutting, Currier Museum of Art, Manchester, NH / USA
On View, Josée Bienvenu Gallery, New York City, NY / USA
2016 Unknown Portraits, Hopstreet Gallery, Brussels / B
Bookish, Thomas Park, Seoul / KOR
2015 The Suspended Line, Josée Bienvenu Gallery, New York / USA
2014 Odd Volumes: Book Art from the Allan Chasanoff Collection, Yale University Art Gallery, New Haven, CT / USA
Parti Pris, 1989 – 2014, Blancpain Art Contemporain, Geneva / CH
A book between two stools, Boghossian Foundation, Villa Empain, Brussels / B
2013 The Feverish Library >>continued<<, Capitain Petzel, Berlin / D Drawing Up!, Josee Bienvenu Gallery, New York / D 2012 Met anderen Ogen, Teylers Museum, Haarlem / NL Passing Time, Wesleyan University Museum, Boston / USA Walking the line IV, Galerie Martin Kudlek, Cologne / D 2011 Espaces de Destin – Espèces de Dessins, le 19, CRAC Montbéliard / F WALKING THE LINE III, Kudlek van der Grinten Galerie, Cologne / D Gravity's Rainbow, Ingleby Gallery, Edinburgh / UK Summer Group Show, Patrick Heide Contemporary Art, London / UK 2010 Summer in the City, Martin Asbaek Gallery, Copenhagen / DK Eraserhead, Fruehsorge Contemporary Drawings, Berlin / D monochrom, Galerie Linder, Geneva / CH The thought of Stuff, Royal Society of British Sculpture, London / UK 2009 On Paper, Galerie Karsten Greve, Paris / F 2008 Bookish, Lewis Glucksman Gallery, Cork / IE Walking the Line, Kudlek van der Grinten Galerie, Cologne / D Papier Raum, Galerie Thomas, Munich / D Uncoordinated: Mapping Cartography In Contemporary Art, Contemporary Arts Center, Cincinatti / USA 2007 New Lexicon, The Apartment, Athens / G Play, Bearspace, London / UK Microwave, five, Josée Bienvenu Gallery, New York / USA Rummage – Sculptors Drawings, The Winchester Gallery / UK Drawings and Papers, Grusenmeyer Gallery / B 2006 Crossing The Borders, State Museum of Contemporary Art Thessaloniki / G Draw, Paper Sccisors, Domestic Setting, Los Angeles / USA Portraits, Marc Selwyn Domestic, Los Angeles / USA Anniversary show, The Apartment, Athens / G Off the Shelf, Vassar College NY / USA Artists books, Hosfelt Gallery San Francisco / USA In a Certain Place, Nicole Klagsbrun Gallery, NY / USA Sculpture / Object, Potteries Museum Stoke on Trent / USA From the Island Of Misfit Toys, Ben Maltz Gallery, LA / USA Black & White, Hellenic American Union, Athens / G Everydebris, St Pauls Gallery London / UK The Constant Possibility of Erasure, Dorsky Project Space, NY / USA Reading Writing, Nicole Klagsbrun Gallery, New York / USA 2005 Group Show, Paul Kopeikin Gallery, LA / USA Martin Kudlek Gallery, Cologne / D Nicole Klagsbrun Gallery, New York / USA Papier = Kunst 5, Neuer Kunstverein Aschaffenburg / D Leopold-Hoesch-Museum, Düren / D Cristina Guerra Contemporary Art, Lisbon / P 2004 Surface (Two man show with Reinhard Doubrawa), Martin Kudlek Gallery, Cologne / D & Pistilos y Petalo, Girona / I Heimweg, Travelling exhibition including Hamish Fulton, Kasper Konig, Richard Long, Yoshitomo Nara & Lawrence Weiner 2003 The Book Show, The Nunnery, London / UK Chaotic Order, Houldsworth Gallery, London / UK Perforations, McKenzie Fine Art, New York / USA The Map is not the Territory lll, James Hockey Galley, Farnham / USA Fake/Real, Hunter College, New York / USA 2002 AOP 2002: The 37th Art on Paper Exhibition, Weatherspoon Art Museum, The University of North Carolina / USA Complexity: Art and Complex Systems, Samuel Dorsky Museum Of Art, State University of New York / USA 2001 The Silk Purse Proceedure, Arnolfini Gallery, Bristol / UK Avalanche, Hales Gallery, London / UK Perfidy: Surviving Modernism, Kettle's Yard Cambridge / UK 2000 From a Distance: Approaching Landscape, The Institute of Contemporary Art, Boston / USA Barbara Gillman Gallery Miami / USA Santa Barbara Contemporary Arts Forum, Santa Barbara / USA 1999 Nature/Culture, Gimpel Fils, London / UK Hales Gallery at Old England, Paris / F Drawings, Nicole Klagsbrun Galley, New York USA Manufacturers, The Paper bag Factory, Deptford, London / UK 1988 Now, Saks Fifth Avenue Project, New York USA Project 8, Total Museum of Contemporary Art, Seoul / KOR Drawing Center, New York / USA Lombard Freid Fine Art, New York / USA De Praktijk, Amsterdam / NL Not Nothing Nowhere, London / UK 1997 The Mag Collection, Ferens Art Gallery Kingston upon Hull / UK Young British Artists at Marlene Eleini, London / UK Parasite, Toison D'Or, Brussels / B 1995 To Whom it May Concern, Anna Bornholt, London / UK 1994 Tight, The Tannery, London / UK 1992 Whitechapel Open, Whitechapel Gallery London / UK 1991 Barclays Young Artist of the Year, Serpentine Gallery London / UK 1998 Into the Nineties, the Mall Galleries London / UK   COLLECTIONS:
The Museum of Modern Art, New York / USA // The British Museum / UK // Princeton University Art Museum / USA // The Henry Moore Institute / UK // South London Art Gallery / UK // Whitworth Gallery, Manchester / UK // Progressive Art Collection Ohio / USA // The British Council / UK // The Ferens Art Gallery, Hull / UK // The High Museum Atlanta / USA // Leopold Hoesch Museum / D and several private Collections in the UK, Europe, USA, Korea and Japan