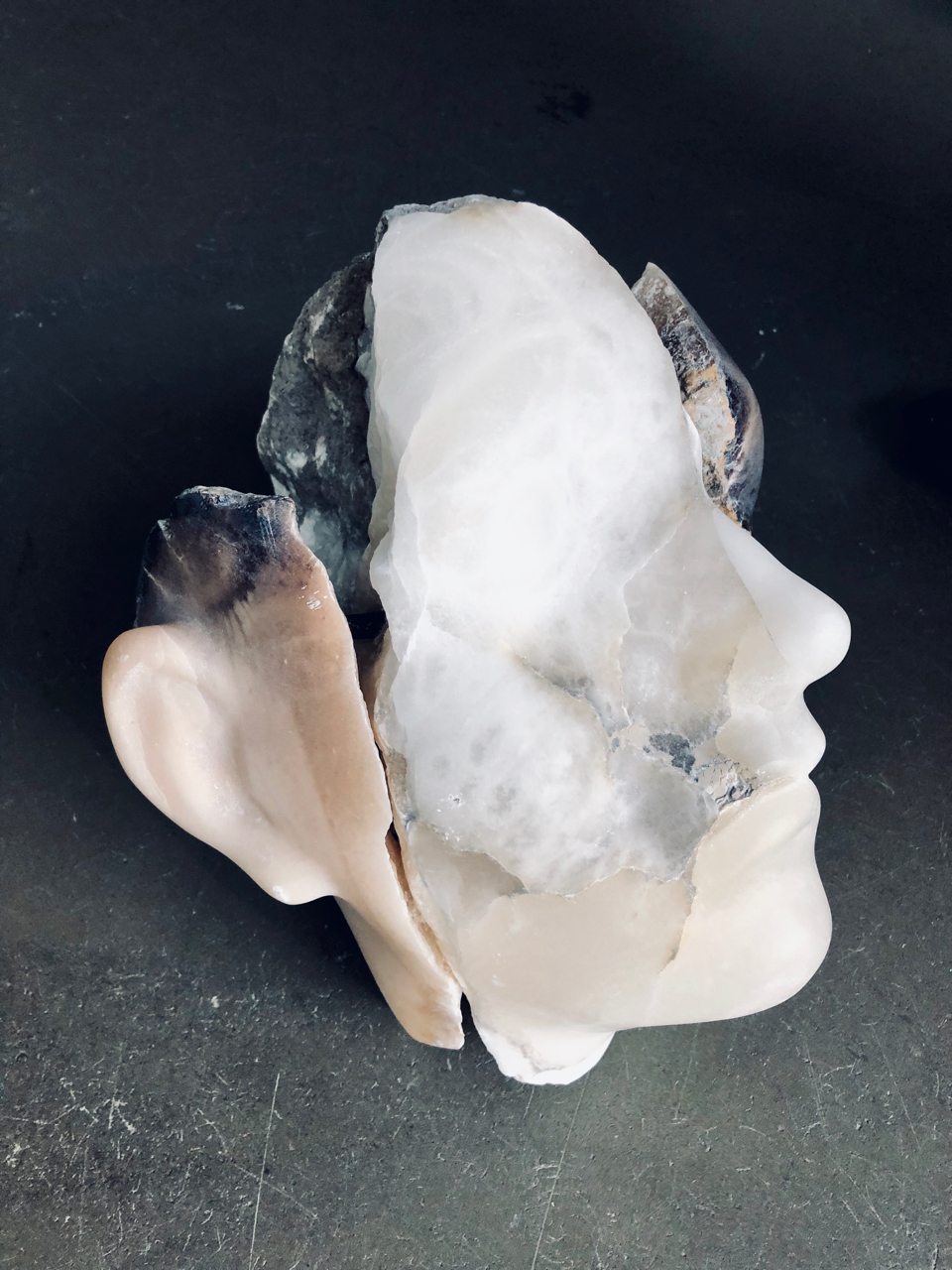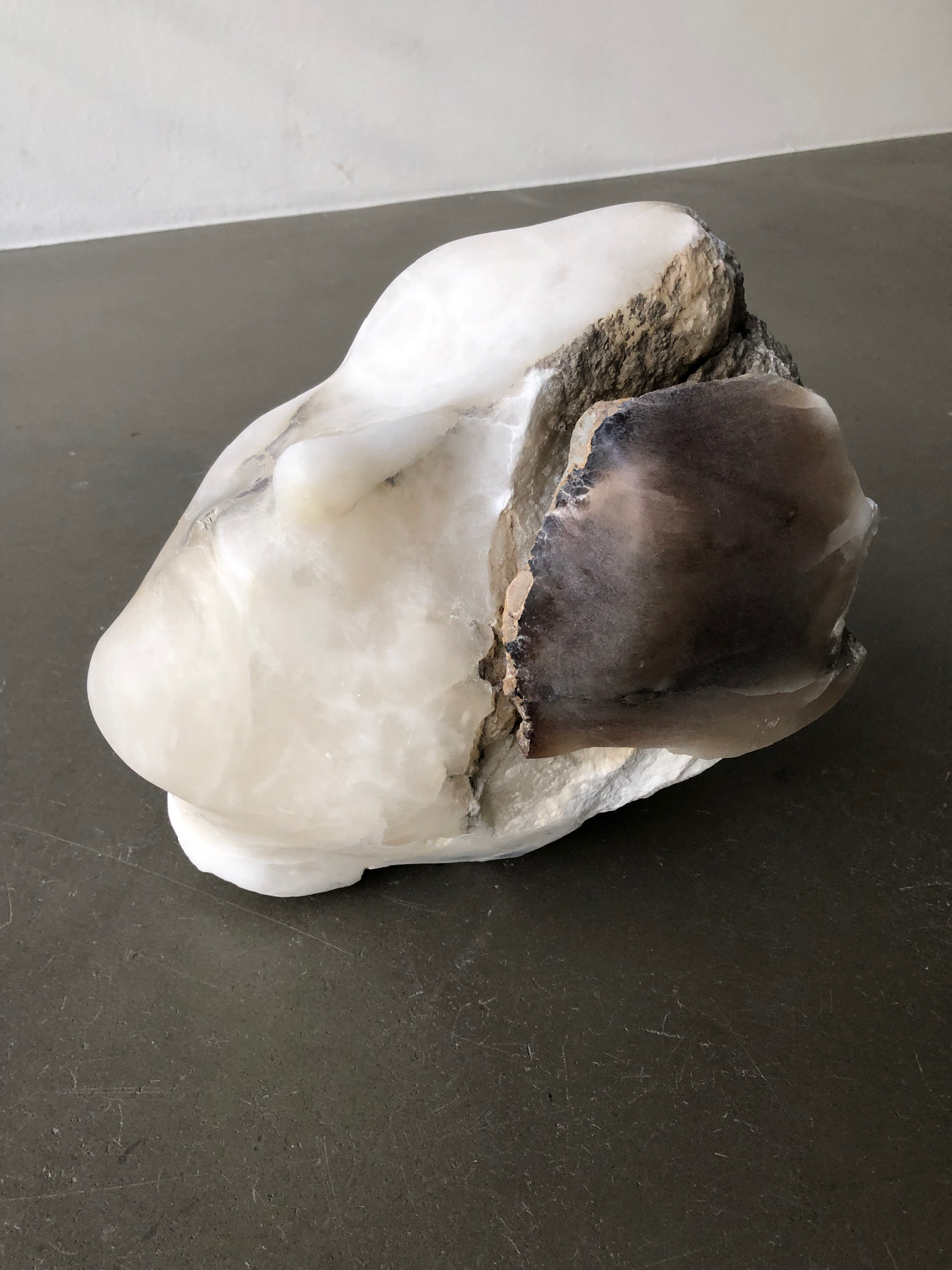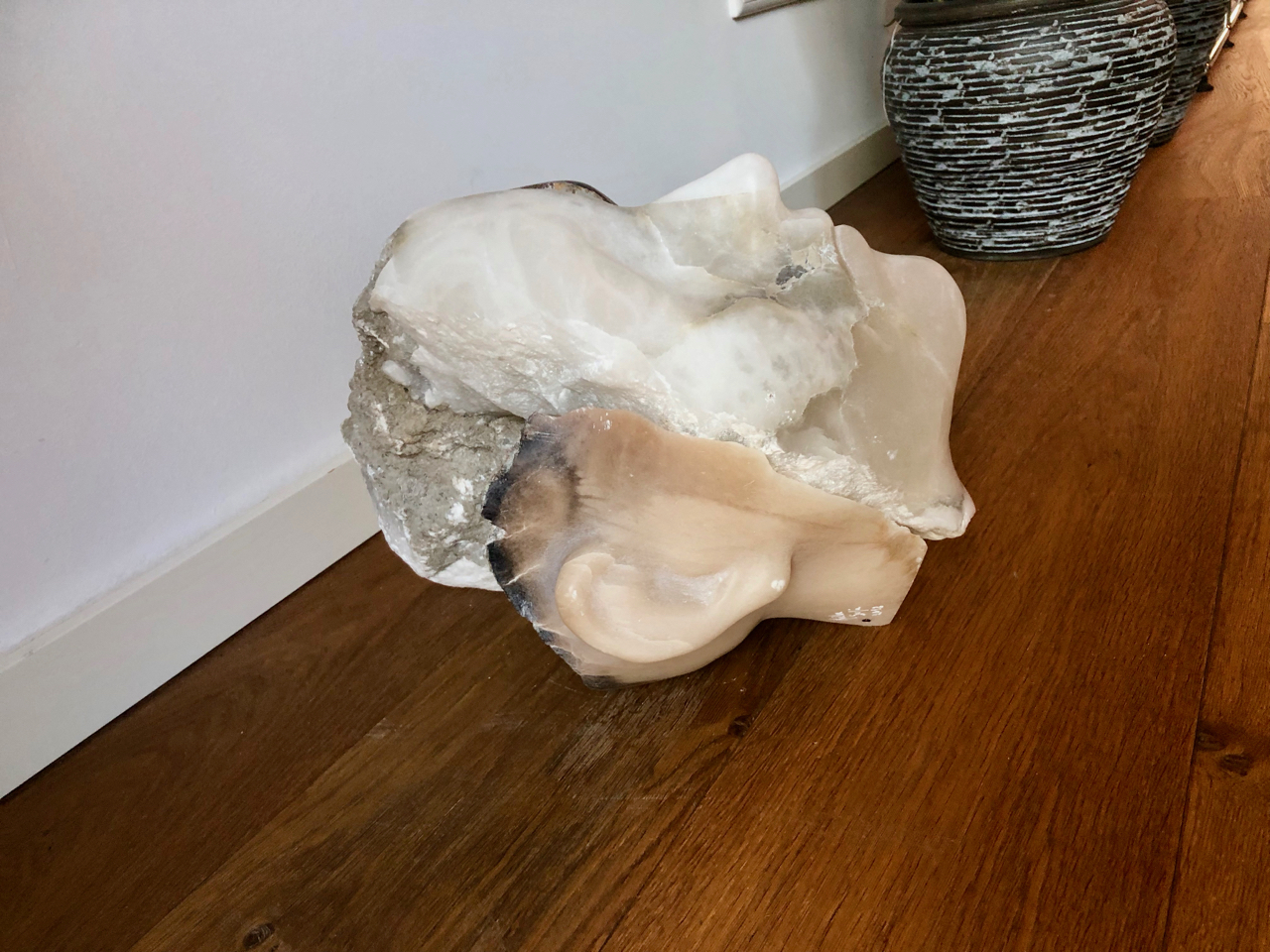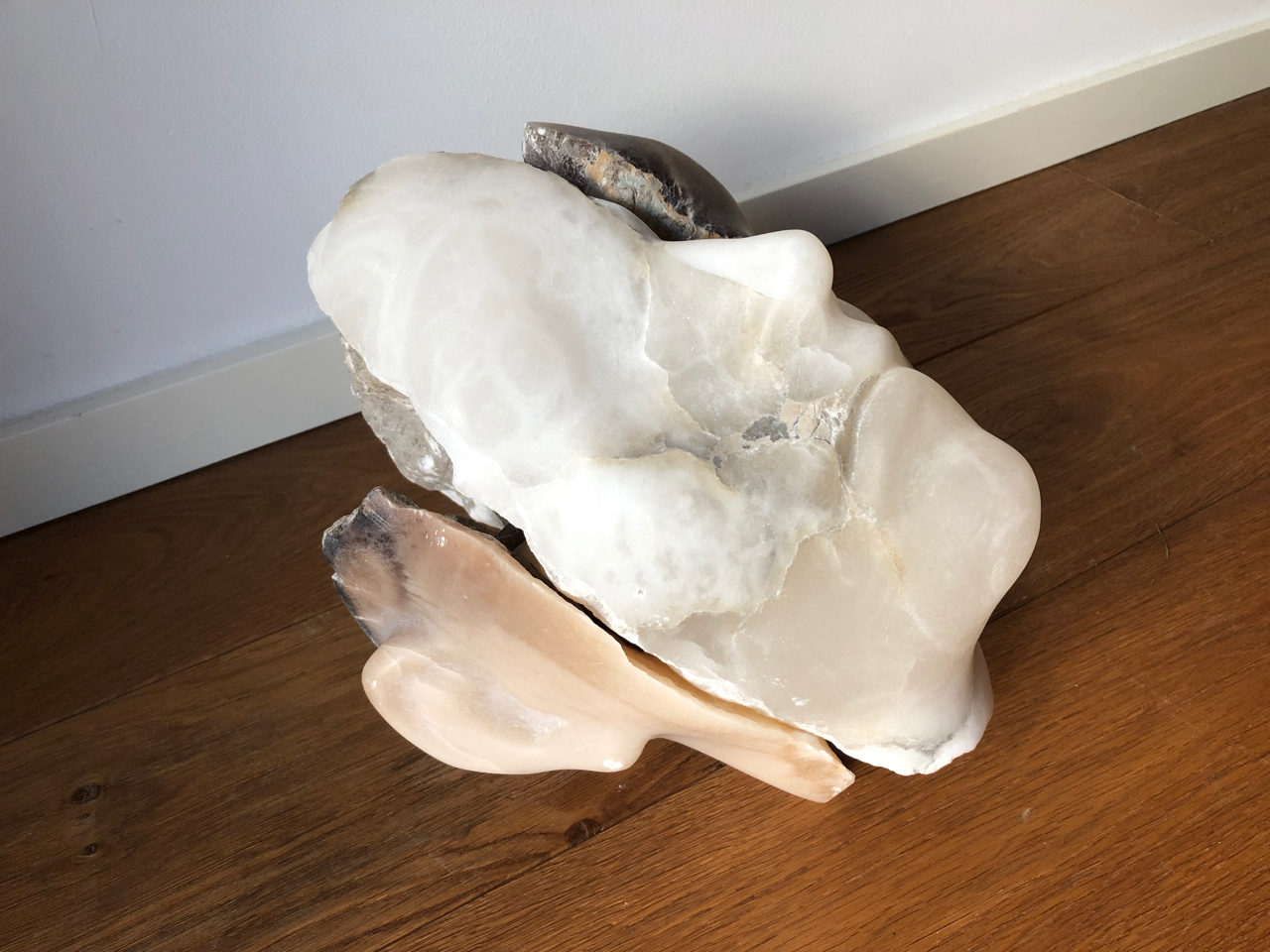 Sofie Muller: Alabasterkopf LXVII (2018), Alabaster, Baustahl. Aus der Serie "Alabaster Mentalis", in der Sammlung seit 2018.
Die "Alabaster Mentalis" Serie von Sofie Muller (*1974) bewegt tief. Die Skulpturen von isolierten Köpfen aus Alabaster zeigen ihre körperlichen und vor allem psychischen Wunden in schonungsloser Offenheit. Die Wunden sind gleichzeitig von roher Brutalität wie auch von poetischer Melancholie. Die Ästhetik und ihre handwerkliche Brillianz kreisen um die natürlichen Einschlüsse und Unregelmäßigkeiten, die Alabaster zu eigen sind. Die gläserne Tiefe der Oberfläche, völlig anders als beim verschlossenen Marmor, scheint eine Seele eingeschlossen zu haben. Subtil beschreiben diese Werke die Umstände des Menschseins, sowohl in seiner Ausprägung in unserem Unterbewußtsein als auch in Ihren philosophischen Höhenflügen.
Skulpturen haben eine immerwährende Präsenz, sie sind Abbildungen der Welt und haben eine Aura. Sofie Mullers Arbeit erinnert mich an die ursprüngliche Bedeutung der Bildhauerei, die Ihre ägyptischen Vorläufer beschrieben in dem Satz "Er (Sie), der am Leben erhält." Die menschliche Seele lässt sich in Sofie Mullers Köpfen in Ihre zärtlichsten und verletzbarsten Weise projezieren. Wenn wir Ihnen gegenüber treten, können wir innehalten wie vor einer Pieta, befreit von einem religiösen Kontext, um eine spirituelle Erfahrung der Seele zu machen. Jeder Kopf aus Alabaster ist eine zeitgenössische Ikone, in dem auch die Geschichte der Kunst von seinen frühen Anfängen in Ägypten über die Hochzeit der Klassik und mittelalterlicher Revolutionäre wie van Eyck in unserem heutigen Kontext ablesbar wird.
Ich habe 2016 mit Familie Sofie Muller in Ihrem Atelier in Ghent besuchen können, hier der Link zum ausführlichen Reisebericht. Damals hoffte ich, dass ich mal einen Ihrer Alabasterköpfe, von denen ich die ersten Exemplare selbst sehen konnte, der Sammlung zufügen dürfte. Sofie beschreibt dieses Exemplar als einen äußerst komplizierten Kopf in seiner handwerklichen Herstellung, da sie 3 unabhängige Elemente mit Stahlstangen zusammenfügen mußte. Die Passgenauigkeit zu erreichen und dabei den entsprechenden Eindruck zu erhalten, darin liegt ein Teil Ihrer Kunstfertigkeit. Der Kopf ist zudem relativ groß, etwa doppelt so groß wie ein menschlicher Schädel. Die besondere Qualität dieses Schädels liegt in seiner unterschiedlichen Anmutung je nach Blickwinkel. Der hintere Kopfteil ist zudem geöffnet und gibt den Blick frei auf unterschiedliche Materialität, das innere des Kopfes erscheint mit seiner betonähnlichen Struktur an ein Gehirn während das helle Alabaster vorn wie glatte Haut wirkt.
Sofie Muller wurde 2018 zur flämischen Künstlerin des Jahres ausgezeichnet (Laureaat van de Klasse van de Kunsten by the Royal Flemish Academy of Science and the Arts), Ihre Bedeutung für das kulturelle Leben dort lässt sich als "prägende Figur" beschreiben. Sofie Mullers Laufbahn entwickelt sich mit beeindruckender Beständigkeit, nach Ausstellungen in Lublin, Warschau, Köln, Antwerpen und Venedig wird sie 2019 u.a. in Mexiko zu sehen sein.
Ich bin froh, dass einer dieser Köpfe nun bei mir angekommen ist: ein stiller Besucher in nicht allzu weiter Entfernung von meinem Schreibtisch, den man in jedem Licht neu erleben kann. Und vor dem man innehalten muß.
Curriculum Vitae
Geboren 1974
Sofie lebt und arbeitet in Gent, Belgien.
 
SOLO EXHIBITIONS
2018 Rethink duality, Evelyn Loschy & Sofie Muller, Galerie Michaela Stock, Vienna/ AU
2017 Alabaster Mentalis, Geukens & De Vil Contemporary Art, Antwerp/ B
2016 Ithaca, Galerie Martin Kudlek, Cologne/ D
Mental sculptures, with Robert Kusmirowski, Galeria Biala, Centrum Kultury, Lublin/ PL
Ithaca, Gallery Geukens & De Vil, Knokke/ B
2015 Cabinets 2015 FeliXart, Drogenbos, Brussels/ B
2014 Grave Souls & Secrets II, with Kiki Lamers, Odapark Venray – center for contemporary art, Venray/ NL
Psychonomics, Gallery Geukens & De Vil, Antwerp/ B
2013 Brandt, Galerie Martin Kudlek, Cologne/ D
Work for public space, Mijnwerkersvrouw, Maasmechelen/ B
Work for public space, Emma, Mechelen/ B
C-Meme arte contemporanea e prossima, Cagliari, Sardinia/ I
2012 Black Out, C-mine, Genk/ B
Tableau Vivant, Genk/ B
Onzen Toren, Sint-Niklaas/ B
The Rest is Silence, Gallery Geukens & De Vil, Antwerp/ B
Guiding hand III, Europeancardacquiring, Berlin/ D
2011 Guiding hand II, Europeancardacquiring, Berlin/ D
2010 Fondation Francès, Senlis/ F
Leap of Faith, Caermersklooster, Ghent/ B
Guiding Hand I, Europeancardacquiring, Berlin/ D
2009 Memento, Park ter Beuken, Lokeren/ B
2008 Über Menschen, Galerie Geukens & De Vil, Antwerp/ B
2007 beDivided, Geukens & De Vil, Antwerp/ B
2006 Morphs, Galerie S. & H. De Buck, Ghent/ B
seXes, Geukens & De Vil, Knokke/ B
seXes, Mercator Galerie, Antwerp/ B
2004 seXes, Galerie S. & H. De Buck, Ghent/ B
GROUP EXHIBITIONS
2018 Biennale d'Art Contemporain, Ce qui pèse et ce qui nourrit, Autun/ F
Emotional Journey, curator Michaela Stock, Bildraum Bodensee/ AU
Middle Gate II, Het verhaal van Dimpna, a collaboration between M HKA, Museum Conptemporary Art Antwerp and cultural centre de Werft in Geel/ B
Verknipt, WARP Contemporary Art Platform, Sint-Niklaas/ B
Workflow, Tentoonstellingszaal Zwijgershoek, Sint-Niklaas/ B
Het Gouden Paviljoen, Warande, Turnhout/ B
Faces Psychiatrisch Centrum Sint-Amandus, Beernem/ B
Emotional Journey, Bildraum Bodensee, Bregenz/ AU
2017 Ecce Homo, 63 artists, 9 locations in Antwerp, curator Geukens & De Vil with co-curator Eric Rinckhout, Antwerp/ B
Intuition, curated by Daniela Ferretti & Axel Vervoordt, Palazzo Fortuny, Venice/ I
KunstwerkLeben, Kunstmuseum Solingen/ D
Tinto. Without Tinto, Espace 8, Brussels/ B
Kairos Castle. De kunst van het juiste ogenblikKasteel van Gaasbeek, Gaasbeek/B
Between Earth and Heaven II, "Huis 'De Lombard", Brugge/ B
2016 LIMINAL LYRICS curated by Hedwig Brouckaert, KUNSTRAUM Gallery, Brooklyn, NY/ US
Gestures and shudders, Collaboration WZC Immaculata & Mukha, Edegem/ B
Trilogie Contemporaine 2016, Parc et jardins du château de Jehay, Liège/ B
KREW – WERK, Foksal Gallery Foundation, Warsaw
/ PL
Medicine in Art, MOCAK, Krakow/ PL
2015 Speelvogels, Exhibition hall Zwijgershoek, Sint-Niklaas/ B
Spiegel im Spiegel, organised by PAK, Beernem/ B
Goodbye Pourbus, Hello Leopold Geukens & Devil Gallery, Antwerp/ B
Kunst@rodekruiscuratored by Hilde Van Canneyt, Klooster Sancta Maria, Ronse/ B
Boeken onder vuur, KU – Universiteitsbilbiotheek Leuven/ B
Palindrome, National Gallery of Art, Sopot/ PL
Occupied Emotions, Broelmuseum, Kortrijk/ B
Vormidable Contemporary Flemish Sculpture, Museum Belden aan Zee, Den Haag/ NL
2014 Patch Places, Museum Dr. Guislain, Ghent/ B
Westenwind, Galerie Martin Kudlek, Cologne/ D
Museum to scale 1/7, Royal Museums of Fine Arts of Belgium, Brussels/ B
2013 Forever Young. Über den Mythos der Jugend, Kunsthalle Nürnberg/ D
Prestige, Plateau Rosier, Ghent/ B
Pour les siècles des siècles …, Lieux-communs, Namu/ B
De Kunstkamer, vzw Raza, traveling exhibition/ B-NL
Coup de ville, Warp, Sint-Niklaas/ B
Kortrijk Vlaandert, Courtray/ B
Bates Motel, Space, Liège/ B
Het kunstwerk een gebruiksaanwijzing, Technicum Ghent/ B
Are the limits of my language, the limits of my world, Gallery Maskara, Mumbai/ IN
2012 Les Fleurs du Mal, Kersgallery, Amsterdam/ NL
Kunstfestival Watou/ B
Mindmap – A manifestation about Art & Psychiatry Venray/ NL
Dangerously Young, Museum Dr. Guislain, Ghent/ B
Mooi, traveling exhibition, vzw Raz/ B-NL
2011 Beeld van hoop en wanhoop, Mothers for peace, Ieper/ B
Geus de luxe, Geuzenhuis, Ghent/ B
Kunstpodium T, leerling meester project, Tilburg/ NL
Salon 9, Pianomuseum Maene, Ruiselede/ B
The power of drawing, Gallery Geukens & De Vil, Antwerp/ B
Mooi, traveling exhibition, vzw Raza/ B-NL
2010 The power of drawing, Gallery Geukens & De Vil, Antwerp/ B
Mooi, traveling exhibition, vzw Raza/ B-NL
Lucht is tastbaarder dan mijn gedachten, Kasteel Oud-Rekem/ B
Beeldenroute Lo-Reninge, West-Vlaanderen/ B
BAT 10 Beeldenroute Anti-Tankgracht, Schilde/ B
Preview Berlin, Galerie Geukens & De Vil, Antwerp/ D
Walking the Line II, Galerie Kudlek Van der Grinten, Cologne/ D
Collages@Romantiek, Verbeke Foundation, cultuurraad Roeselare/ B
Mort ou vif, Fondation Frandès, Senlis/ F
Uit het Geheugen, Katho-IPSOC en Museum / B
2009 De Oversteek, curated by Bonnefantenmuseum & A.M. Van Laethem, Rekem, Limburg/ B
De Collectie, Espace Ladda, Ghent/ B
Uit het Geheugen, Museum Dr. Guislain, Ghent/ B
A flowery band to bind us to the earth, Gallery De Buck, Ghent/ B
UN-SCR-1325, Chelsea Museum, New York/ USA
Miniaturen, Josef Deleu, Cultureel Centrum Hasselt, S.& H. De Buck/ B
2008 A flowery band to bind us to the earth, Galerie S.& H. De Buck, Ghent/ B
Antwerp Sculpture Show, Zuiderdokken, Antwerp/ B
Corpus Delicti, Flor Bex, Justitiepaleis, Brussels/ B
Markiezin Zoekt Kunst, Kasteel van Gaasbeek, Gynaika, Gaasbeek/ B
Over The Hedge, 100 Belgische en 100 Chinese kunstenaars, Verbeke Foundation, Kemzeke/ B
Art Garden Party, Veiling door Christie's 20 tekeningen, MDD, St. Martens-Latem/ B
Found/Gevonden/Trouvé, Voorkamer, Lier/ B
UN-SCR-1325, Geukens & De Vil, Antwerp/ B
Rewind, St-Niklaas/ B
Die Hände der Kunst, Ronny Van De Velde, Herford/ D
Trends 2008, Sint-Barbaracollege, Ghent/ B
Artist's Hands, Ronny Van De Velde, S.M.A.K, Ghent/ B
Feminiene, VUB, Brussels/ B
Tussen Lichaam en Geest, Dr. Guislain museum, Ghent/ B
Wandering, Galerie S. & H. De Buck, with Piet Pollet, Ghent/ B
Noman's Land, Verbeke Foundation, Kemzeke/ B
2007 Over The Hedge, 100 Belgische kunstenaars, Tianjin/ CN
Underground, Warp, Sint-Niklaas/ B
Alles Beweegt vervlochten generaties, Dienstencentrum "Ter Deeve", Meulebeke/ B
Miniaturen, Boekentoren, Josef Deleu, S. & H. De Buck, Ghent/ B
2006 Making Sense In The City, Aula, Ghent/ B
Het (On)Volmaakte Lichaam, Monumental vzw, Bornem/ B
Nachten Van De Open Ateliers, vzw Nucleo, Ghent/ B
Heilige Geest, Voorkamer, Lier/ B
2005 Voorbij De Grens, De Markten, Brussels/ B
Short Circuit, Motive Gallery, Amsterdam/ NL
Planet Gender, Galerie S. & H. De Buck, Het Achterhuis, Ghent/ B
2004 I'm Lovin 'It, groepsexpositie, Ghent/ B
Open Atelierdag 3, vzw Nucleo, Ghent/ B
2000 eervolle vermelding, Kunstsalon van Gent St. Pietersabdij, Ghent/ B
1996 Klas 4A, Campo, Antwerp/ B
Rotary Expo, Elizabethzaal, Antwerp/ B
Winterplaats K.A.S.K.A., selectie P. Roobjee & G. Bijl, Antwerp/ B
1995 Walking Museum, Antwerp/ B
October Octopus Expo, Berchem/ B
ART IN PUBLIC SPACE
Eve, Kliniek ter Linden, Knokke, B // Monument 'Leap of Faith' Thuis voor een beeld, Oost-Vlaanderen, B // Toren, Sint-Niklaas, B // Tableau Vivant, Genk, B // Mijnwerkersvrouw, Maasmechelen, NL
AWARDS
2018 Laureaat van de Klasse van de Kunsten der Royal Flemish Academy of Science and the Arts