Sometimes unexpected circumstances occur while collecting art. It often becomes a journey with an uncertain outcome. This is one of these stories. Since today I have added a piece from a special artist, Sofie Muller, I would like to use the occasion to tell it.
It may start in a magazine, in the internet or at best in a gallery. The journey to collect and engage with art. There is one piece, that you cannot ignore, that works as a magnet to you. This magnet does not necessarily have to feel warm and well, sometimes it is so irritating that first you have to admit to yourself that the piece is moving you. You must be really honest and focussed to come to this thought. As with the human psyche, the first impulse is emotional, the thoughts, that follow emotion, will sometimes distract, sometimes lay a smoke-screen on these first but always true emotions. After you did recognize a work to be special, after it has left a stain in your brain, that investigation continues on the artist and the body of work. This gets hopefully more and more intense and inspirational, a journey begins to feel deep and becomes unforgettable. And if this energy has build up, you can at best start to collect a work that you admire. Sometimes this creates the unique opportunity to meet the artist, which of course is only possible if you collect contemporary art. Then you can accompany and support the artist for a certain time and see that work evolving, at best maturing and get a grasp of what that art has revealed you would have not seen in any other way. Serious collectors will always admit, that they may have engaged with art before they became collectors, but that debate never became so thorough as when they really consider to collect the piece. Maybe this has to do with the fact that you not only have to choose wisely, but that the money required symbolizes value or efforts you have made before to be able to do so. Although this particular journey started more or less the same way as with other pieces of art, this story is somewhat special or strange for me, as it started strongly and got a climax soon, which made me enthusiastic and still it seemed to be complicated – until today. I have finally added one work of that artist to the collection, a smoke-drawing from 2015 and I would like to use this occasion to tell the story and memorize a visit to her.
In spring 2016, while my family and I were traveling to England, Sofie Muller was so incredibly kind to open her house in Ghent for us for a nightly stopover. What a great idea, to visit not only Ghent but get to know the artist better at last. This visit indeed created a long lasting impression on me. For years I had encountered Sofies work since it was always prominent in some room at Martin Kudleks gallery in Cologne. The sculptures of hers had left a profound impact on me and in hindsight I have difficulties to explain why I did never try to acquire one of these pieces earlier, more spontaneously as I often did in those days. Many times I experienced empathy, well almost tearfulness when I looked at the boys such as the patinated bronce "Brandt", strong emotions as if I actually wanted to patronize and guards these little boys. But sometimes things take its time and you can not always estimate when that time will come or whether it will ever come, where you have realized the work is so important, that you do not want to loose that connection and you start collecting. Sometimes this cannot be a managed or controlled process. It is playing with randomness, faith or luck in many ways: You never know if the next period of an artists work is speaking to you as much as this one does, if the upcoming work will be stronger of even a key work in the artists career. So sometimes it is worthwile and pays off to wait, but the opposite is as true as to wait. If you collect by thought, but especially by heart, you have to use the open window before it is closed or your heart is protected by the armory of daily life. So I can only recommend to listen to heart and brain the same way and support the heart in these days if it is stronger than the thought.
Sofies house is original, no doubt, located in the centre of Ghent, which almost boasts to the visitor with its rich cultural heritage. Every time I am in Antwerp or Ghent, I involuntarily get a little sad about the thought, that Cologne must have had a very similar look before it was completely flattened during World War II. Antwerp and Ghent have similarities in their history and obviously the ground plot constructed out of a proud centre, all have important religious art pieces from the medievals until today. That richness of Gents facades is overwhelming when you come from a city of now rather reduced and sometimes already dissipated 1950s architecture, a city that is obviously still wounded physically and has scars everywhere. Gent is different, is holds buildings from epochs just as Neo-Gothic that are not or no longer visible in Cologne. Gent has much to offer just if you walk the centre, it certainly does not end with the Ghent Altarpiece by Van Eyck. Her house is located in a light curve, close to a tiny square next to some smaller channels, just walking distances away from the cities main squares. As this visit entered her private life, I would like to distance first from describing Sofie Muller as a private person, this is irrelevant to describe her work and I believe it is more interesting to be in my shoes on the day of that visit where I accessed her house as a complete foreigner. She has opened her home for newspapers such as De Standaard and television, therefore I believe it is acceptable to do this in a similar fashion now, some months later, but still be careful. Her house is still her home, her life, not a public place and she is not the living part of a museum.
I did not expect that much in advance. Martin Kudlek just quipped that her house is "großartig" and he was smart enough not to ruin the surprise with more details, which of course kept me curious. We found the building as "Jonas", a patinated bronce sculpture, was hanging on a nail over the main gate. The poor boy helped us to find the door, however entering the place was quite quickly like entering a new cosmos. And as with all matters were you expect little, you are very often pleasantly surprised! Her work, her life, her house, this is all very much intertwined. Some artists have their studio completely separated, organized as a workshop or even as a plant as e.g. Anish Kapoor or Tony Cragg in Wuppertal. Some artists that make drawings can work with no more than just a desk somewhere and exhibit there work elsewhere. They may work there, but not live there. Making sculpture usually requires quit a lot of dedicated space. Sofie has some rooms for her private life, who are presenting themselves maybe as you would expect other rooms to be in the old centre of Gent. However, the foyer with some of her sculptures and a grand pieta from the 16th/17th century in marble signals this is not only her house, there is more to expect. The hallway and stairs upwards also serve representational purposes, however since everything is mature, patinated and clearly old, it is telling a story of the past at the same time. Her studio/workshop is in an attached building, which is pretty handy of course. She works elsewhere too to create the sculptures, but this one is used as well by her. The house itself does not appear to be recently renovated, everything has patina and character seems to naturally follow this; there is nothing like smooth glas or steel and perfectly finished industrial surfaces of modern architecture, nothing appears superficial, everything has potentially a story and lived its (long) life. She is pretty keen not to change this, while we visited a craftsmen repaired the floor just to make it fully usable again, but not renew the finish. With some of her sculptures placed in the rooms and hallways, either waiting to be exhibited or permanently placed, these larger rooms gain a unique atmosphere, especially at night when you walk through the house on your own and interactions with them are inevitable. Subtly illuminated, one of the models is an old woman on a swing, which Sophie says resembles her grandmother with dementia, talking steps backwards from growing old to become a sort of mental child again. We have not seen a private house that can bear so much excitement and presence the sculptures do emit at night. My daughter Heidi, just 3 years old then, was not in fear as I would have expected, she loved the place, found the sculptures to be "simply there". More interest of hers was in the living creatures in the house, especially Sofies british Shorthair cat.
As with the city of Ghent, surprises and overwhelming sights does not end there. After you have seen these pieces, there is always a new surprise close in her house. The climax propably is the gothic hall in the upper level, a former house chapel, which was photographed for De Standard (below). Since I have often thought about the return of gothic influences in art, this felt especially familiar to me. I was really blown away by it, something like this room is rare and if such a room, it is not so connected with the building as this one is. I did expect this maybe in England in a monastery, certainly not in a private home. Some of the rather deep, existential and often dark palettes I have found in the Cluj school in artists such as Veres Szabolcs work on similar influences. Or you could drop to the most prominent name in this context, Michael Borremans. It is almost no surprise that in the rather small city of Gent Sofie and Michael know each other, going back to academic days and both of them still live mainly in Gent. Sofie actually started as a painter before she moved into the field of sculptures. Certainly both artists have had an influence on their respective works, sometimes as a teacher, sometimes as a guide on the development of a sustainable career in the arts, sometimes as an inspiration and so forth without judging this any further, their body of work still is very different. Sofies Art shares some of the deep presence in her work, the sobriety of it. She allows it to show pain and sufferings without a filter, not the easiness in live; the brazilian Copacabana, vanity and superficiality so to speak could not be further away. It is not the biographical misery of a human being, it is more focussed on the mental state and how emotions emboss on our lifes. Without a clear religious content it connects to the gothic centuries and renaissance in its expression that go back to the 16th and 17th century in Italy and central Europe. It is always clear and without any doubt central European art that could almost only come from there. Continuing our stay in the room, we saluted some of the carefully collected antiques, rarities and art pieces from various periods; from a small altar diptych to a Beuys poster, a medical study puppet out of paper and of course sculptures by herself, all mixed in display on cabinets. It comes with little surprise that Sofie was raised in a family of antique dealers and was surrounded by some of the piece lifelong. If this chapel was not built for religious reasons, you could easily imagine Lord Byron toasting Mary Shelley 150 years ago. Sofie could easily join that Neo-gothic group. It was just a random thought, but I was imagining her living centuries ago and it was not difficult to come up with these visualizations. But here she was present and in the 21st century. Continuing this thinking, we ourselves had embarked on a journey too, another cosmos that could only be called Sofies world.
To add some final notes on this matter, the use of former chapel is not that of a time machine. It is a place to exchange current cultural matters, a cabinet of wonders, a room to meditate, read out loud literature, a small museum, etc., but almost exclusively in company of others. It is rather difficult to imagine yourself in this room for too long, the atmosphere was also intimidating. I just believe one should say this is not her daily room to read the newspaper in the morning. I did take a photo of hers while the colourful beams of light emitted by the stained glass window shined upon her and you cannot evade from thoughts that not only the room is very special, but she must be as well. Well, it was not for the room we were there, as special as it is and Sofie is not a curator, owner or decorator. We passed her cosy kitchen and living room to walk into the small garden. There you would enter the studio which had a different quality to the main house. That was propably evoked by the furniture. The architecture was also much more functional. Although not terribly big, with some of the pieces presented it had a feeling of a closed asylum or a hospital that was forgotten. The painted wooden floor, the glas windows and the metal cabinets which I believe all came indeed once from a closed hospital add to this unique quality. Sofie had collected various items that were extraordinary: Tooths, old pharmaceutical bottles, a small statue of a saint, pieces of burned puppets, some medical instruments and some morels that I gave her as a present. Morels only grow on the ash of extinguished woodfires, a strange mushroom that emits its semen only for a short time and is not permanent. It was a bit like an alchemists' workshop where somebody was trying to create new forms of life. Frankensteins birth place wouldn't have looked much different if you add some electrical devices. It is a studio to work and to create out of these inspirations. She combined some of the items we saw for her sculptures, but it is not the workshop of a carpenter or painter. She further used some empty cartridge boxes to present the new works. All this summed up to an experience that is placed in a abandoned mental asylum, days after the smoke of war had diminished and shell noise was heard far far away.
Sofie finally introduced us to the highlight of our visit: The first alabaster head sculptures which she later called "Alabaster Mentalis". The work was stupendous with the facial expressions she had achieved. Those heads immediately caught our heart and eye. Some seemed to be wounded, mentally or physically, others were suffering and lost, frozen in time. The alabaster added surprising shades and unusual surfaces, some as transparent as glass, others had inclusions and differing surfaces in brownish or red shades. It was impressive to see the quality of the handcraft, Sofie teached herself the necessary skills to sculpt alabaster for these pieces just recently and she was evolving quickly in this field. Alabaster has the wonderful quality, that it is sometimes quite transparent and not as dense as marble. Sofie was clever enough to respect the material as it was and use its own qualities to express more, some of the dramatic wounds were natural anomalies in the stone. These small holes, cracks and
there as if nature intended to show them now after Sofie "only" removed the unnecessary parts. She quipped that some people find her work strange, my wife agreed that some of it is rather spooky and confronts everybody with aspects of our psyche that are not a cosy home for most people. But how is it possible to look deep into the soul and not also find scars and sufferings there? One of the basic emotions is fear, how can we ignore that? Art does not have to comfort, it is not decorative and aesthetic to improve the design of a home, it enriches your life making things visible that are not there otherwise. Maybe the psychological side of it will give some peculative parts of the frenzy contemporary art market (hopefully) a wide birch, but you never know (just look at the rise and fall of Bacon). However, I believe a serious audience will recognize the quality anyhow.
The works explicitly show the sufferings, pain or mental illness, fear, panic or something that is close to freedom or even death. The wounds of life, of loss or how humans can hurt each other emotionally, are clearly visible. Loneliness, the longing for company, that is frozen in the alabaster. It could serve as a second skin on the real skin and blood. There are many ways to interpret and react to these heads but I believe there is always an immediate reaction. I again did feel the necessity to protect them and even end their sufferings, but I was also really enthusiastic about the quality she had achieved. Sofie is a beautiful woman, who knows what she wants to achieve artistically and she must have a very special sensivity to create these works. I would not dare to say that an artist must have experienced similar pain in life to show it convincingly in his art, but certainly there must be an empathic quality beyond the average, a sensitivity to recognize it and then the ability to express even those areas, that are not immediately obvious. Everything was so overwhelming in its intensity, that I really had some difficulty to see her as what she is, to separate the artist from the work as one does mistake some actors for the characters they portray in real life.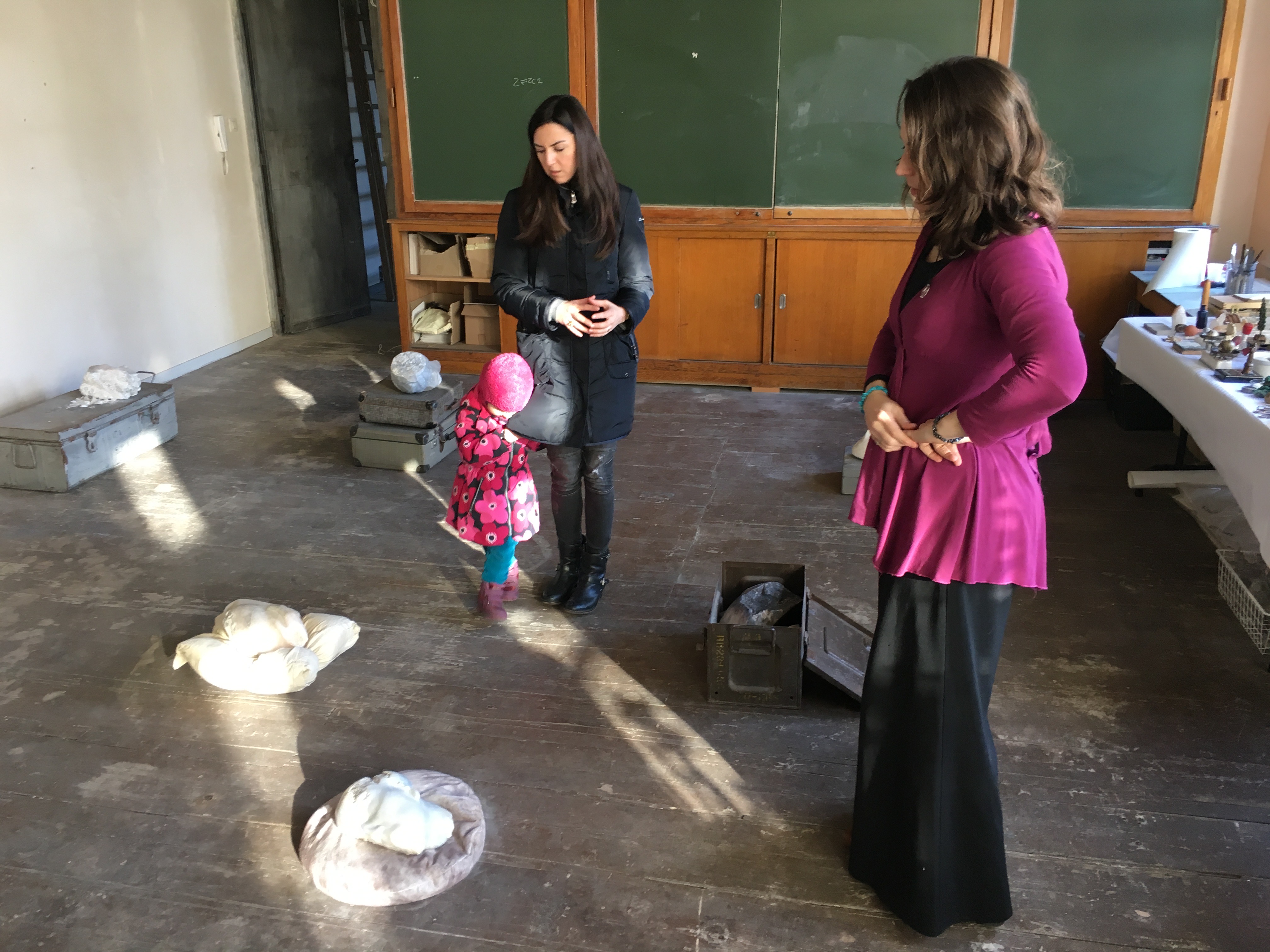 That the visit was so impressive certainly had to do with my expectations, it was gentle and nice to welcome people, but we felt so privileged to have access to this for the time being there. In cultural terms I could confess that we grew up in a deserted last: Westphalia and my home town did have some religious pieces, most prominently the Antwerp Altar in the city of Vreden, where I grew up, but this was still in use for the severe and stiff catholicism. In fact, I remember myself as an altar boy then, these coldblooded priests and the strict discipline we had to follow. There was no laughter, there was much more of the pain Sofie had revealed by her works. Now in Ghent, I was in a cultural paradise and it felt heavenly to see her works and getting emotionally attached to this. But as in paradise, there was so much to see, so much to digest, it immediately lead to cultural obesity: I tried to suck it all in at once and this could not work out. Afterwards, while driving to London trough the southern english landscape, I took a long breath and we had some time to reflect this, there is so much more to see, it would never be boring to return. How exciting, that we would see Sofie hopefully in the future and could witness where the work was going, what else she would make visible that we longed for and did not yet know.
Visiting is of course not the same as living there; Belgium is politically complex, diverse and of course your view and eye changes when you see these facades every day. But I guess it was helpful and trained Sofies eyes from early days onwards to be exposed to the cultural treasures of Flanderen; she sees beauty even in sadness, she observes well, expresses even complex emotions and she is able to produce art that withstands any comparison. It was probably the first time I could clearly see an artist that tries very hard to write a new tradition into the future that translates and continues our European cultural heritage. It can cite from our proudest days where necessary, but still is contemporary and looks deep into the future. And I believe you do not have to go further to grasp her a a person, you do not need biographic details to come up with a household recipe of why an artist could only come up with this art, which sculpture has had that experience, the work speaks for itself. Some say the work is strange or odd, which I could only understand if you are one of these people who have grown up behind the rainbow. Sofie stated that some of the sculptures are portrays of people in her private life, however, she values discretion a lot and divulges not further into that. I believe this would not only feed peoples curiosity, but does not add anything to the art piece or how it is perceived by the audience, it is their duty to come up with their own interpretation if they want to enjoy the piece.
I am not an art historian and cannot evaluate any art in scientifically sound terms as did Peter Lodermeyer some time ago, I believe Sofie can be very proud that you can see her work really evolving over the years and in certain ways she seems to become more radical, clearer and distinct. But this changes in an affectionate way, she does not break up with her earlier work, you can see that it centres around similar topics, changes the technique and material but has its base. Now she is digging deeper, some of it becomes clearer, undistorted and sometimes harsh. Earlier sculptures such as "Jonas" or "Brandt" are heartbreaking in their portray of what we adults can do to children, how the process of growing up can be a hard struggle, especially when teachers or parents try to form or even break them. The Alabaster Heads show mental states of adults, the stories continues using another material. Sofie has often cited a quote by Hippocrates along her work "Those diseases which medicines do not cure, iron cures; those which iron cannot cure, fire cures; and those which fire cannot cure, are to be reckoned wholly incurable." Sofie Muller is quite fond of quoting this statement by one of the first described physician and founds of modern day medicine. I did debate this quote with her as I believe it is only the foundation of where the latest addition to medicine, psychology, is bringing us. There is hope, so to speak, but different than expected. Mental diseases, depression or maniac depression, can be nowadays cured or at least be "controlled", sometimes permanently, but not by surgery or pharmaceuticals, none of the techniques known to ancient people. Hippocrates was trying to evaluate the means and tools a physician had to cure the human as an object. It was not a religious treatment of the soul, that was beyond his field and nowadays Psychology has moved into that spiritual field. Freud revealed, that (at least for some mental diseases) talk and group therapy does work. It is extraordinary: Not our understanding of biology or chemistry is working, we did not invent a miracle cure, but humans can heal the wounds and diseases of another person by affection, listening and talking sincerely, by empathy and reflection. We can indeed help to cure someones soul if the person is open for this and ready to take the effort to confront himself with his realities. Scientifically or especially in neuroscience this is not at all understood. It is far to complex for a human mind to understand what does happen in the neurons, however the effect is clearly visible. However, there is a flipside to this coin. Mental states of extraordinary momentum, a trauma or violence, even if sufficiently dealt with, will still leave scares and wounds that may open up again and again. A trauma can be revived if something occurs. Post-traumatic disorders are just one example of what we are confronted with in modern society. Since these mental diseases seem to thrive well in our speedy modern day lives, Sofie is observing states of existence and mental issues other artists have not dealt with in this way or distanced themselves from for some time. Some of the most prominent artists and works in art history cannot tell you a thing about it, although this field was always present, especially in religious art. Sculptures seems to be the perfect medium for this. I felt especially in love to one head that she had placed outside the studio in her living room. This had was so amazing, for one reason or another this one I could not get out of my head. Very often it is immediately clear to me and I stick with this impulse, that this should be the work I would like to look at again and again. When it is stuck in my imaginative memory that quickly, I would like to acquire it if possible. Sofie was looking forward to present the work at the Basel Art fair, further the heads would go on display to her gallerists Geukens De Vil and Kudlek and also to show in Poland at Lublin Biala Gallery (with Robert Kusmirowski).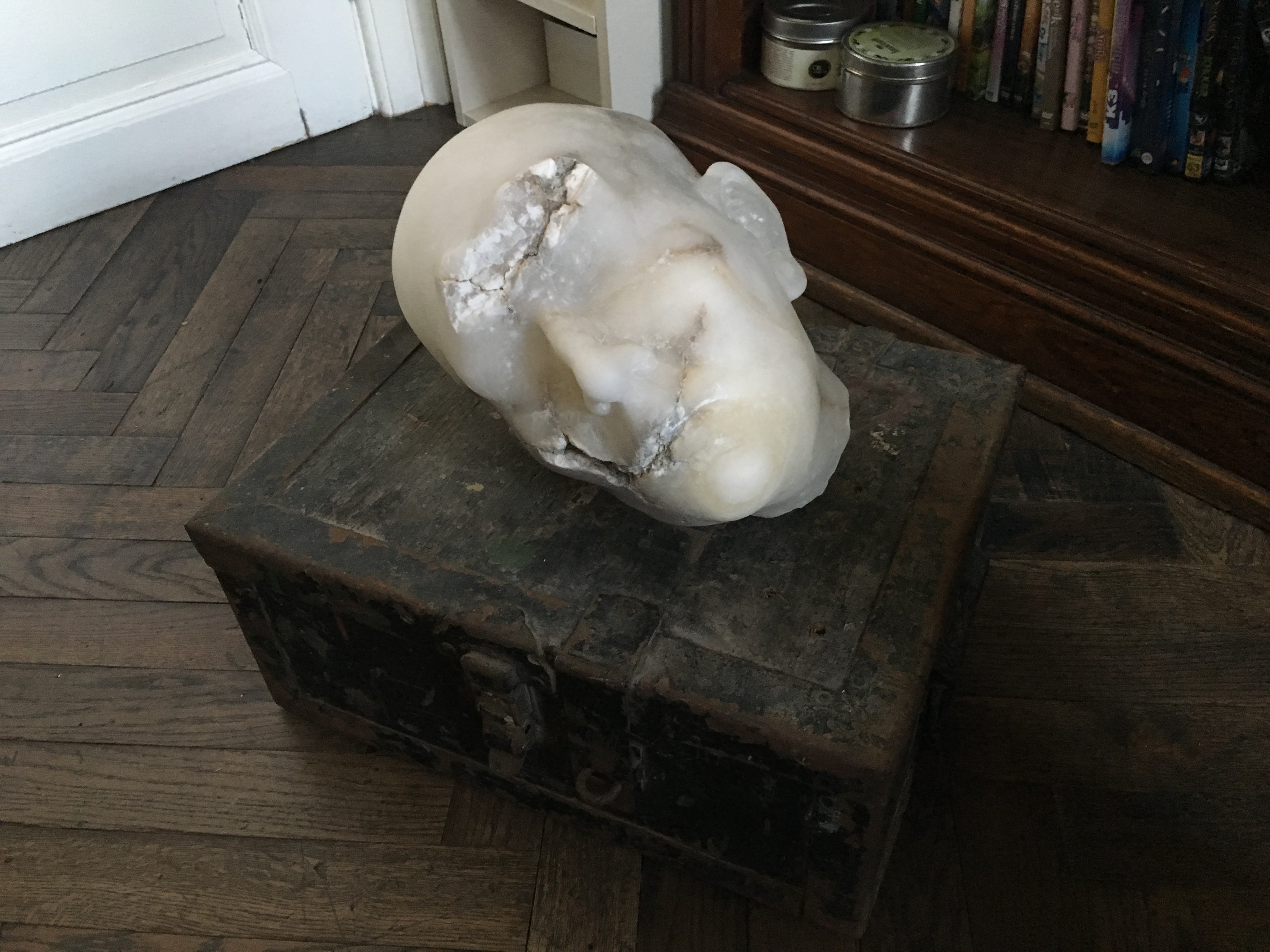 When an artist is known for now being a foremost belgian sculptor with such expressive works, how come you start collecting with a drawing you may ask? I believe I have found an obvious answer that at least answers the beginning of it. It is difficult to face the outcome of this process, that you will then see that little boy again and again. The confrontation with him is inevitable daily and this may numb yourself. And even if your own upbringing felt secure and safe, any grown-up has experienced moments, that have had a forming impact, that were not digestible for the soul. It takes not only courage, but energy to confront yourself with this. Especially if you see darker sides in the piece yourself. Some people see something ordinary, others may just discover day to day things – why should that be a trauma that you see, maybe that boy has just a bad stomach that goes away! But this was only the reason why the boys where difficult for me and this did certainly not apply for "Alabaster Mentalis". What happened in that year is collectorwise still a misery to me: I programmed myself on this one head (above), although Sofie added that she is going further, would have some more heads in the workshop that are even better and she would recommend to wait for them. Weeks later I was brooding already about the presentation: If I acquire it, where should I put the head, what is a suitable place, how to illuminate it and so on. Should it be placed on the floor on the cushions Sofie used? But does this work outside a museum space? After I was offered an Ash Head of Zhang Huan during those weeks, which Zhang placed on an rusty Tripod, I thought this was a good idea and sent Sofie a mail to her to use this as an inspiration. However, I believe though it was well meant, she felt I was intruding her creative space and this human response to defend the work took a bit of magic away that I had propably imagined there, some sort of deeper understanding and exchange that was now impossible due to the normal conflicts and failures in human communication. Weeks later another 2 heads were placed in Basel by Martin Kudlek where I went to to see them. One of them was in retrospect probably as good as the one I had in mind, maybe better. However I am sometimes stubborn and not flexible enough to change my initial goal. So it came to terms, that I was too late for these and further lost track. In the weeks later I had a some business related difficulties to overcome. To handle that brought me completely off track for some months. When you collect art, money can be a boundary, but it can also not happen due to a lack of time or a bad mood or even a personal crisis that can interrupt the process as the same would interrupt the process of creation of an artist. Art taken seriously is a sensitive undertaking. Well, I do hope I am still able to once acquire a sculpture of hers that is as pleasant as these ones, but that was not my year and I am left to express the admiration for these works.
Nevertheless I am very happy with the above featured smoke-blood drawing that I got now from Michaela Stock Gallery in Vienna: The untitled drawing on paper (No.3 of the series) was done before she started the Alabaster heads. First of all as a technique drawing with smoke (and blood of course) is quite unique. This one is showing an x-ray of a hand and its arm. Sofie did several of these smoke-drawings and she again achieved mastery in it. It also refers back to the often cited quote by Hippocrates that Sofies is fond of. Fire was used by Sofie several times (e.g. "Brandt" or the earlier "Barbara"). "Fire as a cure" in ancient medicine was a standard practice and today is still used to cauterize (stop bleedings) during surgery. Some call chemotherapy to be such a fire too. Fire therefore at first is a force of destruction, but destruction is the basis for creation of new developments. Radiology and in this case x-ray present a very complex picture: X-Ray is radiation and intensely used, it causes harm as fire does if you apply to much of it. Rays can destroy a tumor if used intensely but also destroy the DNA so reproduction is failing afterwards and cancer is caused by it. Here "radioactive fire" is used to create transparency, it is therefore a methodology to support the craft of healing and to help the medical personal to look deep into the body and understand the cause of pain. It reveals things that cannot be seen in another way, it makes things visible just like art does. Smoke is a product of a fire, it produces patterns that Sofie applies in a similar way as a painter would use his brush or pencil. Graphite is nothing else as the product of a fire extinguished many years ago. The application of blood gets the viewer incredibly close to its creator, it also creates a three-dimensional effect in the work. There is also something ghostly about it, a human that may have had a traumatic experience or a soul longing for freedom and rest. The blood is visible, so is maybe the bone intact, but not the flesh? And was that harm done by somebody else of was it self-inflicted? The gesture of the hand itself is not really clear, the bones seem all to be intact, there is nothing to be cured. Is it an aggressive gesture, just like a claw or is it a symbol for anything? Does it mean that the fingers have crawled into real flesh and blood, into the eyes as if it would say "see this, understand this and let it go deep into your eyes (…to the mind)". Or does it even threaten you that the fingers will pull your eyes out? Nothing stops the viewer to see something common, a rather informal way (especially italian way) of saying "Capiche? (Do you understand?). The title of the drawing does not reveal any of its meaning, but it clearly fits into the body of Sofie Mullers work and exemplifies the motive of fire.
This is speculation at its best and speaks for the quality of the piece. And from a collectors point of view it is always good to have a variety of pieces from different periods anyway if you stay loyal to the artists for a long time. I admit the drawing also has the additional character to remind me of our visit as like a souvenir does. And there you go, the unexpected outcome of this journey was not that I collected one of her head sculptures, but that this vivid journey into her work we had was now embossed in our memories. This maybe is one of the experiences in a life with art that outweighs at least some parts of an extensive collection. Most of the time when I discover a new artist, I have engaged with the art works themselves quite some time before there is a personal encounter, which is usually facilitated by a gallery or a representative. Collecting contemporary art enables you sometimes to also meet the artist. Not every artist is keen to do that, some rather prefer to stay on their own, not influenced by any momentum that could come from a collector. Further the creative space for some is considered as sacred as a deer of Artemis that no one is allowed touch or to distort. This is not the easiest for me since I am rather known for being very explicit and impulsive when things inspire me and it is rather difficult for me to stay in the position of a quiet observer. Sometimes it makes me feel like a wanna-be artist, but the roles are clear. Private collectors are today, where museums take ages to buy anything, a necessity for the artists to do their work, however the public space is very often the place where an artists wants their art to be finally seen, not hidden in some private treasure chamber or at worst a dark duty-free warehouse in Basel (I do not do that!)*.
To conclude I again would like to express my gratitude to Sophie for letting us visit her house, intruding her private sphere for some time and to be able to share thoughts and inspiration. It was a marvelous experience and not much has come close to this visit to Gent when talking about what art means to me. You could read interesting facts about the life of a classic, but it is marvelous to even share the same lifetime with an artist. You can share feelings and observations, feelings from the gut or intellectual thoughts and have the piece as a medium. Sometimes you can find an alter ego centuries ago, however you often are left with your assumptions of what the persons work was really about or what it tries to reveal: "Art does not reproduce the visible, it makes it visible" (Paul Klee). So wonderful to have met an artist that makes mental states visible in such a masterful way.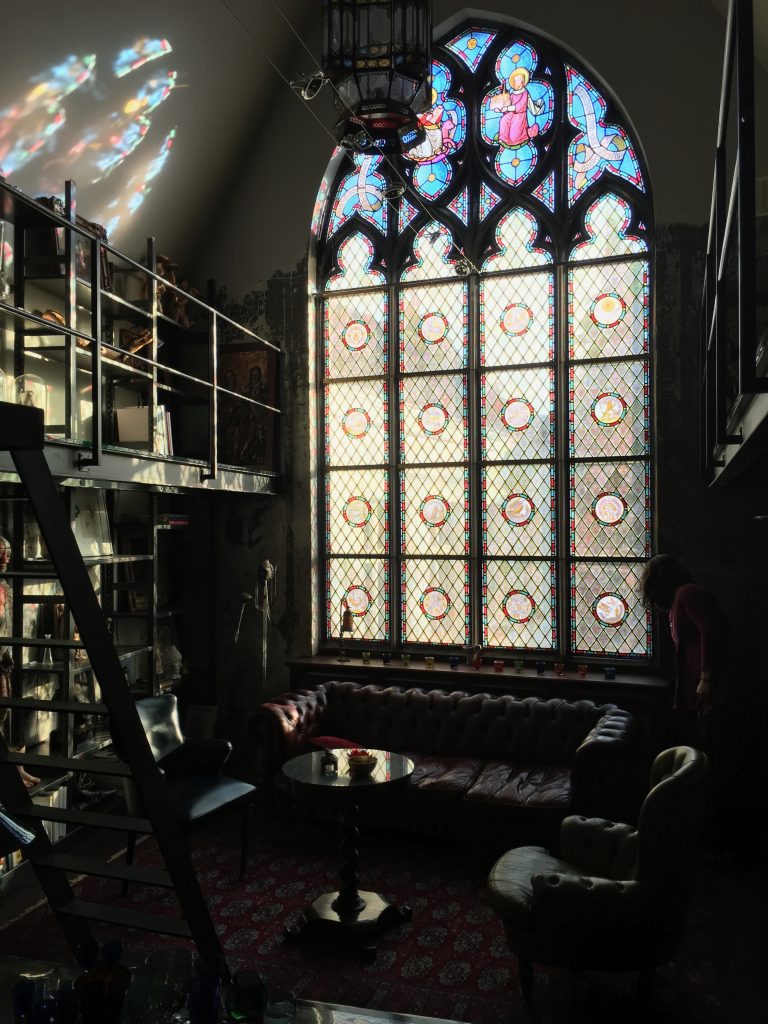 Biography
Sofie Muller
°1974, lives & works in Ghent, Belgium
UPCOMING PROJECTS
*New book – Uitgeverij Hannibal – Sofie Muller – Alabastres Mentalis – B
*Biennale Venice – 'expo Intuition'- Palazza Fortuny – curated Axel Vervoordt – I
*Kunstwerk Leben – Kunstmuseum Solingen- 1April – 1 July – D
*Kairos Castle – curator Joke Hermsen – Kasteel Gaasbeek – 1 April – 18 Juni – B
*Between Earth and Heaven – Huis 'De Lombard' – Brugge –23 April – 25 Juni – B
PAST PROJECTS
Solopresentaties
2017
*Mentalis alabaster – Geukens & De Vil Antwerp – January 2017 – B
*Ithaca– Galerie Martin Kudlek – Cologne– sept- oct. – D
2016
*Sculptures made in collaboration wth Sven Gatz, Flemish Minister of Culture
*Ithaca – Galerie Martin Kudlek – Cologne – September 2016 –
*Ithaca – Galerie Geukens & Devil – Knokke – 14.05.2016 – 11.06.2016 – B
*Mental Sculptures – Biala Galeria – in collaboration with Robert Kusmirowski – 27.5 – 30.6.2016 – PL
*Montaigne – actor Koen De Sutter, instalation 'Nucleus' from Sofie Muller on stage – Kaaitheater Brussel, NTG Gent, CC Brugge, De Brakke Grond, C-min Gent, Vrijthof Maastricht … N
2015
*Cabinets 2015 – FeliXart, Drogenbos – Brussels – B
2014
*Psychonomics – Gallery Geukens De Vil – Antwerp – B
*Grave Souls – duopresentation with Kiki Lamers – Venray – NL
*Art Brussels – focus artist Geukens & De Vil – Brussels – B
*Drawing Now Paris – focus artist Martin Kudlek – FR
2013
*Brandt – Galerie Martin Kudlek – Cologne – D
*Work for public space – Mijnwerkersvrouw – Maasmechelen – B
*Work for public space – Emma – Mechelen – B
2012
Black Out – C-mine – Genk – B
Tableau Vivant – Genk – B
Onzen Toren – Sint-Niklaas – B
The rest is silence – Geukens & De Vil, Antwerpen – B
Guiding hand III – Europeancardacquiring – Berlin – D
2011
Guiding hand II – Europeancardacquiring – Berlin – D
2010
Solopresentatie Fondation Francès – Senlis – FR
Monument Leap of Faith – Thuis voor een beeld – Oost-Vlaanderen – B
Exhibition Leap of Faith – Caermersklooster – Gent – B
Guiding hand I – Europeancardacquiring – Berlin– D
2009
Memento – Park ter Beuken – Lokeren – B
2008
Über Menschen – Galerie Geukens & De Vil – Antwerp – B
2007
beDivided – Art Brussels 2007 – Geukens & De Vil
beDivided – Geukens & De Vil – Antwerpen
2006
Morphs – Galerie S. & H. De Buck – Gent
seXes – Geukens & De Vil – Knokke
seXes – Mercator Galerie – Antwerpen
2004
seXes – Galerie S. & H. De Buck – Gent
Groepspresentaties
2017
*Art Brussels – Geukens & De Vil – Tour & Taxis Brussels-21-22 April – B
*Tinto. Without Tinta – curator Azad Asifovich – Espace 8 – Brussels – 22 April – B
*Aide Mémoire – Espace Séraphine Louis– Clerment/Fondation Francès – F
2016
*Liminal Lyrics – curator Hedwig Brouckaert –New York – VS
*Gestures and Shudders – curator Sanne De Wolf – Museum E – Mukha – B
*No Modulor No More – Belgium sculpture today – Vierkante Zaal – Sint-Niklaas – B
*Submarine – Artists around Fred Bervoets, curator Sergio Servellon, KASKA, Dec. 2016
*Medicine in Art – Moca Krakow – 22.4- 2.10.2016 – PL
*Bookpresentation – Belgische hedendaagse kunstenaars en hun interieur _ uitgeverij Luster – B
*Montaigne – actor Koen De Sutter, instalation 'Nucleus' from Sofie Muller on stage – Kaaitheater Brussel, NTG Gent, CC Brugge, De Brakke Grond, C-min Gent, Vrijthof Maastricht … N
Speelvogels – Sint-Nicolas – Zwijgershoek – B
2015
*Spiegel im Spiegel – Beernem – organised by PAK – B
*Goodbye Pourbus, Hello Leopold – Geukens & Devil Gallery – Antwerp – B
*Kunstenaars voor Wagenschot – Handelsbeurs – Gent – B
*Kust@rodekruis – curator Hilde Van Canneyt , Ronse – B
*Boeken onder vuur – KU Leuven – Universiteitsbibliotheek – B
*Watou – Kunstenfestival – Watou – B
*Vormidable – Recent sculptures in Flanders , Museum Beelden aan Zee – Den Hague – NL
*Palindrome – National Gallery of Art Sopot – curator Robert Kusmirowski – PL
*Occupied emotions – Broelmuseum Courtrai – B
*Rasa Ik, jij, wij – travelling exhibition – Smak, C-mine, e.a. – B
*No Walls expo Nl/Vl – curated by Bob Smit – Fenixloods, Rotterdam – NL
*Pleisterplekken – Guislain Museum – Ghent – B
*Occupied emotions – Broelmuseum Courtrai – B
2014
*No Walls – expo NL/VL – Fenixloods Rotterdam – NL
*Patch places – Guislainmuseum – Gent – B
*A story of abscence – selectie Kunstcollectie Nationale Bank – Brussels – B
*Museum to scale 1/7 – Kunsthal Rotterdam – NL
*Westenwind – Galerie Martin Kudlek – Keulen – D
*Ik, Jij, Wij – Rasa vzw – travelling exhibition – B
*Vienna Art Fair – Geukens & De Vil – Vienna
*Fine Arts from Flanders – Tongerlohuys – Rosendaal – NL
*De modernen – Koningin Fabiolazaal KMSM – Antwerp – B
*Drawing Now Paris – focus artist Martin Kudlek – Paris – FR
*Health – Something of Value – loketten Nationale Bank curator Sven Vanderstichelen – B
*The Prélude Pathétique – Universiteit Leuven – curator Wim Lambrechts – B
*Uber den Mythos der Jugend – Kunsthalle Nürnberg – D
*Museum to scale 1/7 – Royal Museum of Fine Arts Belgium – B
2013
*Drawing Amsterdam – Gallery Martin Kudlek – september 2013
*Coup de Ville – Warp – int-Niklaas – 13 september tot 13 oktober – B
*In alle staten – Guislainmuseum – curator Fondation Francès – Gent – 13 sept. 13 okt. – B
*Basel Volta 9 – Gallery Martin Kudlek – Switserland – juin 2013
*Pour les siècles des siècles– Lieux -Communs – Namur – Mai 2013
*Prestige – Universiteit Ghent – curator Nicoline Van Stapele – febr. Mar. 2013
*The Drawing Now – Gallery Martin Kudlek – Paris – march 2013
*Brisure– Belfius – curator Stef Van Bellingen – Brussels okt – maart 2013
2012
Bates Motel – Space – Liège – 7 december -2012
Het kunstwerk een gebruiksaanwijzing – Technicum Gent – 29 november 2012
Are the limits of my language, the limits of my world? –Gallery Maskara – Mumbaï, India – 20 november 2012
Les Fleurs du Mal – Kersgallery – Amsterdam 9 – 30 augustus 2012
Poëziezomer Watou – Watou – zomer 2012
Mindmap – Venray – 25 mei – 15 oktober 2012
Dangerously Young – Museum Dr. Guislain – Gent – 8 okt – 5 mei
Mooi – rondreizende tentoonstelling vzw Raza – 2010 – 2012
2011
Beeld van hoop en wanhoop – Mothers for peace – Ieper – okt
Geus de luxe – Geuzenhuis – Gent – okt
Kunstpodium T – leerling meester project – Tilburg – apr
Salon 9 – curator Christa Vyvey, Pianomuseum Maene – Ruiselede
The power of drawing – Galerie Geukens & DeVil – Antwerpen
Mooi – vzw Raza – 2010-2012
2010
The power of drawing – Galerie Geukens & DeVil – Antwerpen
Mooi – vzw Raza – 2010-2012
Lucht is tastbaarder dan mijn gedachten – Kasteel Oud-Rekem – 18 juli-26 sept
Beeldenroute Lo-Reninge – West-Vlaanderen – sept
BAT 10 Beeldenroute Anti-Tankgracht curator Flor Bex – Schilde -7mei – 19 sept
Preview Berlin – Galerie Geukens & De Vil – okt
Walking te Line II – Galerie Kudlek Von Grinten , Keulen – juni
Art Amsterdam – Geukens&De Vil – mei
Collages&Romantiek – Verbeke Foudation – cultuurraad Roeselare
Mort ou vif – Fondation Frandès – Senlis– april
Uit het Geheugen Katho-IPSOC en Museum Dr. Guislain – Kortrijk – 23 jan
Art Amsterdam – Galerie Geukens & De Vil – Nederland 26 – 30 mei
Art Brussel – Geukens&De Vil – 23 – 26 maa
2009
De Oversteek curated by Bonnefantenmuseum & A.M. Van Laethem – Rekem
De Collectie curated by P. Van Cauteren & Sjoerd Paridaen – Espace Ladda – Gent
Uit het Geheugen Museum Dr. Guislain – Gent
Ademloos – benefietveiling + expo Bernearts – Antwerp
Hot Art Basel – Geukens & De Vil – Basel
Art Brussel Geukens & De Vil – Brussel
A flowery band to bind us to the earth – Galerie S.&H. De Buck – Gent
UN-SCR-1325 Chelsea Museum – Curator J. Van Woensel – Geukens & De Vil – NY
Miniaturen Cultureel Centrum Hasselt – Josef Deleu – S.&H. De Buck
2008
A flowery band to bind us to the earth – Galerie S.&H. De Buck – Gent
Antwerp Sculpture Show curatoren B. De Baere & M. Meeuwis – Antwerp
Corpus Delicti curator Flor Bex – Justitiepaleis – Brussel
Markiezin Zoekt Kunst Kasteel van Gaasbeek – Gynaika – Gaasbeek
Over The Hedge 100 Belgian & Chinees artists – Kemzeke – Verbeke Foundation
Art Garden Party Veiling door Christie's 20 tekeningen – MDD – St. Martens-Latem
Art Brussel Geukens & De Vil – Brussel
Found/Gevonden/Trouvé Voorkamer – Lier
UN-SCR-1325 – Geukens & De Vil – Antwerpen
Rewind curator Filip Van De Velde – St-Niklaas
Die Hände Der Kunst Ronny Van De Velde – Herford Germany
Trends 2008 Sint-Barbaracollege – Gent
Artist's Hands Ronny Van De Velde – S.M.A.K – Gent
Feminiene curator Willem Ellias – VUB – Brussel
Tussen Lichaam en Geest Dr. Guislain museum – Gent
Wandering Galerie S. & H. De Buck – duo expo Sofie Muller & Piet Pollet – Gent
Noman's Land Verbeke Foundation – Kemzeke
2007
Over The Hedge 100 Belgian artists – Tianjin China
Underground curator Stef Van Bellingen – Warp – Sint-Niklaas
Alles Beweegt vervlochten generaties Dienstencentrum "Ter Deeve" – Meulebeke
Miniaturen Boekentoren – Ghent – Josef Deleu, S.&H. De Buck
2006
Making Sense In The City Aula – Gent
Het (On)Volmaakte Lichaam – curator Tom Peeters – Monumental vzw – Bornem
Nachten Van De Open Ateliers – vzw Nucleo – Gent
Heilige Geest Voorkamer – Lier
2005
Voorbij De Grens De Markten – Brussel
Short Circuit curator Jan Van Woensel – Motive Gallery – Amsterdam
Planet Gender Galerie S. & H. De Buck – Het Achterhuis – Gent
2004
I'm Lovin 'It groepsexpositie – Gent
Open Atelierdag III vzw Nucleo – Gent
2000
eervolle vermelding – Kunstsalon van Gent St. Pietersabdij – Gent
1996
Klas 4A Campo – Antwerpen
Rotary Expo Elizabethzaal – Antwerpen
Winterplaats K.A.S.K.A. selectie P. Roobjee & G. Bijl – Antwerpen
1995
Walking Museum – Antwerpen
October Octopus Expo – Berchem
Art in public space
Tableau Vivant – Genk– 2012
*Note: This blog of mine is one attempt to keep the artworks alive, visible and present. As long as they are not presented in a museum (where I like to frequently loan them to), at least it is clear where they are and what provenance they have to serve the continuance and the vital experience of our cultural roots.