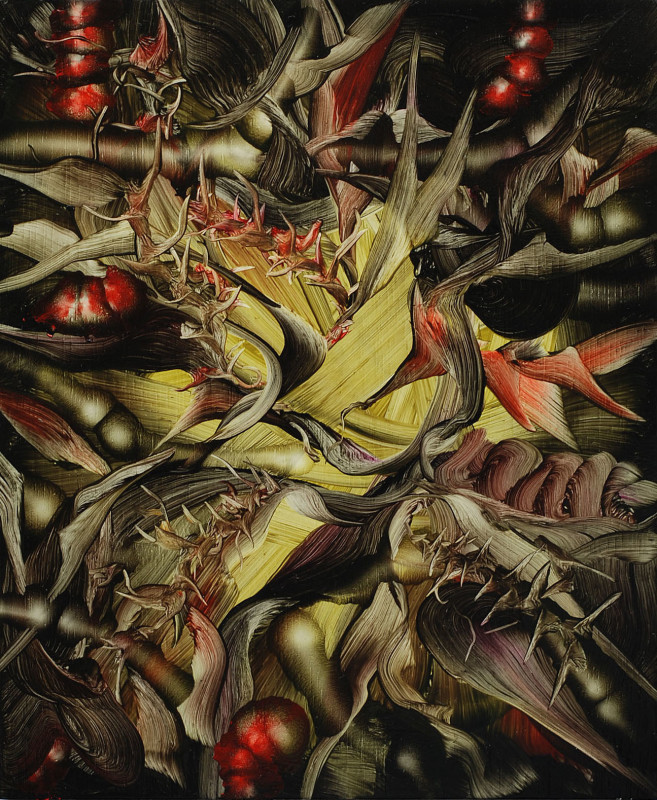 Andy Harper: Cast, Öl auf Holz, 20 x 14 cm (2012), hinzugefügt zur Sammlung in 2018.
Andy Harper's works often alternate in style or manner. They differ in composition, colour as well as general image feel and yet, some of the works were made in close dialogue with one another. Thus these recent paintings can be read as a coherent set of works, a series but they can also be seen and experienced as totally individual, separate entities. This quite small piece has the complexity and rich gesture of Harpers larger works.
The painting uses images that evoke ideas of an organical creation, tropical flowers, carnivorous plants in a manner that to me resemble on the Surface some of Max Ernst' phantastical works (Eye of Silence, Le Forêt, Temptation of Saint Anthony) and a chromatic that is Rätsels seen these days – closer to german or dutch master of the 16th century. It is organical, mysterious, creation and biological evolution in full flesh. And simply beautiful.
Born in 1971, United Kingdom
Lives and works in Cornwall, UK
CV
Education
1997-99 Middlesex University, M.A. Visual Culture
1993-95 Royal College of Art, M.A. Fine Art Painting
Brighton Polytechnic, B.A. Fine Art Painting
1989-90 Torquay Tech, Foundation Course in Art and Design.

Selected Solo Exhibitions
2018 Plastic Fox, Patrick Heide Contemporary, London
2017 Lux Art Institute, Encinitas, CA
2016 Soft Errors, Patrick Heide Gallery, London
Sol, Danese Corey, New York
2014 The Pleasures of Thinking, Morgen Contemporary, Berlin
2013 The Angels of History, The Page Gallery, Seoul, South Korea
Archaeology in Reverse, Newlyn Art Gallery
2012 New Paintings, Danese, New York
2011 Towards a New Architecture, The Page Gallery, Seoul, Korea
Truthwall, Morgen Contemporary, Berlin
2010 An Orrery for Other Worlds, Aspex, Portsmouth, UK
2009 Danese Gallery, New York
Selected Group Exhibitions
2015 The First Humans, Pumphouse Gallery, London (Curated by Angela Kingston)
2014 Silence, ESMoA, El Segundo Museum of Art, Los Angeles, U.S.
2012 Merge Festival, Bankside, London
Looking Glass, Bernhard Bischoff and Partner Galerie, Bern, Switzerland
2011 In the Presence of Light, Danese, New York
Latitude Contemporary Art Prize, (winner), Latitude Festival, Suffolk, UK
2010 Twilight Zone, with Minjung Kim and Chrystel Lebas, Galerie Morgen, Berlin
2009 Now you see it, Cafe Gallery Projects, Southwark Park, London
Wall Painting, FringMK, Milton Keynes
Forces of Nature, Danese Gallery, New York
Pattern Recognition, Leicester City Art Gallery
Wastelands, Newlyn Art Gallery, Cornwall
Grants/Awards/Residencies
2017 Lux Art Institute Residency, Encinitas, CA
2015 ESMoA Residency, El Segundo, CA
2011 Latitude Contemporary Art Award, Suffolk
2004 Thupelo Workshop, Cape Town, South Africa
2001-02 Fellow, l'Ecole Cantonale d'Art du Valais, Sierre, Switzerland 2000 Braziers International Artists' Workshop, Oxfordshire
1994 Asilah Cultural Palace, Morocco
1994 A.R.C.O., Lisbon, Portugal
Selected Publications
2013 Review by Stephen Lee, Art Monthly, Oct 2013, issue 370 pages 32-33.
2010 Uncharted Planet, by Jonathon Parsons, Turps Banana. Issue No. 8.
Andy Harper, review by Stephen Mueller, Art in America, Feb 2010.
2009 Andy Harper, review by Laura McLean-Ferris, Art Review No.29, p.87/89
Andy Harper-One in the Other, review by Roy Exely, Flash Art No.264, p.109