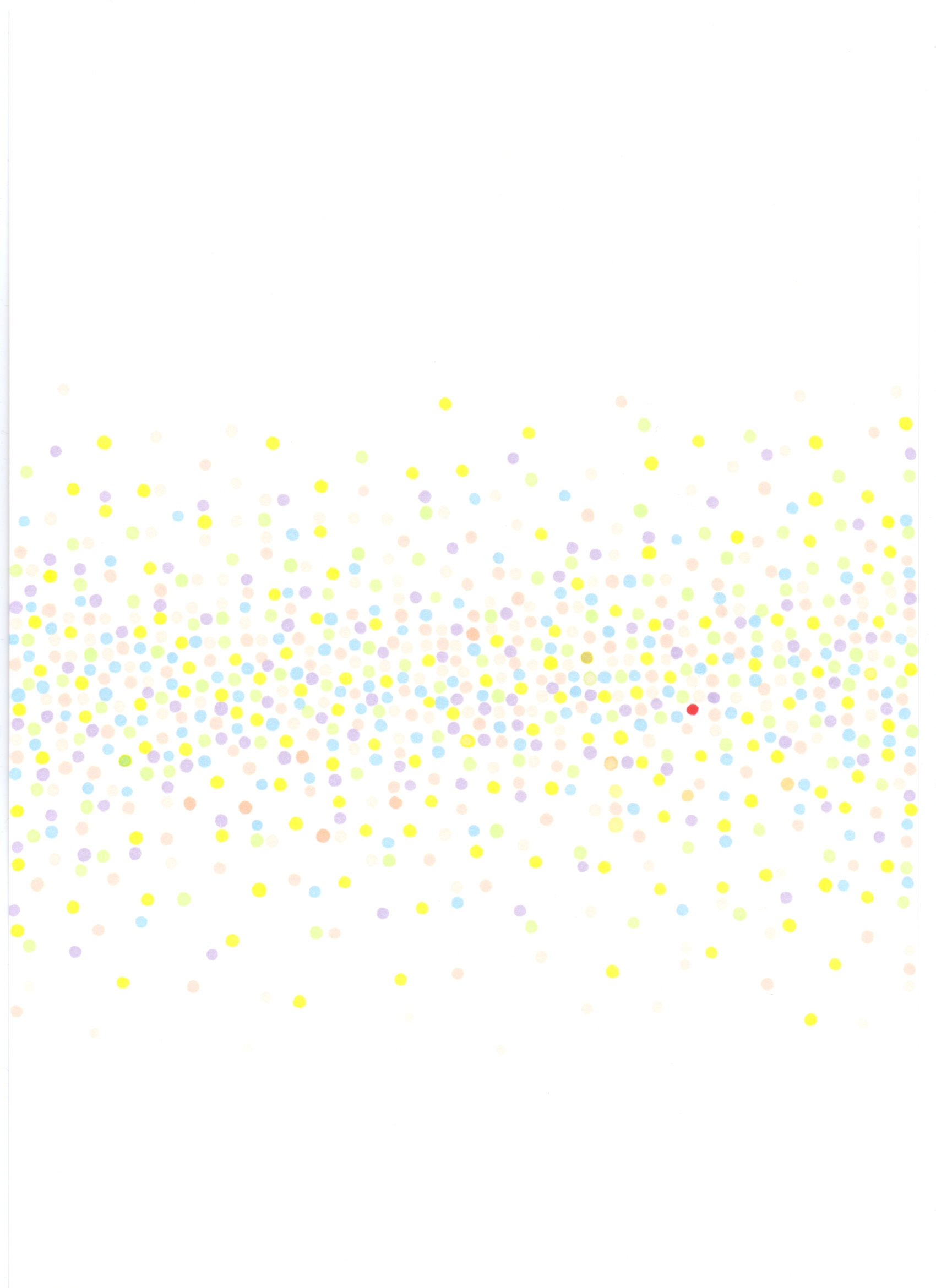 Karóly Keserü: Untitled, (1903011) Ink on Paper, 30 x 21 cm, 2019
Karóly Keserü is back! He extended his 20th century master series with references to his favorites: Paul Klee, Bridget Riley, Endre Tot and of course Bart Simpson! All of this and works that only Karóly could create in a large solo show at Patrick Heides gallery space in London called 39. 39 is for the 39 totally new works he created that show the whole bandwith of his workbody.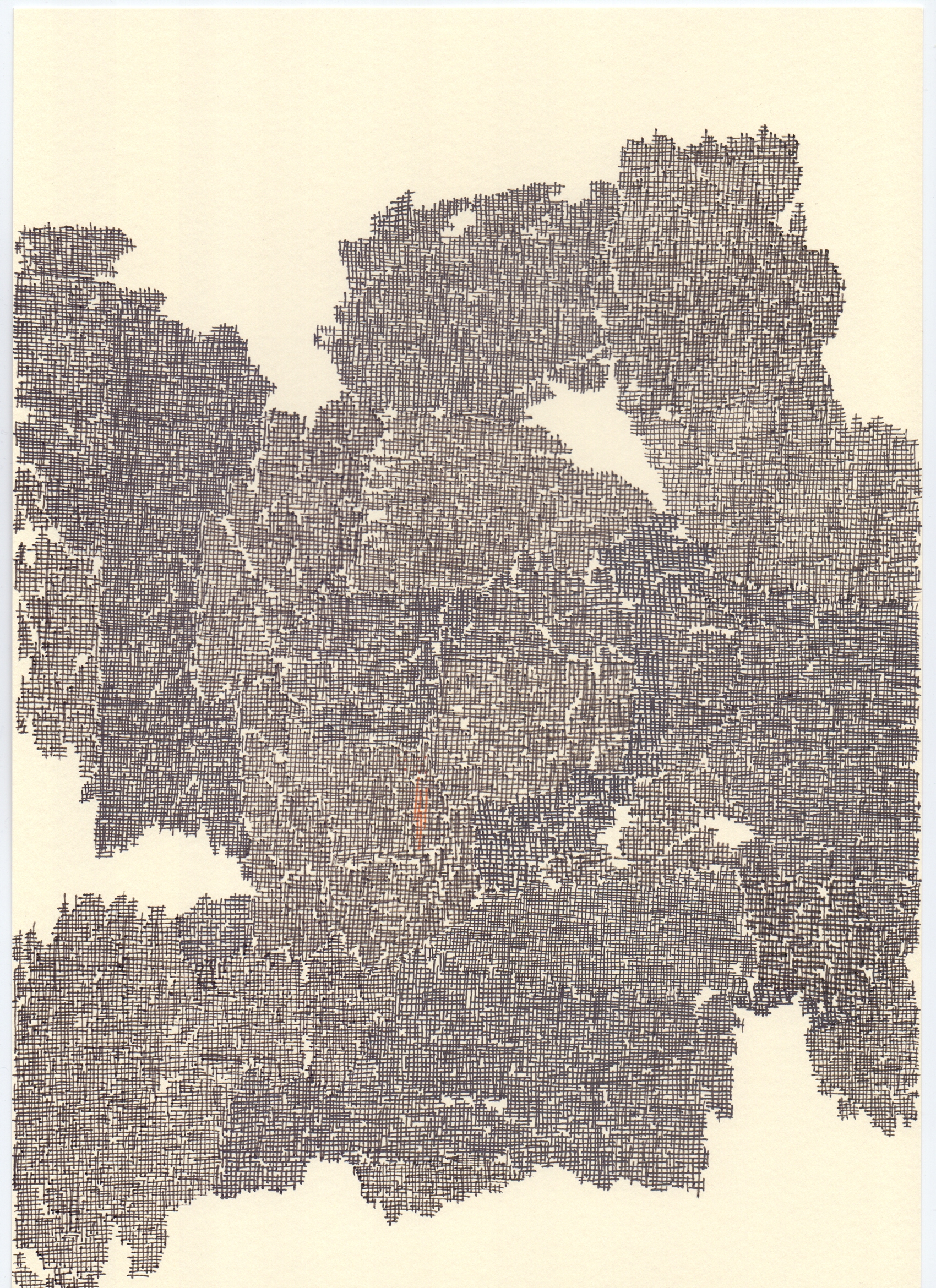 Karóly Keserü: Untitled (1902171), Ink on Paper, 30 x 21 cm, 2019
After having acquired two large scale works earlier from Karoly, I was on the lookout for his smaller works, which have the same incredible depth than the large works. Patrick Heide, his gallerist, had been waiting for them for a long time as both suffered a big loss: A transport with many works simply got lossed before a big fair and never ever was traced back. So collectors too had to be patient until Karóly created new works. It is obvious to everyone that you cannot create this art in an instant – it takes time and patience to be that meticolous. Hence first second I heard that the new works would be coming up, I acquired six different works that convinced me very quickly. 39 was a super big choice and I was close of buying more. However, the biggest joy is in being moderate. There is always new art and other artists you also want to include in the collection, it is not easy to do this but restriction pays off.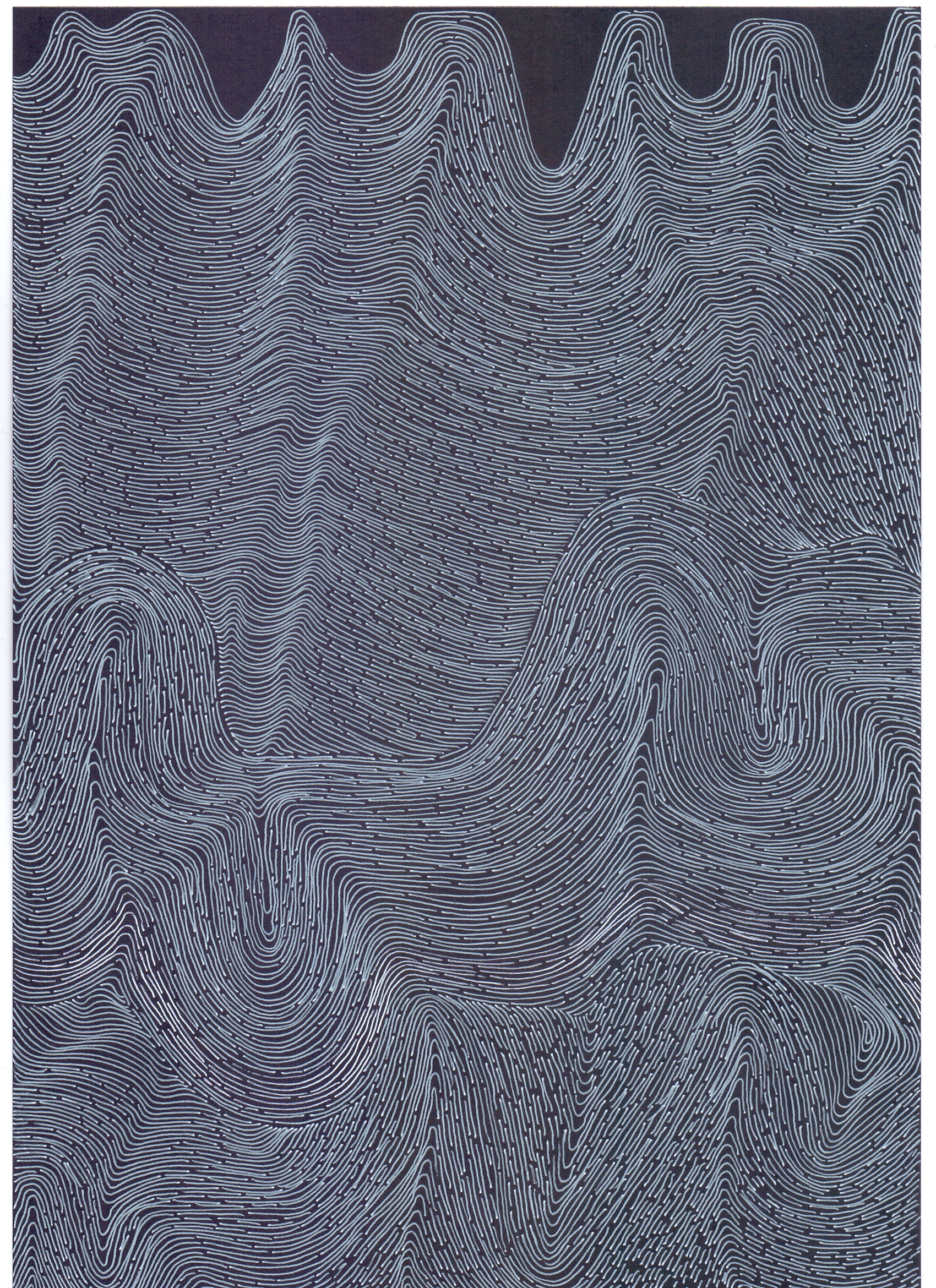 Karóly Keserü: Untitled (1902271), 20th century master series, Paul Klee: Take a line (and few more) for a walk, Ink on Paper, 30 x 21 cm, 2019
In particular two new works were immediate "hits" in my heart so to speak: The reference to Paul Klee which is a favorite to many. A quote of this giant of the 20th century art is on Patrick Heides gallery front: Art does not reflect what is seen, it rather makes the hidden visible. The other work is a favorite of popular culture: Bart Simpson. Everyone who can recall the start sequence scene in which the character Bart draws on the chalk board his new line with an admission of guilt of earlier wrongdoings knows why Karóly named it that way. It is a very typical work of Karóly nevertheless, the geometrical structures of his very linear writting in a small space with letters has been seen before. I chose a very reduced colouring, five of the works are more or less exciting despite only using two contrast colours. One does its great effect only with a dot of red. All six together are a strong message of how minimal art still has maximum effect on the viewer.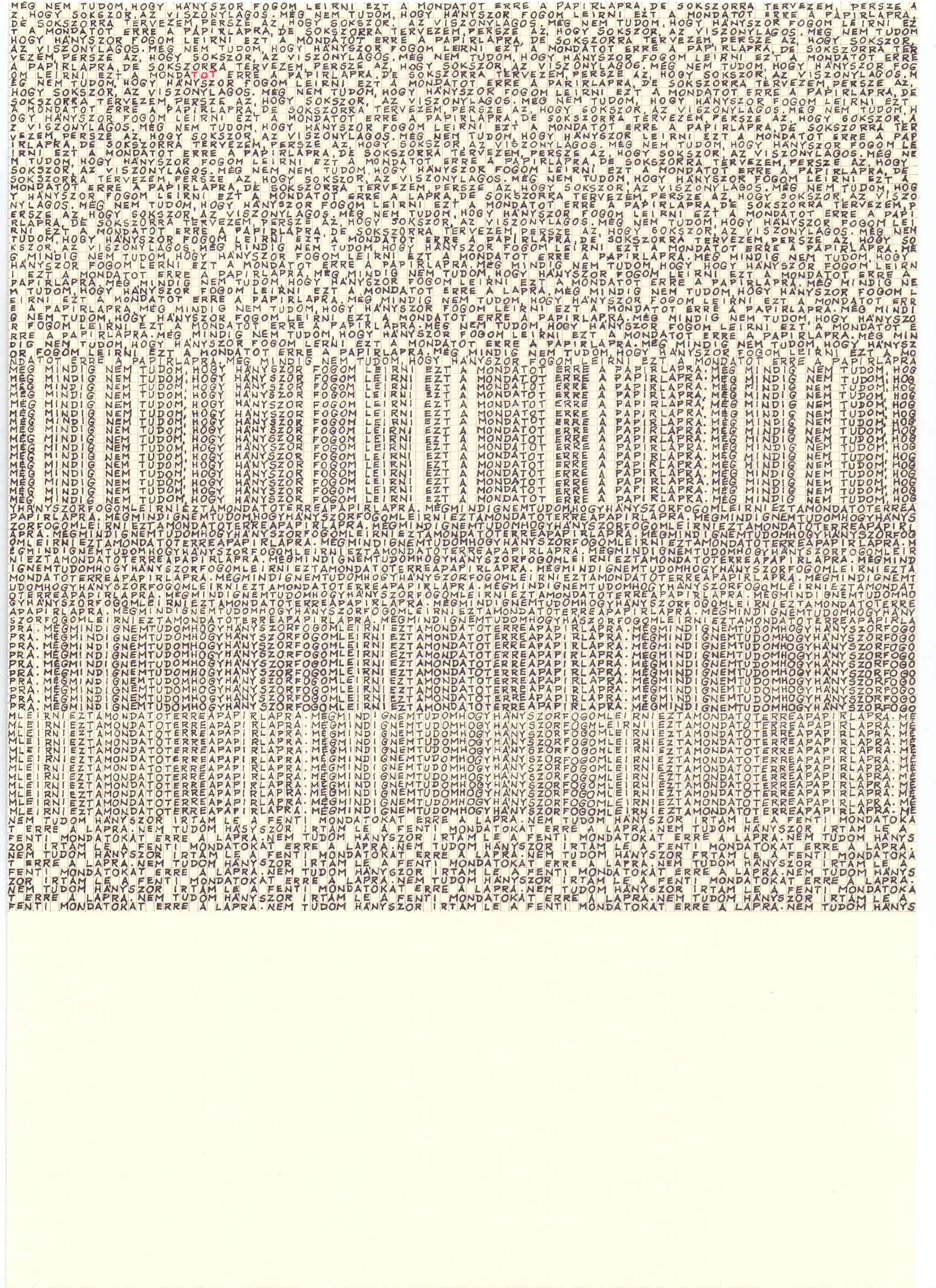 Károly Keserü: Endre Tot meets Bart Simpson (1802231), XXth Century Master Series, Ink on Paper, 30 x 21 cm, 2019
Some biographical notes on the artist: Károly Keserü is best known for his rather minimalist works that take a new approach to geometric painting and drawing. The methodical and critical potential in his work accurately and sustainably address and review the legacy of Modernism and Post-Modernism in the digital age – one of the gallery's core areas. In his search for a balance between the physical and metaphysical, between system and chance, Keserü draws inspiration from Eastern and Western philosophy, folk art like embroidery and Aboriginal and in particular music. Keserü then translates these influences into a creative practice that is both experimental and transformative.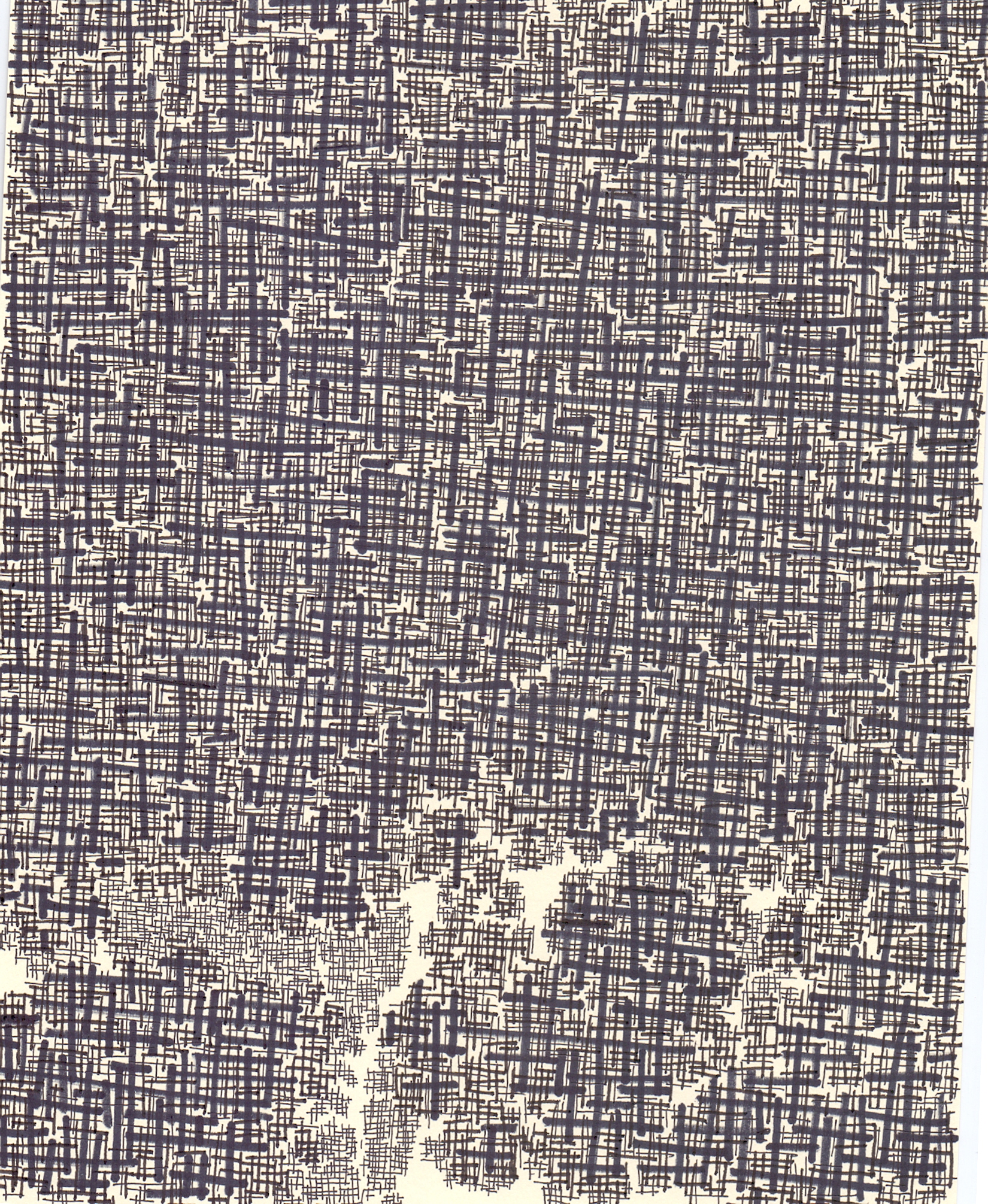 Karóly Keserü: Untitled (1811301), Ink on Paper, 30 x 21 cm, 2019
Keserü's trademark graphite and ink drawings are based on meticulous and labour-intensive handicraft, the abstract and geometrical structures are incorporated either in grids or formed by dots, where no dot is identical to the next. The lines are often drawn freehand, allowing for cracks to emerge and voids to prevail. At times, patterns disperse on the surface like notes in a musical work of improvisation, nebulous clouds of differing densities or a flock of indefinable clusters. The titles of his XXth Century Masters series do not only refer to selected artists such as Josef Albers and Victor Vasarely, but also adopt their chromaticity and image compositions: Agnes Martin's characteristic horizontal stripes, Kazimir Malevich's black square or Piet Mondrian's compositions in red, blue and yellow. Finally, the artist also experiments with works that involve only paper itself by folding, crumpling, embossing, punching and puncturing to achieve a minimal yet more tactile feel and design.
Keserü's paintings are based on the same principle, but in this case the grid is established in a matrix of thread, laid in layers of resin on a horizontal canvas. This way he retains the glossy surface of his paintings and then places dots of different colours on and in between the different layers. The placement of the dots is usually by free association without a plan or structure in mind unless a piece is deliberately derived from a pattern. The resulting compositions can be read as maps, landscapes, technological plans or low-pixel images yet remain essentially abstract and mysterious.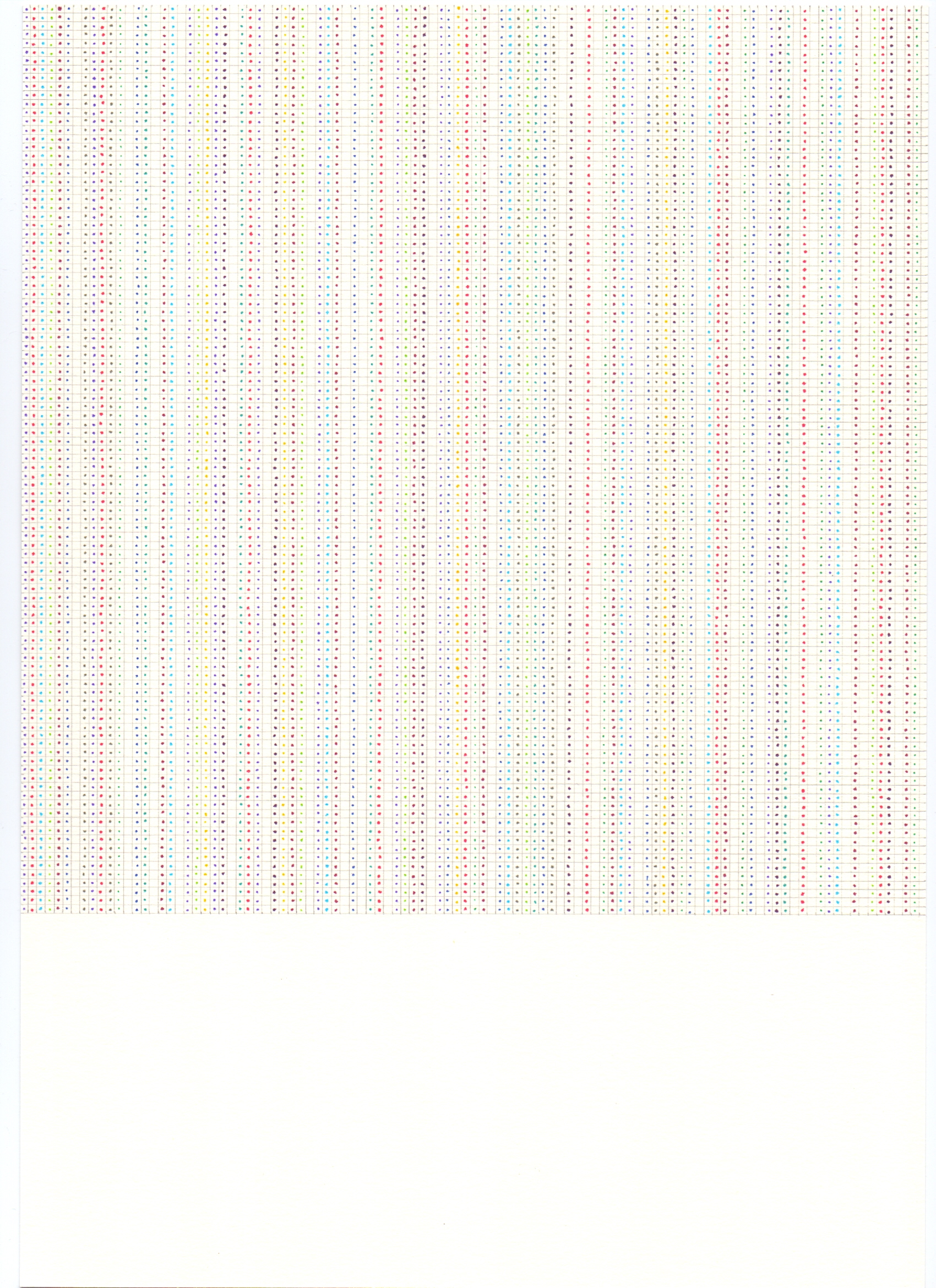 Karóly Keserü: Untitled (1610201), 20th Century Master Series: Bridget Riley, Ink on Paper, 30 x 21 cm, 2019
Curriculum Vitae
Born 1962 Budapest, Hungary
Lives and works in Debrecen, Hungary
Education
2002/04 Associate Student, Central Saint Martins College of Art & Design, London
2000/01 MA Fine Art, Central Saint Martins College of Art & Design, London
1997/99 BA Fine Art, Victorian College of the Arts, Melbourne
1995/96 Diploma in Visual Art, Swinburne University, Melbourne
Solo Exhibitions
2019 39, Patrick Heide Contemporary Art Gallery, London
2016 keserüsó (XX Century in Fragments) – Várfok Gallery, Budapest
bitter – Patrick Heide Contemporary Art, London
2014 Károly Keserü and Brigitte Stahl, Galerie Michael Sturm, Stuttgart
zen(e) (with Tamás Jovánovics), Gallery Várfok, Budapest
Stork – Galerie Michael Sturm, Stuttgart 2013 noha, B55 Contemporary Gallery, Budapest
CON-TEXT-WORX, Patrick Heide Contemporary Art, London
2013 noha, B55 Contemporary Gallery, Budapest, Hungary
CON-TEXT-WORX, Patrick Heide Contemporary Art, London
2011 magnificent coincidence, Patrick Heide Contemporary Art, London
Two artists from London, (with Tamás Jovánovics), B55 Contemporary Art Gallery, Budapest
2010 Tiger, Patrick Heide Contemporary Art, London
2009 mikrokozmosz, Patrick Heide Contemporary Art, London
& Hungarian Cultural Centre, Covent Garden, London
2007 (untitled) New Paintings & Works on Paper, patrick heide art projects, London
2005 scope London, St Martins Lane Hotel, London with patrick heide art projects
2004 Exploring the Grid, (with Isabel Albrecht) patrick heide art projects, London
2000 Folkmodern II, John Buckley Fine Art, Melbourne
1999 Folkmodern, George Paton Gallery, Melbourne
Apróságok, Mü – Terem Galéria, Debrecen, HU
1998 Paintings, VCA Gallery, Melbourne
Made (with Martin Gill), VCA Gallery, Melbourne
Selected Group Exhibitions
2015 Interpretations of Ornament in Fine Arts Today 1990-2015, Gallery Várfok, Budapest, Hungary
Here and Now – Fine Arts, National Salon, Budapest, Hungary
Hungary – The next Generation, Artmark Galerie, Vienna
GRIDS # 2, Galerie van den Berge, Goes, Netherlands (with Frank Badur, Emma Langridge, Axel Reusch, Ditty Ketting)
Oeuvres, Slewe Gallery, Amsterdam (with Jill Baroff, Tom Benson, Susan Collis, David Connearn, Katie Paterson, Ignacio Uriarte)
2014 Corner, Gallery Várfok, Budapest, Hungary
Space as space, Vasarely Múzeum, Budapest, Hungary
Freehand, MODEM (Museum of Modern Art Debrecen), Hungary
2013 walking the line V, Galerie Martin Kudlek, Köln, Germany
Art Market Budapest, Gallery Várfok
Párbeszéd / Conversation (Antal-Lusztig collection) Kepes Institution, Eger, Hungary
2012 Concrete – Abstract – Color Painting – Street Art, B55 Gallery Budapest, Hungary
text(ure), Patrick Heide Contemporary Art, London, UK
walking the line IV, Galerie Martin Kudlek, Köln, Germany
Anschlüssel London/Berlin, Centre for Recent Drawing, London, UK
Anschlüssel Berlin/London, Fruehsorge Contemporary Drawings, Berlin, Germany
Summer Show, Patrick Heide Contemporary Art, London, UK
Back and Forth – 8 Artists from London, B55 Gallery, Budapest, Hungary
FutureShock OneTwo, dr.julius I ap., Berlin, Germany
2011 Remix 2011-2014 (Selections from the International Collage Center collection), Lewisburg PA, Sedalia MO, Katonah NY, Knoxville TN, Lewiston ME, USA
Summer Group Show, Patrick Heide Contemporary Art, London, UK
Entre chien et loup, Galerie Vidal-Saint Phalle, Paris, France
2010 Drawing Attention, pablo's birthday, New York
2009 Stand in Line, Patrick Heide Contemborary Art, London
2008 microwave, six, Josée Bienvenu Gallery, New York
2007 Straight forward, pablo's birthday, New York
Obsession durch Technik, artMbassy, Berlin
Galerie van den Berge, Westwal, NL (with Mirjam Hagoort & Jus Juchtmans)
2006 Summer Exhibition, Foster Art, London
Art Forum Berlin
2005 Mostyn Open Exhibition, Llandudno, Wales, UK
Bologna Flash Art Show, Sofitel Hotel, Bologna, IT
2004 Pizza Express Prospects 2004, Tea Building. London
Bloomberg New Contemporaries, Liverpool Biennale and Barbican London
2003 Australian Art in London, Australia House, London
Summer Exhibition 2003, Royal Academy of Arts, London
The Hunting Art Prizes 2003, Royal College of Art, London
Artfutures, Contemporary Art Society, City of London School, London
2002 Summer Exhibition 2002, Royal Academy of Arts, London
New Inventive Works, e1 Gallery, London
(X)hibit, The London Institute Gallery, London
Artfutures, Contemporary Art Society, City of London School, London
2001 Exhibition for the Queen's Visit, Goodenough College, London
2000 National Works on Paper, Mornington Peninsula Gallery, Melbourne
City of Hobart Art Prize, Carnegie Gallery, Hobart, Tasmania
1999 Darebin – La Trobe Art Prize and Exhibition, Centre for Decorative Arts, Melbourne
1998 Poco Noco meets Jacques Derrida, Derrida Prize Exhibition, VCA Gallery, Melbourne
1997 Damp, Clothing Exchange, Grey Area Art Space Inc., Melbourne
1996 Ego, Temple Studio, Melbourne
1995 Annual Group Show, Linden Gallery, Melbourne
1993 Iglu Csoport, RS9 Színház, Budapest
Bibliography
2014 Artmagazin, (Vol. XII. Issue No. 4/68, pages 26-27) 'Hardcore Abstraction' József Mélyi, HU
2013 újMűvészet, (Vol. XXIV. Issue No. 7, pages 40-41) 'Poetics of Dots' Anica Rudolf, Hungary
Flash Art (Hungary), (Vol. II. Issue No 3/ 9, page 91) 'Károly Keserü and the Unknown Code' Zsolt Mészáros, Hungary
2012 Károly Keserü, Papertiger, 2009-2012
Back and Forth – 8 Artists from London, B55 Contemporary Art Gallery, Exhibition Catalogue, (text by Estelle Thompson/ Tamás Jovánovics)
2009 Károly Keserü, London works 2000 – 2009 (introduction by Chris Townsend)
2006 New Art from London, Chris Townsend, Thames & Hudson
Celeste Art Prize Catalogue (shortlisted)
2004 Art Monthly (288), Martin Herbert, Review of Bloomberg New Contemporaries
2000 Samstag 2000 Catalogue, The World is Not Enough (introduction by James Moss)
Interview on National ABC TV (Australia)
HBM Napló, Pontok és Vonalak Különös Szakralitása, HU (introduction by
Peter Héty)
Awards
2004 Pizza Express Prospects 2004, Student Award, London
2000 The Anne & Gordon Samstag International Visual Arts Scholarship (£30,000)
Melbourne, Australia
1999 Julian Counsel Acquisitive Award, Melbourne, Australia
Victorian College of the Arts Student Union Prize, Melbourne, Australia
1998 Victorian Campus Art Prize, Melbourne
Collections
Joann Gonzalez Hickey Collection, New York, USA Frankel Collection, USA
Michalke Drawing Collection, Munich, Germany Hamburger Kunsthalle, Hamburg, Germany
Antal – Lusztig Collection, Debrecen, Hungary
Bodnár Collection, Budapest, Hungary
Rechnitzer Collection, Győr, Hungary
Markus Bussmann Contemporary Art Collection, Cologne
Collection of University of the Arts London (Formerly 'The London Institute'), London, UK Collection of Athenaeum Hotel on Piccadilly, London, UK
The Shirley Foundation, UK
The MAG Collection, UK
Progressive, USA
Private Collections in Europe, USA, Australia