(Republished article from 2016, 3 works in the collection since 2015)
Among the painters from the romanian town Cluj, Dan Maciuca (1979) is one of my favorites. Earlier his work as a self-titled "abstract expressionist" was compared to Frank Auerbach, but with the involvement of architectural forms and shapes and a mix of painting techniques, he achieved his own creative evolution and defines a language of his own. The combination of expressionism to me shows movement and has a certain, unusual narrative nature with abstract explosions of colour, whereas the architectural shapes of building create an immense gravitas. The buildings do intimidate, they are almost brutal and not a cosy place and could open a long debate on the nature of architecture in capitalistic vs. communist societies – to me, both can at worst achieve fascist nature, where the people are almost kept like chicken in small cages, where the building bends the people. After his first solo show in Great Britain (2016) at Patrick Heide Contemporary Art, London, called "Utopian Proximity", he now (2018) joins a group show with drawings by Dan Beudean and the equally fascinating Ioana Iacob called "Dark Smoke".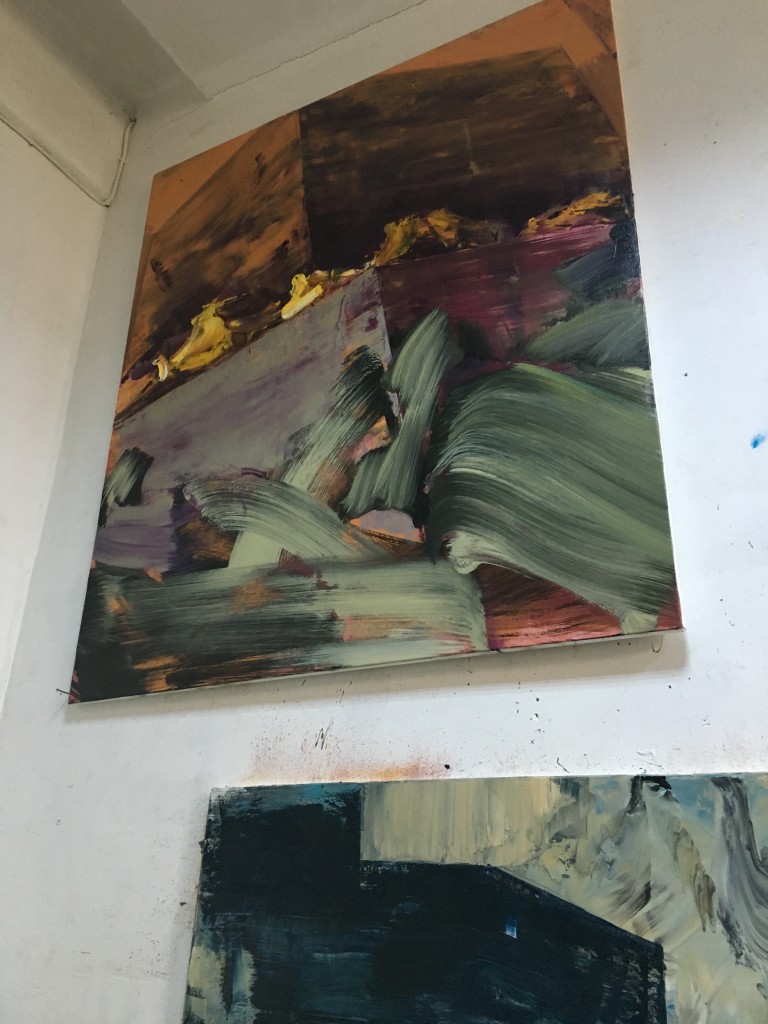 Dan Maciuca represents a generation of artists trained after the 1989 Romanian Revolution at the so-called Cluj School of Art in Transylvania along with Adrian Ghenie, Victor Man, Mircea Siucu, Szabolcs Veres and Ciprian Muresan. All artists originate from a studio community in a former paintbrush factory in Cluj, that is nowadays considered one of the main emerging contemporary art hotspots in Europe. Marius Bercea is among his friends and first supporters, helping Dan out to buy oil paint while trying to find his audience as an artist.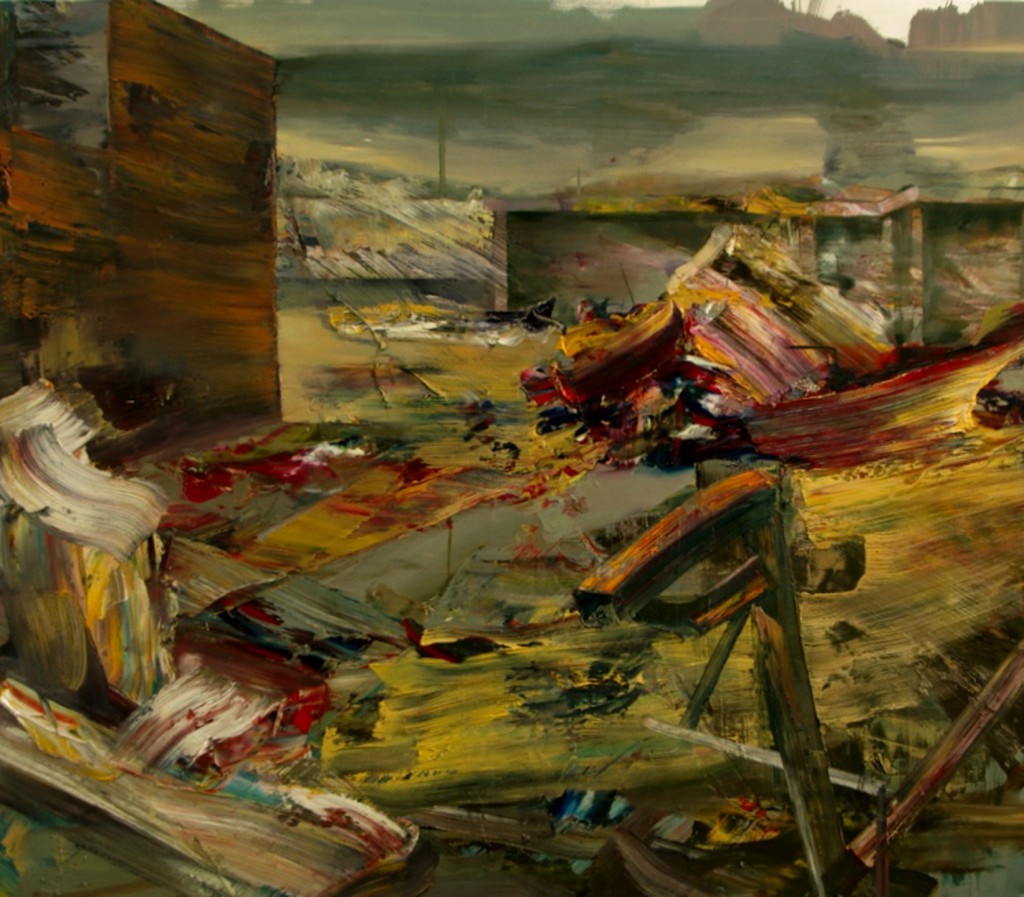 An alienation from or distortion of the past, its figures and surroundings through unsettling and dark colours and moods are a shared trademark of the Cluj School of artists, which sets the tone for an atmosphere that also permeates Maciuca's compositions. Yet Maciuca slowly and confidently forged his own route towards a gestural and more fluid painting style. His compositions are somewhat abstract-expressionist, partly applied in thick impasto, often set against a backdrop of geometric, figurative elements, building blocks or landscapes. In part reminiscent of Auerbach, de Kooning or the Cobra School, Maciuca independently developed a similar painting style to discover these artistic soul mates in the Internet only by accident late in his studies.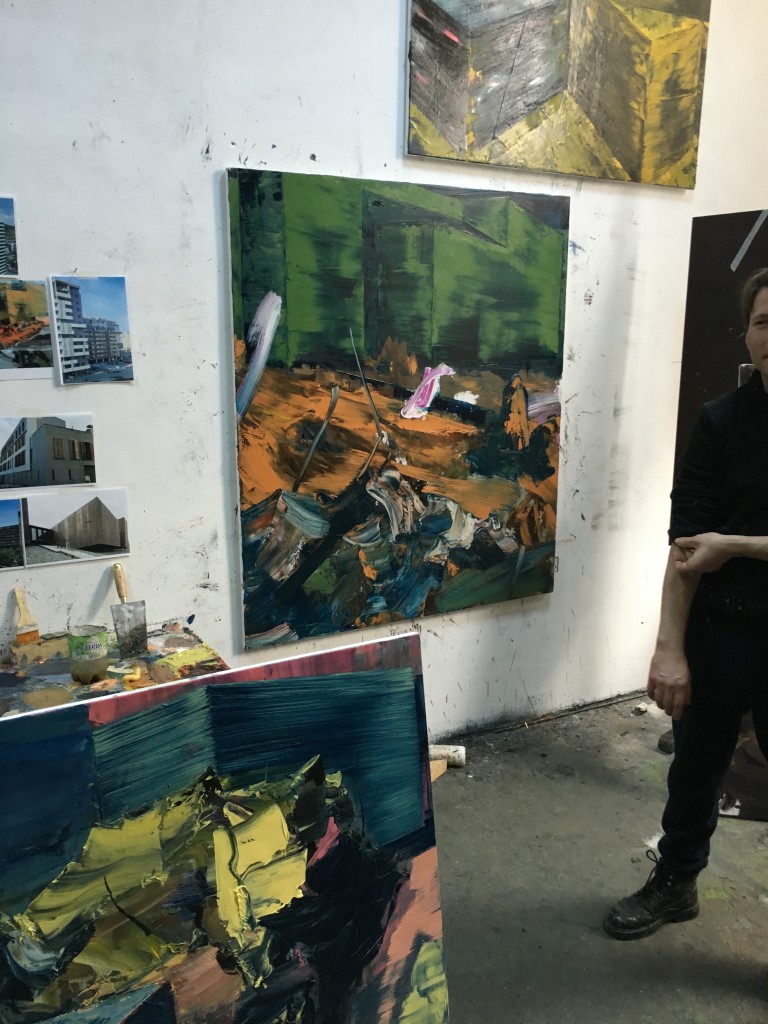 Going through the process of deconstructing the figurative representation, Maciuca examines the uncertainty through utopian urban landscapes. Sceneries with brutalist architecture are stirred up and set into motion by sweeping brushstroke movements or interspersed with swirls and outbursts of colour. Maciuca's urban landscapes possess the haunting beauty of post-apocalyptic settings, like film stills frozen in time, drenched with energy for potential renewal. Images used for composition are e.g. Pripyat, the city left by all inhabitants after the devastating explosion of the nuclear powerplant called Tchernobyl; concrete and brutalistic architecture created during socialism, that started as progressive architecture but turned out to be buildings to incarcerate the individuality of people, etc. – a motive which links to architectural exhibits in Marius Berceas works lacking the radicality and asthetic totalitarism of Dan Maciucas works.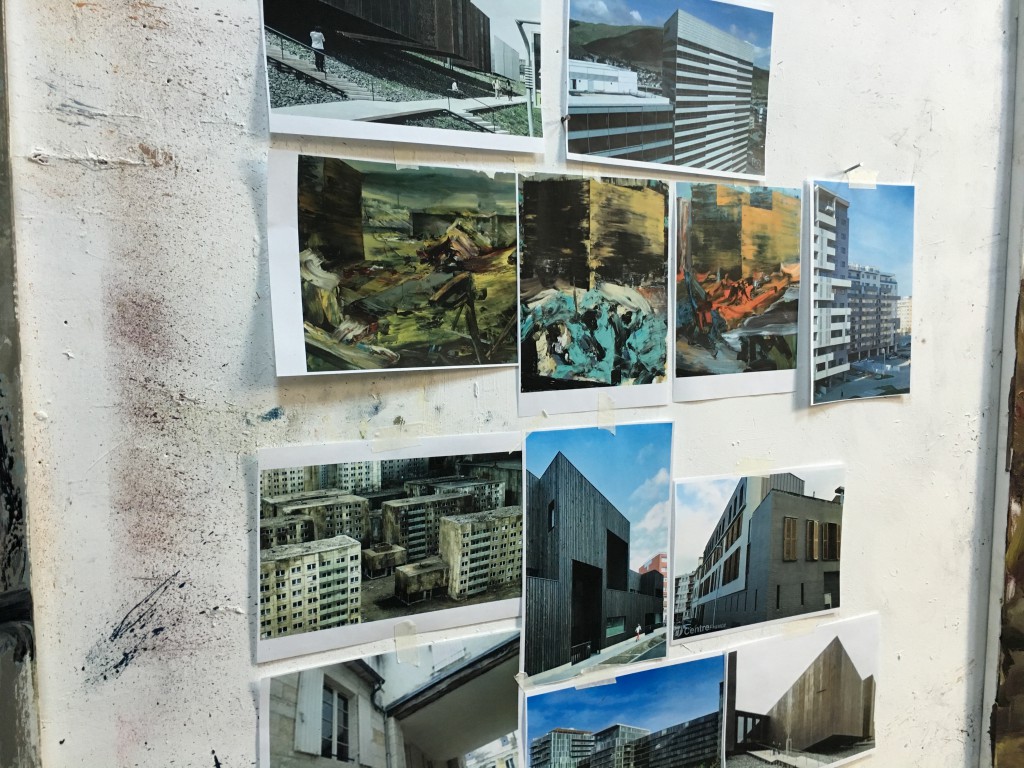 The opposition of the organic or geometric nature in Maciuca's paintings is brought to an almost poetic balance in his complex compositions, it is what gives Maciuca's ouevre a strong sense of dynamism. Maciuca redefines the concept of spatiality by turning a two-dimensional composition into a three-dimensional motion that subtly challenges the Cartesian paradigm.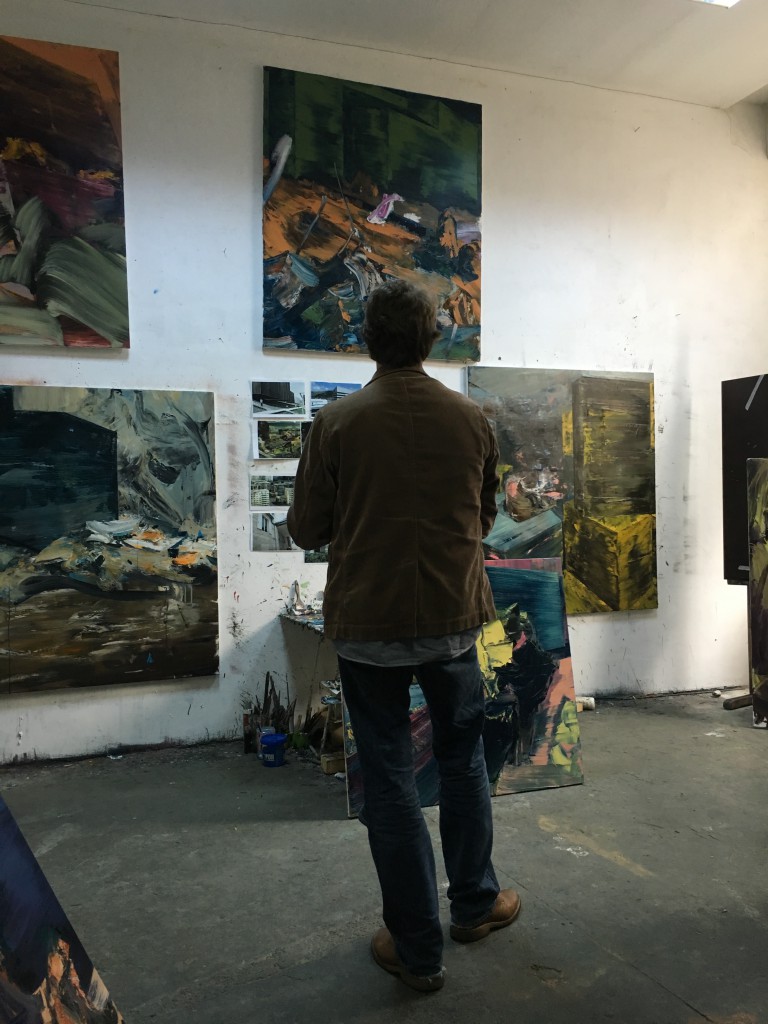 Maciuca's earlier work has been particularly linked to Frank Auerbach for the expressiveness and looseness of the oil application and for the depiction of their hometown environment (see Christies article). Thoughtful and emotional, heavy, busy and dense, both paint their personal world, their own piece of utopian reality.
Dan Maciuca graduated from the University of Art and Design in Cluj-Napoca in 2006 where he is currently a professor for painting.
P.S. The show at Patrick Heides Contemporary gallery called "Dark Smoke" runs 24.05.18 – 30.06.18 which is an exhibition that brings together the Romanian artists Dan Beudean, Ioana Iacob and Dan Maciuca.