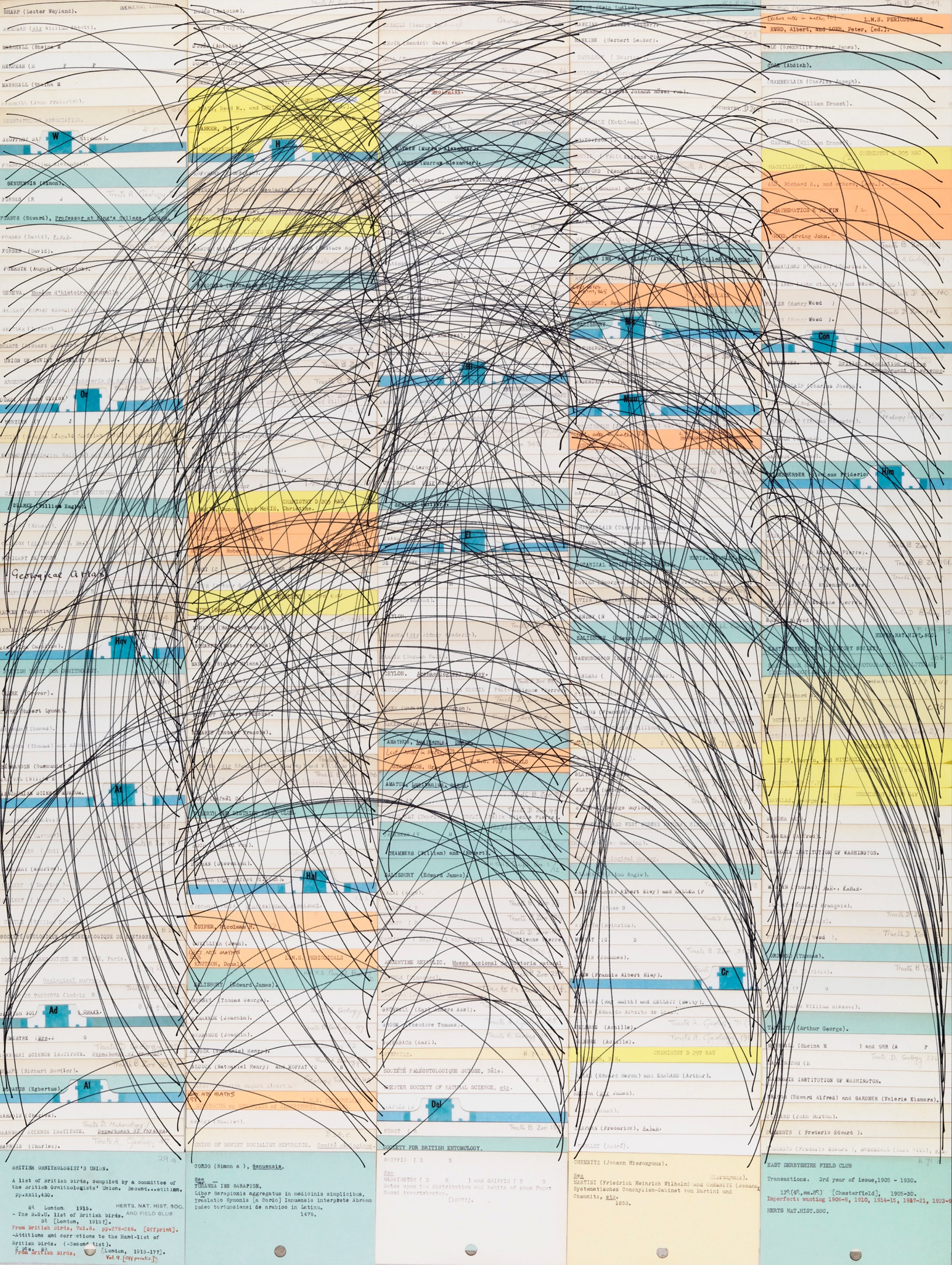 Katherine Murphy: Arkwright Work Task: Filing (alphabetically), 83 x 63 cm, Hahnenmühle Photo Rag, pen, 2016. Added to the collection in 2018.
First of all: It's Katherine Murphy, not to be mistaken with Catherine Murphy. Katherine studied at Slade and currently investigates various aspects of the world of work to gain a better understanding of employment, labour and work. She has focussed on the simple task that fills many peoples lives: Bringing order to chaos and organizing things. In this case library cards that have to be filed again alphabetically. The work shows the process of work symbolized by simple curved lines. It is clear that this task is requiring a patient character, it takes time, but may have to be done in a quick manner. The work may bring the person to a flow, however, it is not a creative task, it is very rigorous and demands clear decisions. It is an almost binary task and you can quickly imagine that this kind of task is only necessary in a analogue world. Today, we do not look up titles in library cards, we try to associate and tag titles on our digital file systems. The digital world also does not require data to be organized since it can be accessed very quickly. This is also obvious in other works such as "CV: Data Entry (2014)" (see below). Organizing the library cards has only one requirement which is to invest energy in organizing the cards to save the person time that is doing research. This also refers to the social hierarchy of labour, so the task that is more demanding to solve or the outcome of which the decision has bigger effects will probably only be solved by a person higher in social hierarchy.
The work itself is almost a performance documentation since Katherine Murphy has done the work herself and repeated and repeated this task to come up with this work. She has done many kinds of work as you can see by referring to her employment history. She noted not only the task, but also the wage, the exact time and why she finally left the work to start a new job. Artists very often have to work in a job they are not formally qualified for as long as they are not established or have a teaching assignment. Very often, this process can take a long time, sometimes the establishment is never achieved but the work of an artist remains passion and a calling but cannot pay the bills. This is in fact true for the majority of artists, very rarely the job pays so well that the artist can make a living from it. The piece also has relevance as a contemporary art piece since we are living in a time where not only physical work is done by machines but also intellectual work is no longer demanding a qualified human but can be done by artificial intelligence or in the case of library cards even by a simple algorithm. Is work necessary to define who we are and how about the dull tasks and repetitive schemes? Did we not do the same in industrialization where we outsourced labour to the cheapest sweatshops? And does labour really define who we are as a human being? Is dull labour done by dull people? Or is almost any labour requiring us to do something that we simply see as a burden?
In her own words:
"Currently my practice investigates various aspects of the world of work in order that a greater understanding of employment and its role in our lives can be understood. The medium I use for this investigation is action/gesture or less specifically; work. I use myself as the vehicle and the site for this action/gesture or work. As a consequence of my own experience and knowledge the work concentrates on the lower paid or minimum wage workers of the UK; the workforce, and is greatly informed by my experience of the work (and the roles within work) that society sets aside for women.
Through casual observance or direct investigation, an aspect of a system of work will come under scrutiny, my method is to establish an entry point into the system of work and set myself rules that I will use in order to engage with and question the system of work, in effect creating my own system. This system of my work often attempts to reflect the working system present, highlighting the area of question. My system of work has no intention to be invasive or impolite; in order for it to be effective it must work within the normative social confines of the working environment. The system I employ is often carried out over long periods of time and uses repetition and structure to highlight actions and changes to the system under investigation. The information recorded through these investigations into the system of work is then processed to create a display that hopes to speak of the essence and consequently the universality of the experience had.
I consider the actions and gestures that I perform to be the work itself and the resultant display in the gallery a means of communicating this work. My intention is not to create an objet d'art but to communicate through visual display.
Repetition, being so integral to the action/gesture or work, thus becomes an important aspect of the display. Repetition is apparent within the thinking, performing and making of the work/display. Repetition is an integral part of the human existence; our lives are structured through our repeated acts."
The work was included in Katherine Murphys solo shows "Decay", 30th of June 2016 until 17th of September 2016 at Patrick Heide Contemporary, London.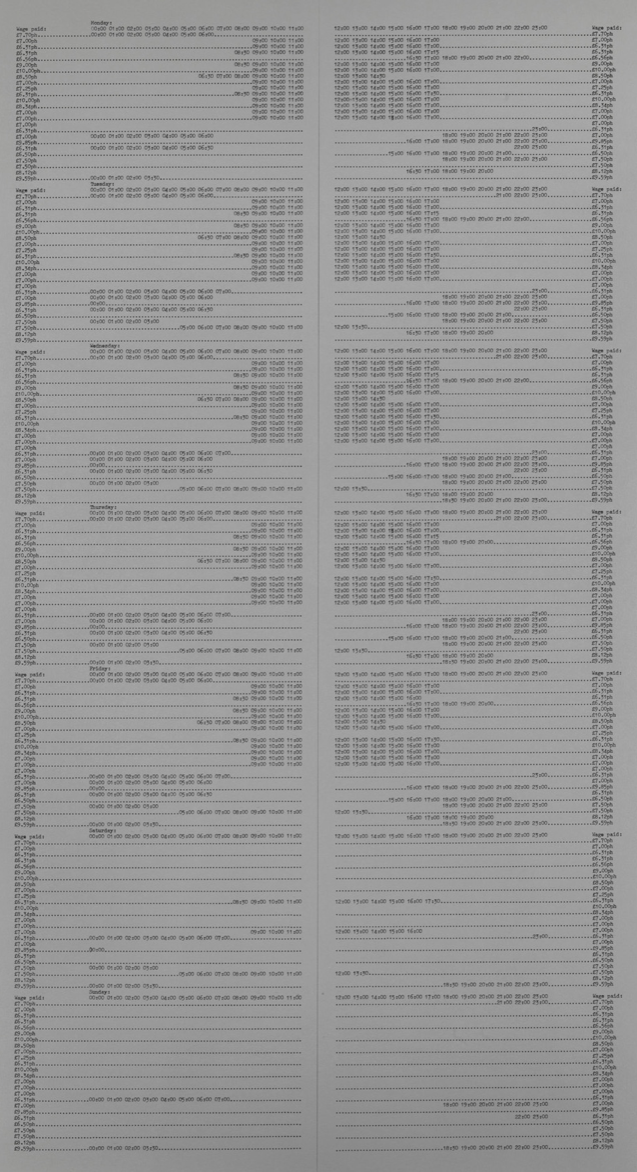 Katherine Murphy: CV: Data Entry (2014), Typewriter ink, paper (84 x 45 cm).
Curriculum Vitae
2007/09
Master of Fine Art; Fine Art Media
The Slade School of Fine Art
2007 –
Awarded AHRC Postgraduate Professional Preparation Masters scheme award
for the total period of the MFA
2003/06
BA Fine Art (1st Class Honours)
Swansea Institute, Swansea
1994/97
BA Drama and Classical Studies
St. Mary's University, Twickenham
Selected Exhibitions
2014 'Income's Outcome (part four)', Patrick Heide Contemporary Art, London
2012 'text(ure)', Patrick Heide Contemporary Art, London
'Breeder', Patrick Heide Contemporary Art, London
2011-10 Jerwood Drawing Prize 2010, National Tour (Shortlisted for Drawing Prize)
2010 'Here and again', Patrick Heide Contemporary Art, London
2009 Slade MFA Degree Show, Slade School of Fine Art, London
Hull Print Project, Primary Health Care Centre, Hull
2008 Interim Show, Woburn Research Centre, London
The Body Project, Woburn Research Centre, London
KunstVlaai A.P.I., Westergasfabriek, Netherlands
2006 'Proof' Degree Show, Dynevor Centre for Art and Design, Swansea
Citywide, Swansea
'Titled', Mission Gallery, Swansea
2005 'Artists Rolls', Mission Gallery, Swansea
'Difference', Swansea Institute, Swansea
2004 'Verdi's', Verdi's Café, Swansea
'Art D'œuvres', Pontardawe Arts Centre, Pontardawe
Film and Video
2009 'Blue Room', 16mm film, 6 mins
Writer/Producer/Director/Camera/Lighting/Editor
2006 'Blue', video, 4 mins
Writer/Producer/Camera
2003 'Burger King', Digibeta, 8 mins
Co-Writer/Co-Producer/Co-Director
(Winner of Croydon Council 2003 Film Festival, 'Best Director' award).
2000 Relent', 16mm film, 8 mins
Co-Writer/Co-Producer/Co-Director
(Premiered at the 13th London Lesbian and Gay Film Festival)
1997 'Intifada', Digibeta, 12 mins
Writer/Producer/Director
Employment history
Employment: End Wage: How Left:
1989 Paper Round £5 a week walked out
1990 Kitchen Assistant £1.70ph resigned
1991 Shop Assistant £2.00ph walked out
1994 Domestic £2.85ph resigned
1995 Evening Cleaner £4.00ph resigned
Domestic Cleaner £5.00ph resigned
1996 Domestic Cleaner £5.00ph resigned
Domestic Cleaner £5.00ph resigned
Domestic Cleaner £5.00ph resigned
Mystery Shopper piecework resigned
1997 Agency Tableworker£5.00ph contract end
Weekend Tableworker piecework work ended
1997-08 Evening Cleaner £4.20ph walked out
1998 Receptionist £10k p.a. resigned
Telemarketing Team Caller £4.20ph resigned
1999 Receptionist £14k p.a. transferred
1999-03 Client Contact £21k p.a. resigned
2003 Assistant £4.20ph walked out
Receptionist £5.10ph contract end
Office Assistant £4.90ph contract end
Office Assistant £5.00ph contract end
2004 Customer Service Advisor £5.00ph walked out
2005 Night Care Assistant £4.85ph walked out
2005-06 Evening Cleaner £5.61ph resigned
2006 Office Assistant £5.10ph walked out
Store and Shop Assistant £5.10ph walked out
2006-07 Night Cleaner £5.85ph walked out
2009-10 Evening Cleaner £7.96ph walked out
Collaborations
Oak Gall Book Project: May 2009 – ongoing, London
Co-founder and contributing artist for this collaborative project to build a book of drawings made entirely from Oak Gall ink that the artists themselves made from Oak Galls they collected.
Framework Artists Collective: October 2006 – September 2007, Swansea
Co-founding member and artist contributor. Framework sought to instigate and support an artists community within the South Wales area, specific support was given to graduating students. Framework continues to this day.
Exposure Gallery: August 2006 – December 2006, Swansea
Gallery volunteer and ideas generator
TACSI Arts Publication: December 2003 – January 2005, Swansea
Founding member and artist contributor
Collections
Private collections in London, Paris and New York