"You will always fail. The essence of art is in failure. Not that it sounds great, (…) if art does not fail, then it is just perfect craft." Franz Burkhardt 2010.
Franz Burkhardt: Mit Titel ("Nature without Purpose always makes me nervous"), 2017, Bleistift, Tusche, Buntstift und Collage auf Papier 21 x 29,5 cm, Blattgröße 39,7 x 52,8 cm. Added to the collection in 2018 after visiting Art Rotterdam.
The line "Nature without Purpose always makes me nervous" refers randomly to Aristotles' saying "God and Nature does nothing without purpose or uselessly". Purpose is more evident in the works of nature than it is in the works of human art. Is the purpose conscious or is it nature's part? Natural purpose seems to be divine, so how about the purpose of art? Also this fine drawing is a fun play with eating habits, veganism, meatlovers, lust and greed altogether. The relation to nature and wilderness in general is an open field we will see much more in the coming years within the art scene, it is not Prometheus we are missing, it is Epimetheus.
As with other works of Franz Burkhardt, you can see that he is trained in anatomical drawing and exercises his craft beautifully together with humoric, ironic or descriptive phrases that are immediately creating a new universe for the drawing. I have not often seen works that show simply a beautiful piece of meat and I love how bluntly Franz deals with this matter, his humor is most likely what attracts me the most.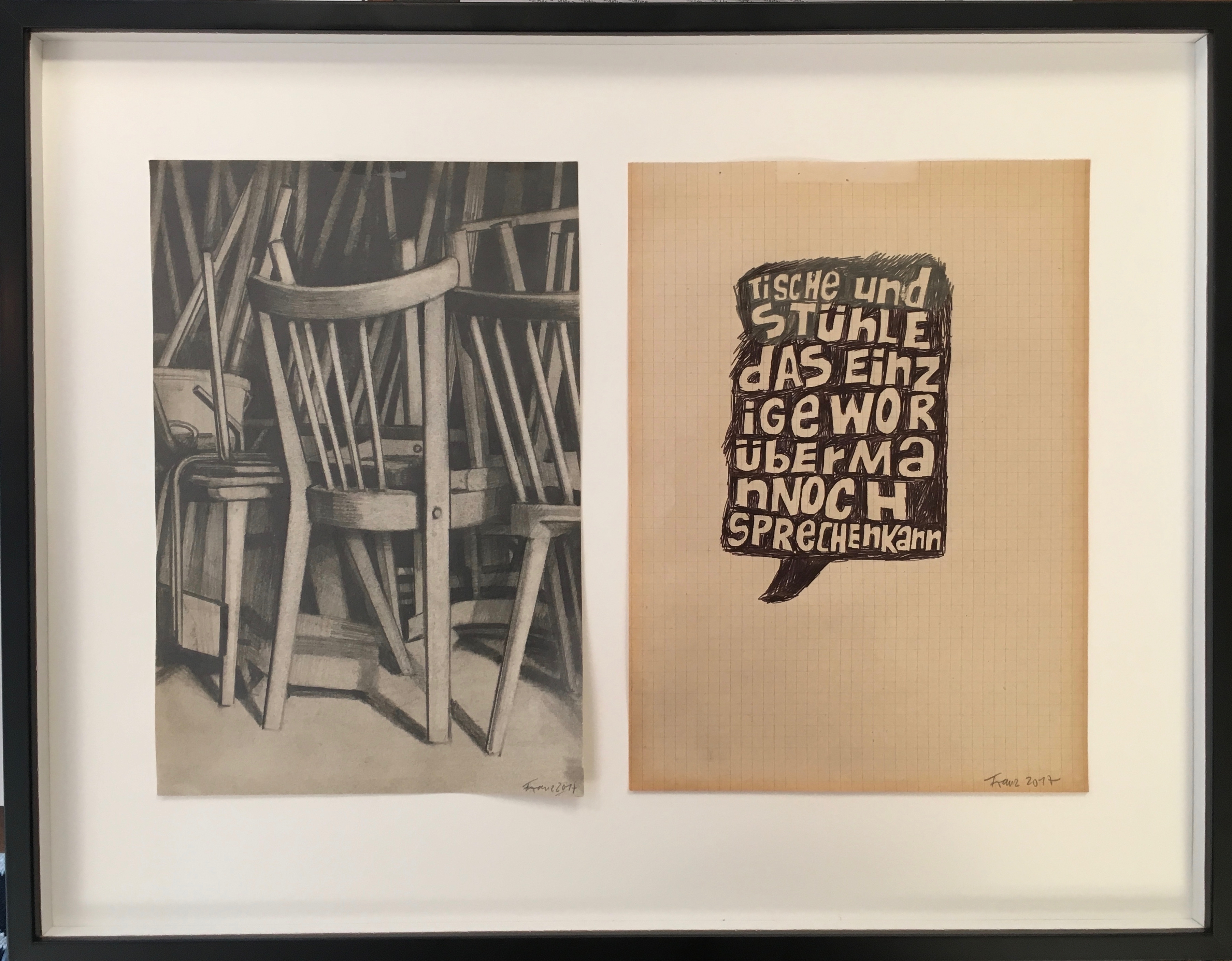 Franz Burkhardt "Tische und Stühle", Bleistift, Tusche und Kohle auf Papier, 2-teilig jeweils 29 x 20 cm. Added to the collection in 2018.
The drawing of tables and chairs is catchy – we have seen these random arrangements in the background, in halls or in pubs. The saying "Tische und Stühle das einzige worüber man noch sprechen kann" (Tables and Chairs, the only thing left that one can talk about) is powerful and questions how somebody can come to this conclusion: Why is it not possible to talk about different matters? Is it not allowed, are we being censored or do we fear the outcome of a debate on certain subjects? To me this puts the debate on the negative effects of political correctness, a polarized public debate in the age of social media and the emotional intensity in the exchange of opinions. Somebody that is convinced that political correctness is a useful thing (to protect minorities) may not allow himself to talk about the negative side of certain issues (e.g. gender debate or refugees) because he fears the corrective. He could also be convinced, that political correctness requires a discipline that the person is not willing to contribute, that it is a dictum of frustration not being able to say what is being felt.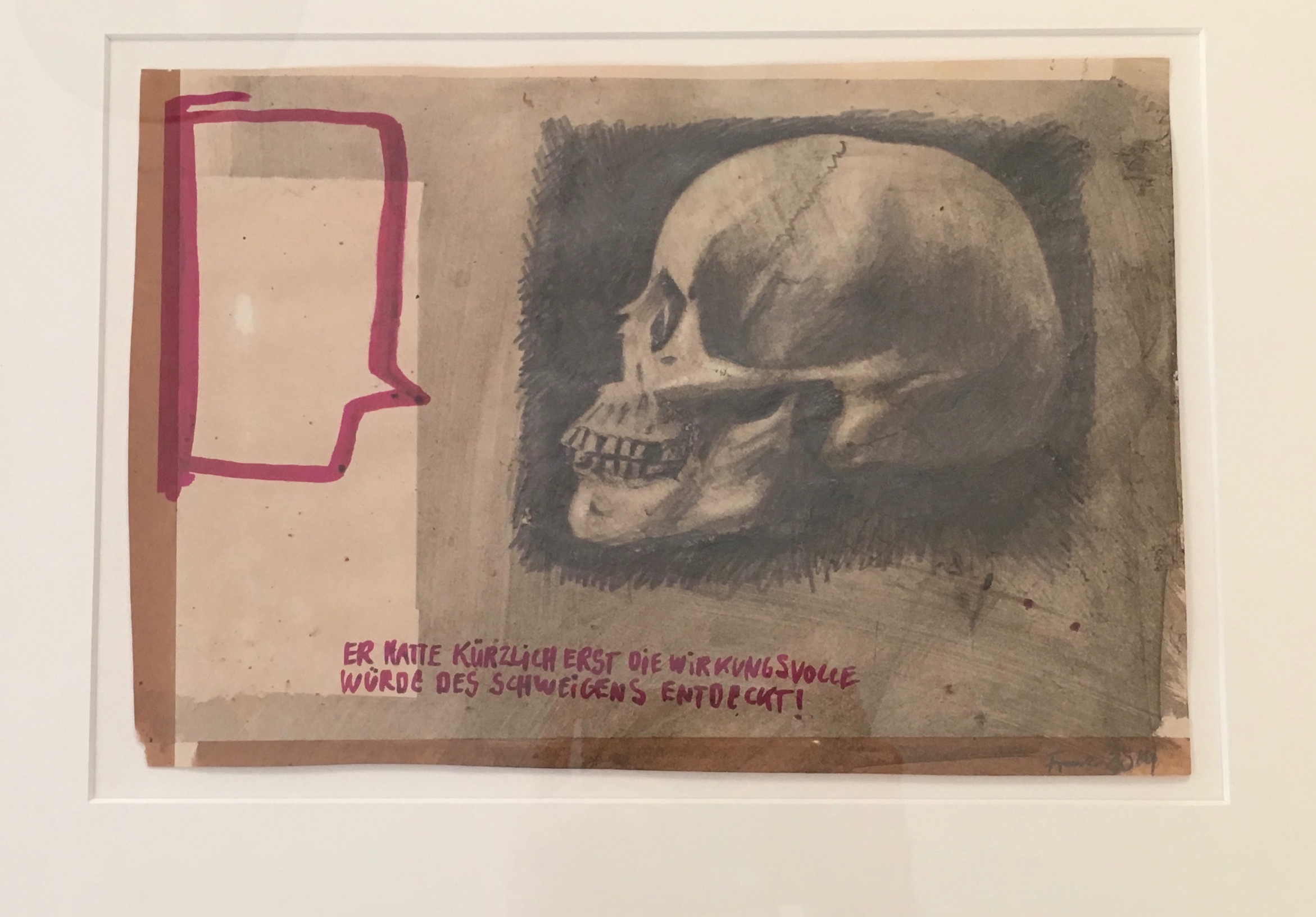 Franz Burkhardt: Kein Titel ("Er hatte kürzlich erst die wirkungsvolle Würde des Schweigens entdeckt!"), 2014, Bleistift, Tusche, Druck auf Papier 20,4 x 29,7 cm.
This work I have to admit deals more with myself since I can never or hardly stop talking when it would be much more often wise to simply remain calm and silent. I remember that I first met Franz during the opening of Concrete Appartments in Cologne, I was quite chatty and it was a lot of fun to talk to Franz about many things. As a collector I have to mention that Franz is included in a few important private collections today and Franz does not give much about it, quite a special quality among artists where some produce more words than art (self-marketing first), Franz is more of the opposite kind – he is not about vanity nor self-marketing-skills, which may not have been to his economic advantage, but in a way is a better fit to his personality and of course it makes him even likeable besides being an important and challenging artist. His humor to me is clearly in the tradition of Martin Kippenberger, but Franz draws better for sure.
Above we have obviously dealt with topics of nature and death and politics, but Franz is also about a vivid art – since Franz does a lot of female bodies I hope to acquire one in the next months of his beautiful sketches. The one I was aiming for first unfortunately was gone – see below – it is really outstanding ("Kulturfremd und vollverschleiert, ich bin für unkontrollierte Einbürgerung!"), congrats to the collector who bought it!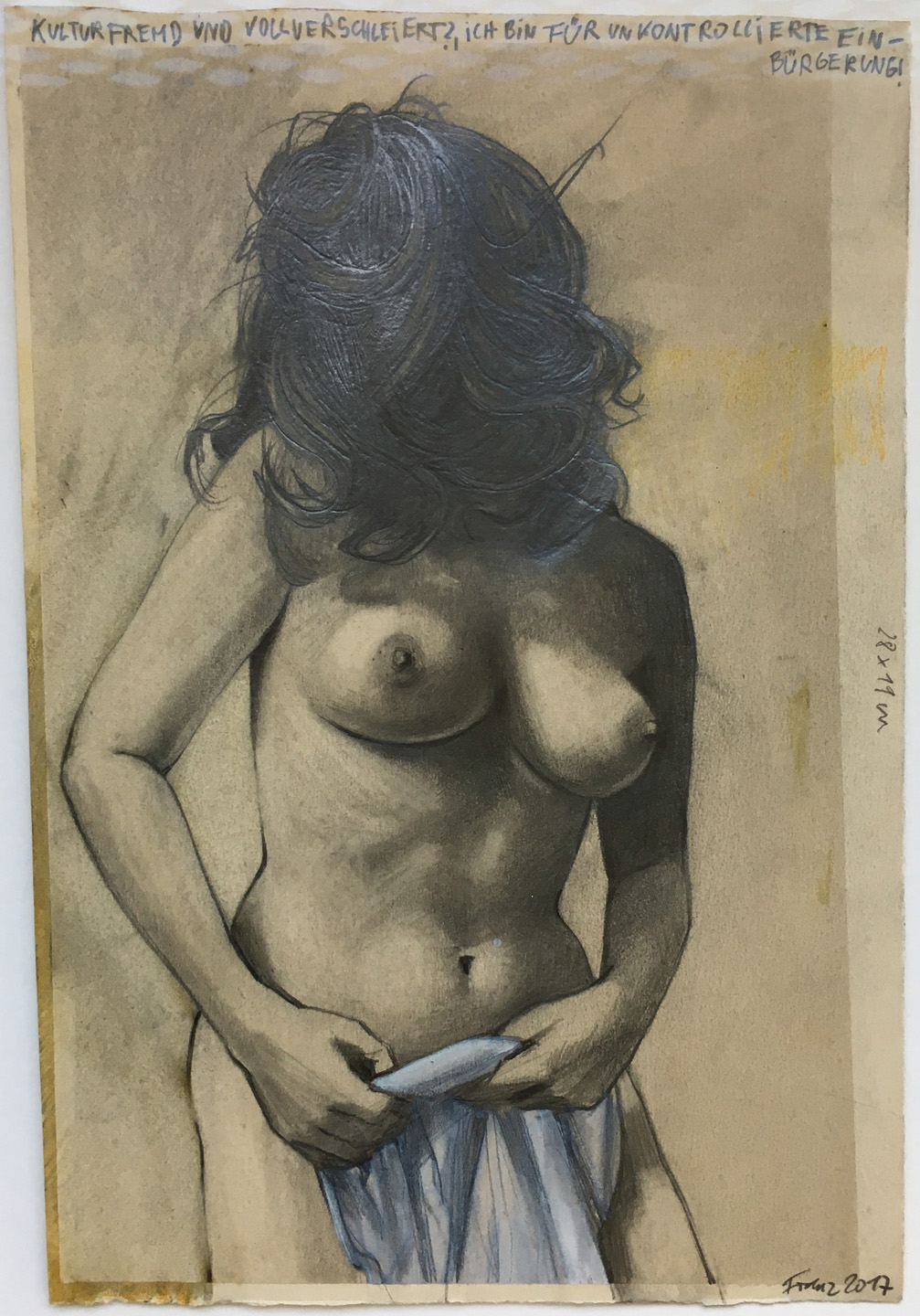 About Franz Burkhardt
Franz Burkhardt in NYC – the english version from martinFILMS on Vimeo.
Curriculum Vitae
1966 born in Wolfenbüttel
1987-1993 studies of Fine Arts at Hochschule für Bildende Künste Braunschweig,
Prof. H. P. Zimmer, Prof. E. Cimiotti, Prof. Johannes Brus
1988 co-founder of art collective KOMAT, Braunschweig
1993 Masterstudent Prof. Johannes Brus
Currently lives and works in Montzen, Belgium.
SOLO EXHIBITIONS (Selected)
2017 Tekeningen und objets non trouvés, Galerie Martin Kudlek, Cologne/ D
Karina Miami, Städtische Galerie Delmenhorst-Haus Coburg-Sammlung Stuckenberg, Delmenhorst/ D
2014 Abtei Brauweiler, Pulheim/ D
Dehors et Dedans, Galerie Rupert Pfab, Düsseldorf/ D
2012 Nichtsdestotrotz, Sebastian Brandl, Cologne/ D
2011 Verfügungsstunde, Kunsthaus Essen, Essen/ D
Normales Trinken und Suchtentwicklung, Schuebbe Projects, Düsseldorf/ D
2010 Trennen und verbinden, Sebastian Brandl, Cologne/ D
2008 Besenrein – Zeichnungen und Suppe, Sebastian Brandl, Cologne/ D
2007 Nichts ist anfürsich mehr dieses als jenes, Galerie Lutz Rohs, Düren/ D
2006 Haus Nr. 11, Kunstverein Göppingen/ D
Werden was man ist, zeitgenössischer, Galerie Royal, Munich/ D
Here, Goss Gallery, Dallas/ USA
Die Sonne ist dein Freund, Alexa.Jansen. Galerie, Cologne/ D
2005 Franz Burkhardt – Zeichnung, Objekt, Alexa.Jansen.Galerie, Cologne/ D
Werden was man ist, Galerie Christa Schübbe, Düsseldorf/ D
at home, Stephanie Ferrario, London/ UK
Lebe im Verborgenen, Leopold-Hoesch-Museum, Düren/ D
2003 Très, Galerie Christa Schübbe, Düsseldorf/ D
2002 Nazis raus, Galerie Lutz Rohs, Düren/ D
2001 Im Grunde gibt es nur zwei Sorten von Menschen, diejenigen die zuhause bleiben und die anderen,
Kunstverein Wolfenbüttel, Wolfenbüttel/ D
2000 Sodabi, Kunstmuseum Salder, Salzgitter/ D
1999 The World is Connected with Duct Tape III, Städtische Kunstsammlungen Schloß Salder, Salzgitter/ D
The World is Connected with Duct Tape II, Kunstverein Braunschweig/ D
Household International, Galerie Lutz Rohs, Düren/ D
1998 Unter Geiern, Galerie Christa Schübbe, Düsseldorf/ D
1997 Haus I, Simultanhalle, Cologne/ D
1994 Stühle, Schränke und Tische sind das einzige, worüber man sich noch unterhalten kann,
Galerie Christa Schübbe, Mettmann/ D
Keine Mark verschenken, Galerie Lutz Rohs, Düren/ D
 
GROUP EXHIBITIONS (selected)
2015-2016 Homebase. Über das Interieur in der Gegenwartskunst, Kunsthalle Nürnberg, Nürnberg; KAI 10, Düsseldorf/ D
2015 At Home with Collector G., Livingstone Gallery, The Hague/ NL
2014 Topf und Deckel, Städtische Galerie Villa Zanders, Bergisch Gladbach/ D
2013 Group Show – Artists of the Gallery, Sebastian Brandl, Cologne/ D
Lounge #1, Krethlow, Brussels/ B
2012 Eine Türklingel, die macht mir nichts, dir nichts ding-dong, Neuer Kunstverein Aschaffenburg/ D
Eros und Thanatos – Zeitgenössische Kunst der SØR Rusche Sammlung im Dialog mit Alten Meistern, Baumwollspinnerei, Leipzig/ D
Ab in die Ecke!, Städtische Galerie Delmenhorst, Delmenhorst/ D
2011 Garage Sale, Sebastian Brandl, Cologne/ D
2010 Happy End, Kunsthalle Göppingen, Göppingen/ D
Dem Lehrling die Sonne zeigen (with Heribert Heindl), Galerie Royal, Munich/ D
Kammermusik, Haus Kirschgartenstrasse 5, Basel/ CH
2009 Zeichnung heute. 50. Ausstellung der Galerie Royal, Galerie Royal, Munich/ D
Trout Miller's Wife(with Petra Herzog), Neuer Aachener Kunstverein, Aachen/ D
Nahrung. Kaleidoskopische Untersuchung eines Treibstoffs, Rote Fabrik, Zürich/ CH
Für Mutti ( with Sven Fritz, Jan Stieding), ZAK, Niedernhausen/Ts./ D
Chinetik, Museum Tinguely, Basel/ CH
2008 Visite, ehemalige Schubertwerke, Braunschweig/ D
Volljährig, Galerie Ilka Klose, Würzburg/ D
2007 11 + 1, Galerie Haus Schneider, Karlsruhe/ D
Fünf Werkgruppen aus der Sammlung Alexander Baier, Städtische Galerie Speyer/ D
2006 BS, Galerie Lutz Rohs, Düren/ D
Franz Burkhardt, Heribert Heindl, Galerie Royal, Munich/ D
Am Anfang. Das Unbekannte, Sammlung Baier, Kunstmuseum Landau; Flottmannhallen, Herne/ D
2005 flora (I)_neu – Künstler der Galerie und Gäste, Alexa.Jansen.Galerie, Cologne/ D
Sch(B)austelle – Künstler der Galerie, Alexa.Jansen.Galerie, Cologne/ D
Franz Burkhardt, Carl Emanuel Wolff – Werden was man ist, Galerie Schübbe Projektraum, Düsseldorf/ D
Cohabitation, Kulturprojekte Littmann, Basel/ CH
2004 Punktleuchten, Schifflände, Kulturprojekte Littmann, Basel/ CH
2003 PASSION + DESIRE / LOVE + LUST, Galerie Skala, Cologne/ D
3d – klein. Kleinplastiken und Objekte, Alexa.Jansen.Galerie, Cologne/ D
2001 Fleischversorgung, Alexa.Jansen.Galerie, Cologne/ D
1999 Mailand oder Madrid, Hauptsache Italien, Expressguthalle Hauptbahnhof, Aschaffenburg/ D
Parcours sclupté, Saint Amand Les Eaux/ F
Köln total verrückt, Otto Galerie, Munich/ D
1997 Rohbau, Privathaus, Büsdorf/ D
Manchmal hat man vom Leben nicht mehr als gutes oder schlechtes Wetter,Galerie Müller, Schütz und Rohs, Cologne/ D
Nur die besten Stücke, Galerie Ilka Klose, Würzburg/ D
1996 Heiligabend, Galerie Lutz Rohs, Düren/ D
Künstler der Galerie, Galerie Müller, Schütz und Rohs, Cologne/ D
Ein Treppenhaus für die Kunst, Niedersächsisches Ministerium für Wissenschaft und Kultur, Hannover/ D
Tatort Köln, Galerie Schübbe Projektraum, Düsseldorf/ D
1993 Glorreich, Galerie Treppe, Düren/ D
1992 Gute Besserung, Klinikum Braunschweig/ D
Mengenlehre, Kunstverein Schöningen/ D
Salon Salder, Schloß Salder, Städtische Sammlung Salzgitter/ D
1991 Zimmer-Klasse, Vienna/ A
Fußball in der Kunst, Pfalzgalerie Kaiserslautern; Leopold-Hoesch-Museum, Düren/ D
Salon Salder, Schloß Salder, Städtische Sammlung Salzgitter/ D
 
ART IN PUBLIC SPACE, PROJECTS (selected)
2016-2019 CENTRAL STATION, Littmann Kulturprojekte, Basel/ CH
2015-2017 Canal Street, Part 1, Littmann Kulturprojekte, Arlesheim/Basel/ CH
2006 Move for Live. A Mobile Art Intervention Against Poverty, Aids, Violence, Racism,
and Environment Destruction, Littmann Kulturprojekte, Basel/ CH
1995 Schweinepest und Rinderwahnsinn, IPM, Berlin
1994 Reiterstandbild, Stadt Wolfenbüttel/ D
1988 Skulptur für Hannover-Langenhagen/ D
 
SCHOLARSHIPS
1991 work scholarship Stadt Salzgitter, Beinum/ D
annual scholarship Hofbrauhaus Wolters, Braunschweig/ D
1995 annual scholarship DAAD Togo
1995-1997 Postgraduate Course in Scientific Illustration, Rijksuniversity Limburg, Maastricht/ NL
1998 Peter-Voigt-Scholarship, New York/ USA
2001-2003 Scholarship Günther-Peill-Stiftung, Düren/ D
2011 Scholarship Swatch Ltd., Shanghai/ CN