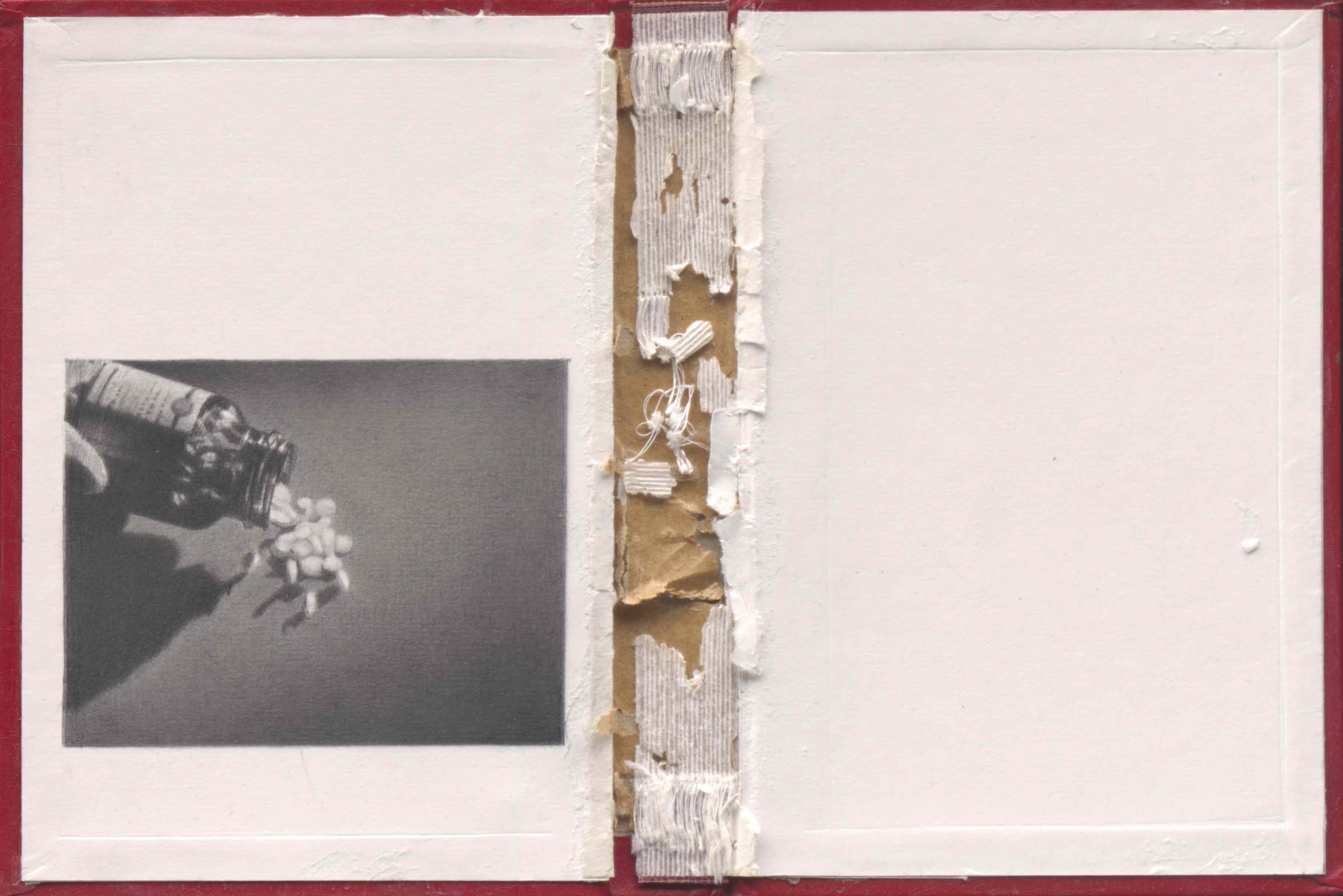 Christos Venetis, Anaemic Archives (o.T. CV/P 136 "Pills"), Pencil on Book Cover, 21 x 31,5 cm, 2017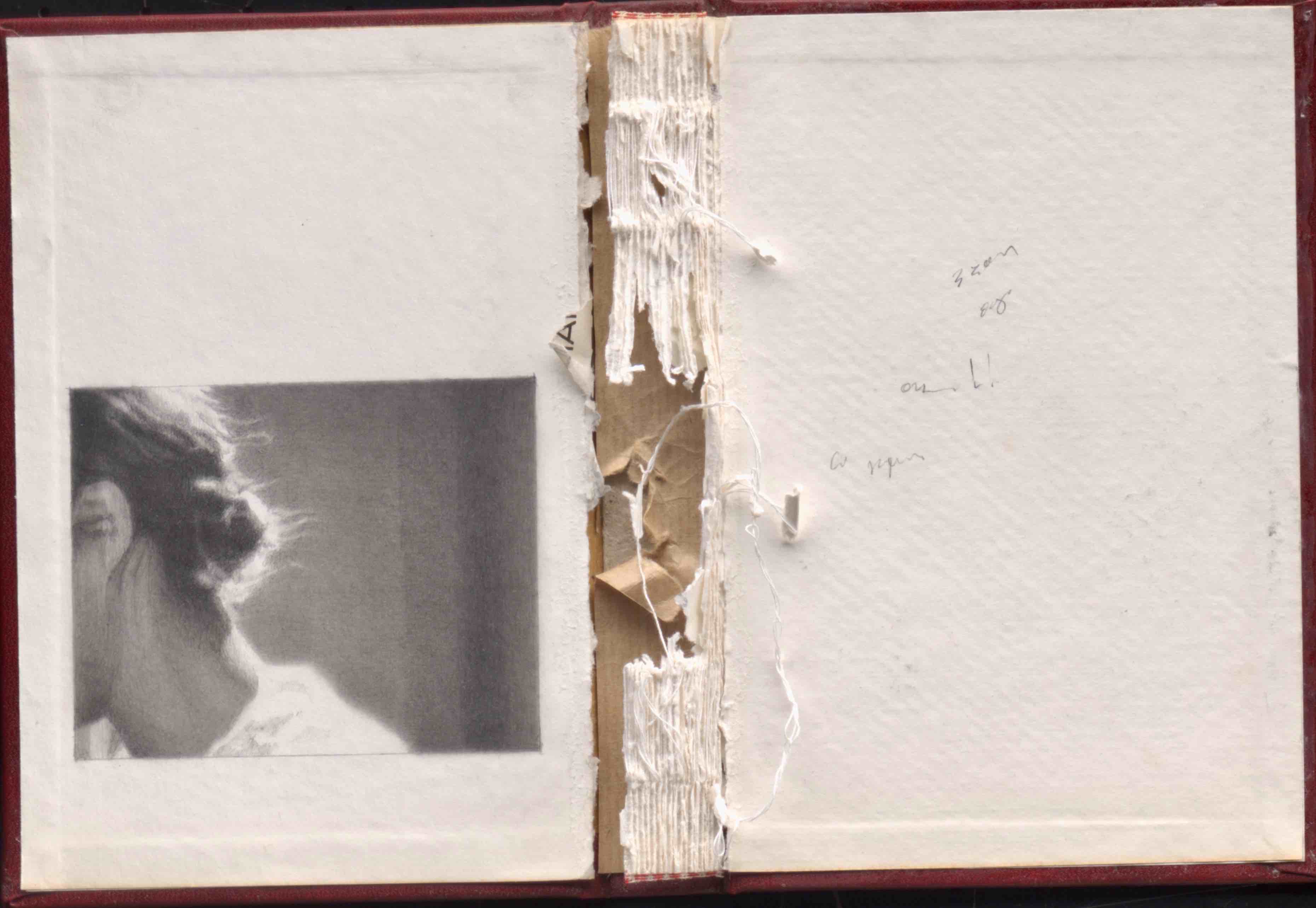 Christos Venetis, Anaemic Archives (o.T. CV/P 147 "Betty"), Pencil on Book Cover, 21 x 31,5 cm, 2017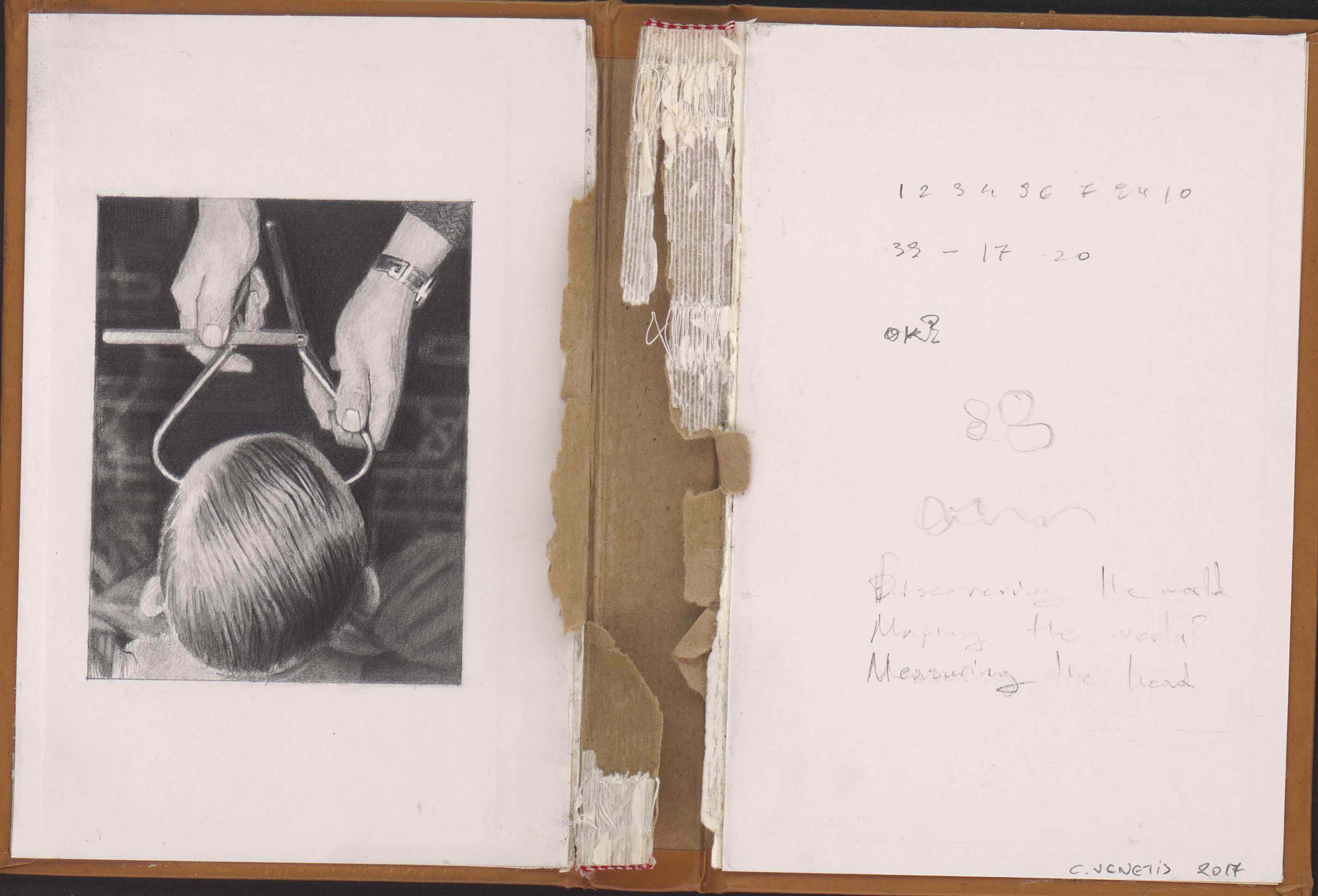 Christos Venetis, Anaemic Archives (o.T. CV/P 91 "(…) Measuring the head"), Pencil on Book Cover, 21 x 31,5 cm, 2017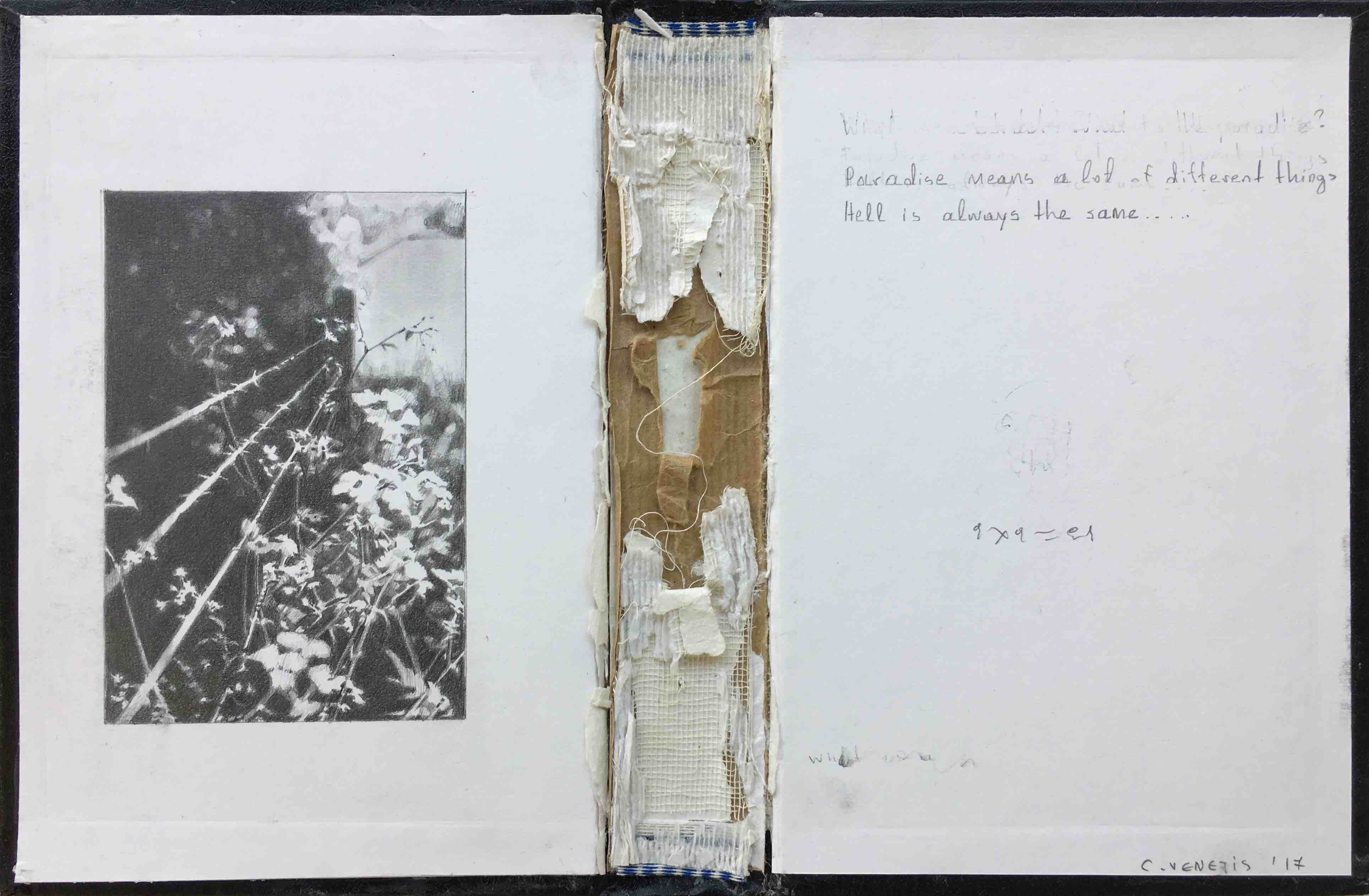 Christos Venetis, Anaemic Archives (o.T. CV/P 118 "Paradise means a lot of different things, Hell is always the same"), Pencil on Book Cover, 21 x 31,5 cm, 2017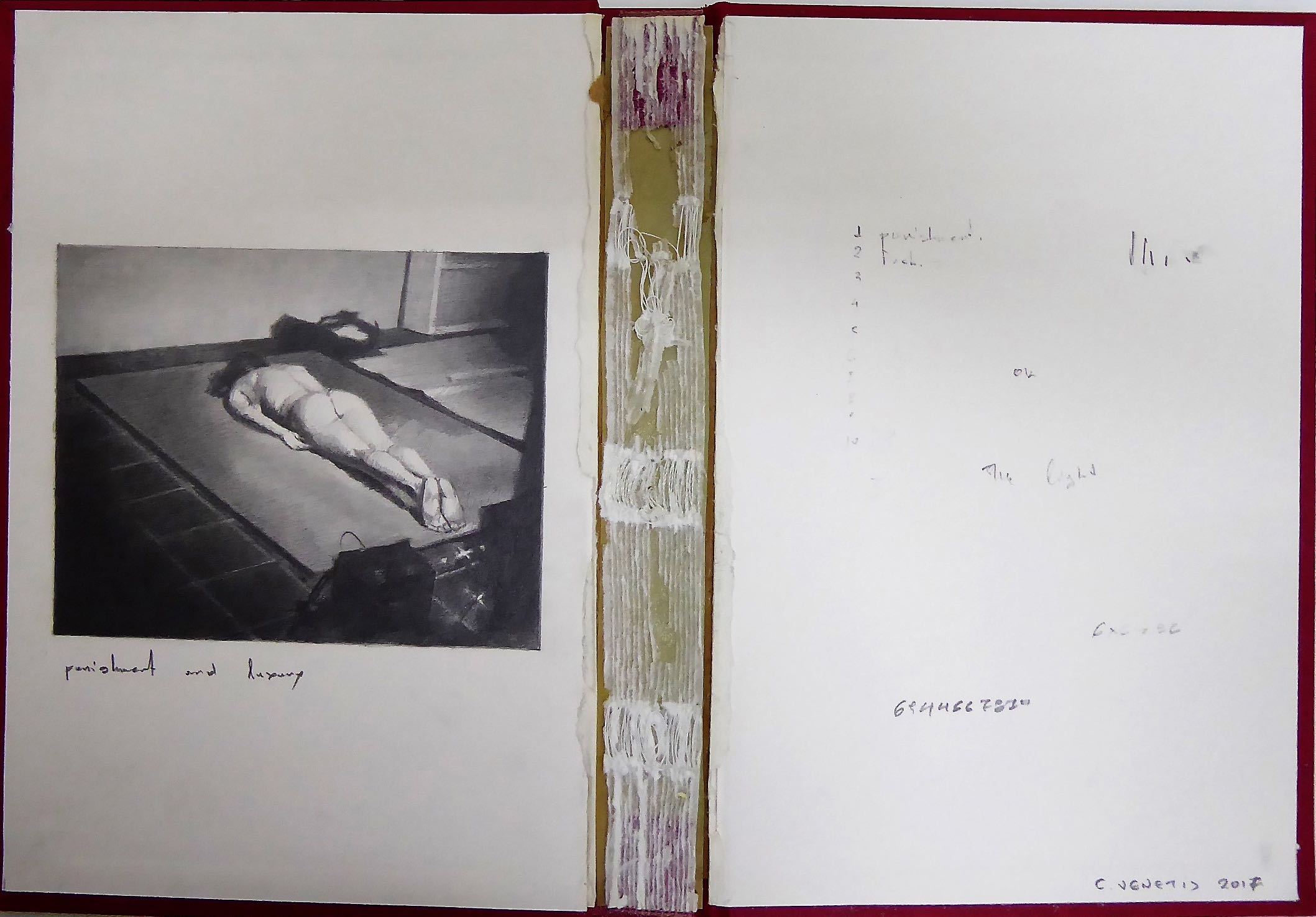 Christos Venetis, Anaemic Archives (o.T. CV/P 95 "Punishment and Luxury"), Pencil on Book Cover, 21 x 31,5 cm, 2017
Above there are the 5 pieces of Christos Venetis series "Anaemic Archives" that I could add to the collection in 2018. All works are pencil on book covers, 21 x 31,5 cm, created in 2017. Although I have known the work of Christos Venetis for quite some time, it just made click quite recently. The constant quality he is producing is admirable, he is on constant lookout for inspirations and challenges that support his artistic work. Despite the quantity of production the quality so far is not diminished at all – quite the opposite actually. The precision in his drawings is even able to emphasize rather photographic styling methods in its expression: Overexposure, field depth, etc. I particularly like that you can rearrange the single pieces to a storyline and play with them, very unusual and very consistent to use book covers as a starting point and stick with that. However, each work can stand always on its own, they have all the special quality that they are images that appear never to be stylized or arranged, but rather always like images taken en passant. My frame maker, quite well known for his quality frames, was very much surprised after I told him that everything was pencil; although he had framed some before mine, he was convinced they were all printed photographies – he is a great craftsman, but now I guess have to doubt his good eye and let it be a compliment to Christos. Of course Christos skill is just the base of his art, he is playing a game between motion and writing of the images, their reading and their interpretation.

Lined up in a row, his 'animated' drawings, albeit fragmented, create a lively narrative. As with other artists I believe that figurative drawing or painting is never outdated and can always come from another angle and be absolutely fresh. The act of recording these drawings gives Venetis "anaemic documents" a more precise and monumental dimension.
Both the subjects of 'bare life' he chooses to design and the bare backs of books, i.e. the point where the content is violently removed for the sake of flow and union of the "film", intensify the cognitive lawlessness of Venetis' images and add drama to his narration. "Anemic Archives" drawing series is showing real and imaginary scenes and stills from all fields of life, reminiscent of a black and white photo album or a silent documentary film. Executed in with pencil onto the inside of book covers with the actual pages removed, the covers are lined up on shelves to form stories with the apparent narrative withdrawn. Less linear, associative and subconscious strands of narrative emerge, the seemingly nostalgic ensemble of images develop a haunting if not subversive and painful undertone while settling in our mind.
Here is an excerpt from an interview with FUKT Magazine (a drawing magazine published in Berlin, Edition #15), that interviewed Christos and showed some more great works:
The World is a book
Can you tell me about the choice of using the inside cover of ripped books?
"I usually use surfaces of objects that a had past life or a different use. The "symbolism" of the book is more or less familiar, while the torn pages convey a sense of loss, a wound. This series of drawings could be titled Liber Mundi / Imago Mundi. The term "Liber mundi" (the world as a book) suggests the idea of wholeness or, at least, the desire, the craving for wholeness. It is a medieval idea that continued with the Enlightenment Encyclopedia and the full use of written speech. However, it is a known fact that our time is defined by the domination of the image. It is a whole comprised of fragments of two different communication systems."
How important is the narration in your work?
"Reality itself is a product of narration. The dominant discourse conceals its ficitonal nature and artists acting in this field, either deconstruct this "construct" or reality or narrate alternative stories. However, it is the viewer who completes the narration. So the stories exist within other stories. I believe there is no such thing as an original experience, which is why I use found images to create my own narration."…
Curriculum Vitae
Christos Venetis
1967 Born in Joaninna / GR
1993 Aristotle University School of Fine Arts,
1999 Department of Visual and Applied Arts, BA
Currently lives and works in Thessaloniki, Greece.
Selected Exhibitions
2017 Liber Mundi/ Imago Mundi, Galerie Martin Kudlek, Cologne/ D
2016 Operation Mincemeat Asides, State Museum of Contemporary Art, Thessaloniki / GR
2015 Walking the Line, Galerie Martin kudlek, Cologne / D Operation Mincemeat Asides, curated by TinT gallery, National Bank of Greece Cultural Foundation (MIET), Thessaloniki/ G
Syn-In the framework of 3Antallaxima 13, Mansion Georgiadi, Mytilene/ G
Art Projects / Art London, participation with TinT gallery, London / UK
2014 Optima mihi in chartis, galerie Roemerapotheke, Zuerich / CH Art Athina, participation with TinT gallery, Athens / GR
2013 and I would see flowers through your eyes, Alex Hamilton – Christos Venetis, Patrick Heide Contemporary Art, London / UK
2012 Utopia, curated by E. Parpa and M. Stathi, E. Lanitis Cultural Center, Limassol / ZY
2011 Art Athina, participation with TinT gallery, Athens / GR The Symptom Projects, curated by A. Artinos, M. Kataga, K. Christopoulos, Amfissa / GR
Reference/Representation, Jewish Museum of Thessaloniki / GR
2010 Conversation piece, TinT gallery, Thessaloniki / GR
2009 Ana-Kata 221, curated by D. Konteletzidou, IRIS Cultural Center, Municipality of Stavroupoli, Thessaloniki / GR Hinterland, Action Field Kodra 09, curated by M. Kenanidou, Kodra Camp, Municipality of Kalamaria, Thessaloniki / GR
2006 Zosimades' Action, Municipal Gallery of Ioannina / GR
2001 Matter-Work, curated by D. Konteletzidou, Vafopouleio Cultural Center, Thessaloniki / GR
2000 10R00MS2000, curated by D. Konteletzidou, Kappatos gallery, Hotel St. George Lecabetus, Athens / GR
Millenium2000, Mylos, Thessaloniki / GR
1999 Biennial of Young Artists from the Mediterranean, curated by T. Stefanidou, Nice / F
1998 Art Athina 6, ZM gallery, Athens / GR
1997 Art Heineken, Macedonian Museum of Contemporary Art, Thessaloniki / GR
1996 Merkouria 96, Hellexpo, Thessaloniki / GR
Art fairs:
Drawing Now, Paris; Tefaf, Maastricht; Volta, Basel; Art Luxembourg; Art Rotterdam