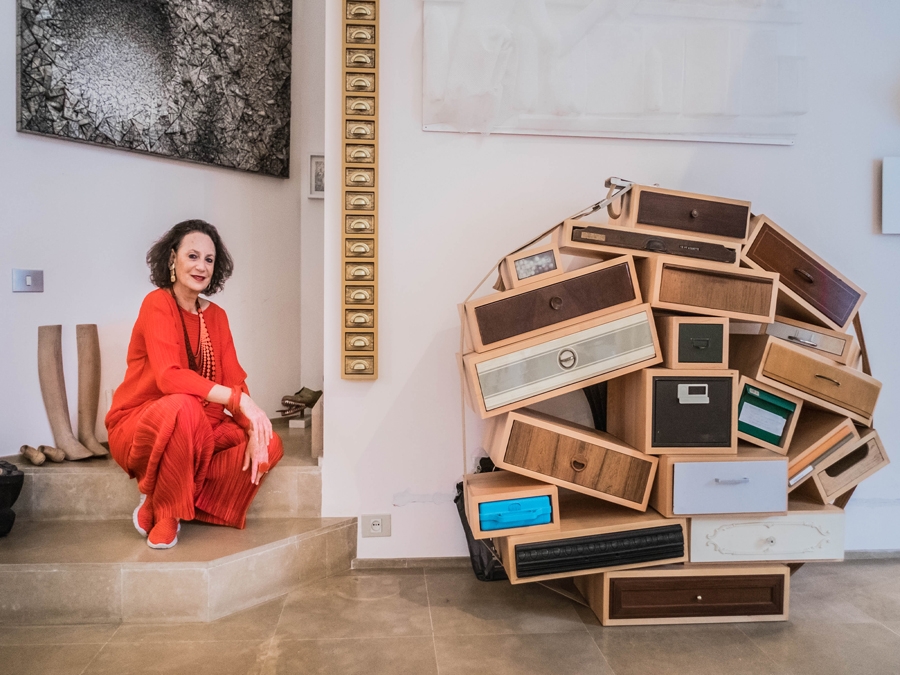 Why collect contemporary art and how? What to collect? And what is the use of it in the end for everyone? Galila Barzilai-Hollander provides all her answers – open, honest, humorous and seriously, self critical as well as understandable. There is not rational, repeatable strategy – she has not decided to find her signature language, although she focusses on aspects like books or chairs. Besides her collection, her words are wortwhile to read for any collector, maybe only to contradict and question the personal approach one has chosen. Some base it on data, others on reputation. Others read art critiques, others simply try to buy what they believe is a blue chip (stock exchange wording for a reliable value that will slowly but surely only grow). And it is about her bravery, to let go and indulge – she completely trusts her intuition and this is extraordinary. Some collectors would say, it is naive – but in a way it is the truest form most natural form and if she would do it differently, for her the whole rational behind collection would fall into pieces. But now in her own words: En français, s'il vous plait!
Je ne me suis jamais beaucoup intéressée aux collectionneurs.
Pire, j'ai longtemps pensé que la seule motivation du collectionneur était de placer, d'investir, de spéculer… et ce, sans égard ni pour l'œuvre, ni pour l'artiste.
J'ai revu ma copie l'hiver dernier après avoir rencontré Bruno Decharme, un des plus grands collectionneurs d'art brut.
L'homme m'a séduite par son humilité et son honnêteté. Un « monomaniaque » impulsif et passionné.
Une autre rencontre – plus récente – a changé ma perception, cette fois de manière radicale.
Galila Barzilai-Hollander a été très longtemps « l'épouse de Jacques Hollander », un collectionneur belge réputé et respecté. En 2004, ce dernier décède, à l'âge de 64 ans. Galila Barzilai-Hollander perd son alter ego, après trente années de vie commune.
Quelques mois plus tard, à l'approche des douloureuses dates d'anniversaire (celui de son mari et de son mariage), celle-ci quitte la Belgique pour New-York. Cette ville « où l'on ne sent jamais seule ».
Alors qu'elle se promène dans les rues de New-York, son attention est attirée par une publicité pour l'Armory Show. Le concept d'armure lui parle et entre en résonance avec son état psychologique du moment. Galila Barzilai-Hollander achète une entrée, pensant visiter une foire d'antiquités. Sur place, elle découvre The International Exhibition of Modern Art, une prestigieuse exposition internationale d'art moderne.
Ce monde lui est totalement inconnu. Elle s'y aventure pourtant, curieuse. C'est là qu'elle achètera, en une quinzaine de minutes et sans demander l'avis de personne, sa première œuvre d'art. Sur cette œuvre d'un artiste américain, 11522 fois le mot WHY ? Un message qui résonne en son for intérieur et qu'elle relie à son histoire personnelle.
Ce jour là, Galila Barzilai-Hollander « se découvre contemporaine ». Elle dira de ce premier achat – accidentel – qu'il « a tout déclenché ». « C'était comme une renaissance. »
Son rapport à l'art est intuitif. Galila Barzilai-Hollander achète seule. La plupart du temps, elle ne sait rien de l'artiste. Ni son nom, ni son âge, ni ses origines, ni sa notoriété. Elle marche aux coups de coeur et fait confiance à son instinct.
Elle qualifie sa collection « d'égocentrique », dans le sens où chaque oeuvre acquise a un rapport de près ou de loin avec son histoire personnelle, sa philosophie de vie et sa structure mentale. « Une collection reflète ce que l'on est. » Et d'ajouter : « Collectionner, c'est comme faire une psychanalyse ».
Galila Barzilai-Hollander ne se qualifie pas de collectionneuse d'art. Elle préfère le terme « artcoholic » et n'hésite pas à parler d'addiction. « C'est incontrôlable ! Acheter de l'art est mon oxygène, ma nourriture. » Bien entendu, on pense à Jacques Hollander, à son oeil absolu et à sa passion pour les tableaux, dessins, meubles et objets d'art de l'Antiquité au XVII siècle. Sa collection tentaculaire n'était-elle pas la preuve d'une addiction similaire ? Certes Monsieur Hollander était hermétique à l'art contemporain… mais n'a-t-il pas transmis à son épouse sa passion obsessionnelle pour l'art ? Galila Barzilai-Hollander s'en amuse et l'imagine lui murmurer tendrement depuis là-haut : « Maintenant, tu sais de quoi j'ai souffert… »
Galila Barzilai-Hollander est facétieuse. Elle aime les jeux de langage et les détournements. L'immédiateté, l'humour, la surprise, la poésie. Sa collection est à son image.
Elle est généreuse aussi. Et maternelle, protectrice. « 95 % des artistes de ma collection pourraient être mes enfants. » Galila Barzilai-Hollander n'hésite pas à aller à la rencontre des artistes (souvent émergents), à les soutenir, les conseiller. Elle se réfère à l'esprit mécène de la Renaissance. Mais attention, dans sa version moderne, « upgradée » !
Sa collection, Galila Barzilai-Hollander veut la partager. D'où son projet d'ouvrir un « espace collaboratif » à Bruxelles dans la continuité de l'exposition « Entre deux chaises, un livre » organisée en 2014 à la Villa Empain – Fondation Boghossian. Ce lieu d'art auto géré, à valeur pédagogique, sera pensé comme un kibboutz : « L'expérience de chacun y sera valorisée et mise en avant ».
Galila Barzilai-Hollander n'a jamais projeté de revendre une pièce de sa collection. Son moteur n'est pas de placer, d'investir ou de spéculer. Quel est-il d'ailleurs ? Se chercher, s'entourer, se rendre utile, combler un vide / un manque, fuir, s'affirmer, s'exprimer, exister, … « Chaque oeuvre fait partie d'une histoire, chaque pièce est le chapitre d'un livre. » Peu importe le pourquoi. L'important est qu'une narration soit en cours, mûe par la quête existentielle d'une femme hors du commun (…)