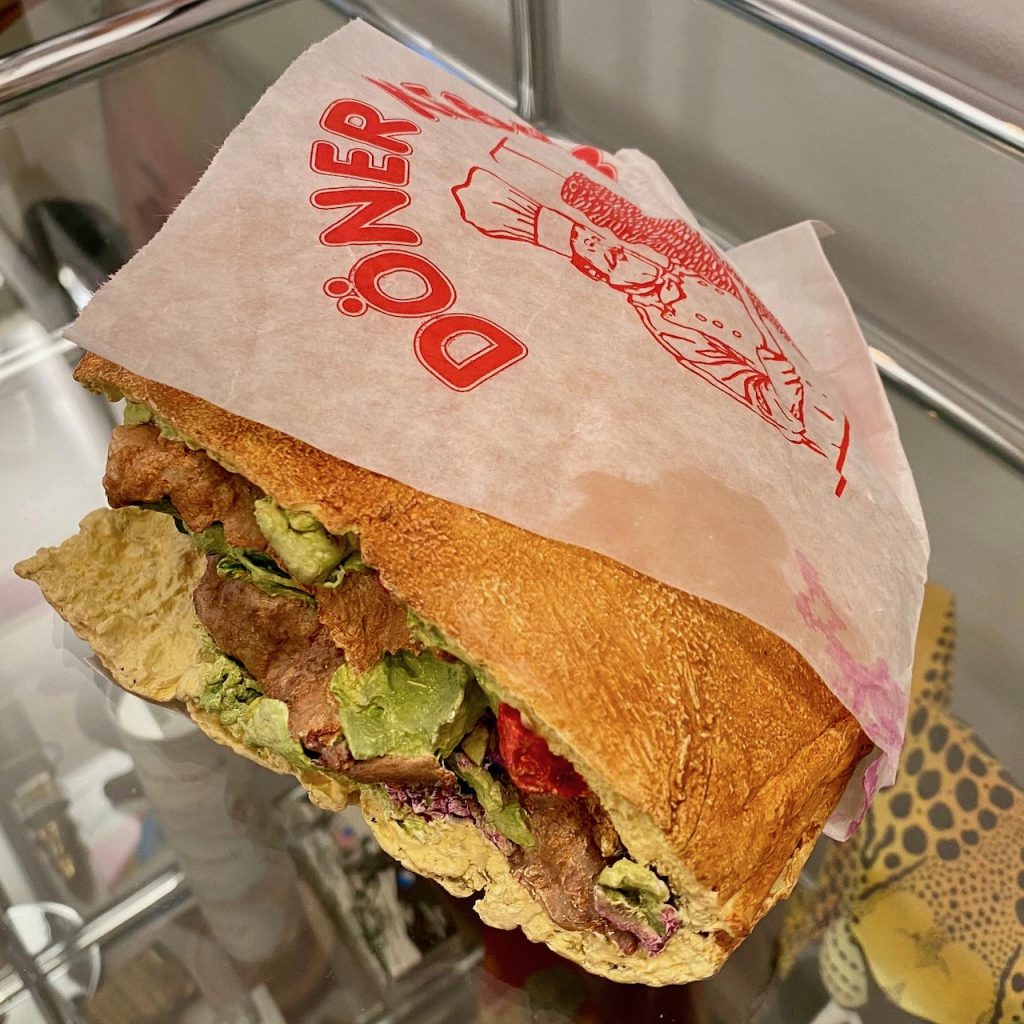 Christoph Knecht: Döner, 2008, 17 x 8 x 19 cm, oil on bronze sculpture
You do want to touch it, don't you? It's delicious and promising as it rests on the glas. In the second you lift it up to put it close to your teeth, you are stunned. This thing is heavy! Finally the piece has revealed itself as metal, a bronze sculpture that was painted on with oil colours. It is one of Christoph Knechts center pieces in the first celebrated exhibition he called "Mittelstandsrealismus". This refers straight to a center column of the german society, it's middle class. Germany is totally defined by this class as its economy is also in opposition to England or the USA mainly medium-sized companies. The golden center is something, that seems to be particularly important for Germany and german to keep their balance. Radical left, radical right, really poor or really rich, all this is suspicious for germans as it may be the beginning of a new downfall. The word "Realismus" is realism, so Christoph more or less reflected on his identity, we call this navel-gazing (Nabelschau). Germany has a strong cultural foundation which is based on mankind great achievements as well as its total downfall. There is no philosophy which was not abused (say Goethe, Heidegger or Nietzsche particularly), but there are also wonderfully sensitive minds (Stefan Zweig, Thomas Mann, Christian Kracht, Rilke, etc.) that have their heritage in Germany.
The most obvious sign for national or cultural identity likewise is the food the people eat. Germans in their cliché live in Rothenburg ob der Tauber, behave Bavarian, are enthusiastic about beer and sausage. Their mild temper can change to furious rage if they have not eaten properly. Something like that is what we experience in Disneyland when this multicultural country is being portrayed. We have always been a mix of several cultures, say the Roman empire tried to civilize half of it and stopped somewhere north of Cologne where the barbaric hords (mostly Saxons and Westfalian saxons) smashed skulls of roman soldiers. It is unclear why the romans were not more successful, maybe it was the weather, maybe it was simply the size already of the empire and there was no trade necessary. However it was Charlemagne that brought christianity finally almost everywhere and the next struggle of a thirty year war between hundreds of kingdoms was between catholics and reformed christians. Until today there are traditions, tempers and cultural symbols that form the differences between these people. It is somehow to me understandable that it took much longer to become one political bound in 1871, so 80 years later than France, since this country was always busy in fighting cruel wars between each other. So many made their way to the United States and formed the Middle West where Germans are the biggest population still. The sentimental memories of traditions has been preserved even more there it seems sometimes than in Germany. After the second world war, not only "occupation" by the four allies started ("liberation" is maybe the better word after this nightmare of thousand years) but Germanys economy and medium sized companies thrived following the american idea of open markets, entrepreneurship and simply "making it big". Combined with social wellfare the ressources for further growth were empty quickly and like the US Germany need "manpower". Starting in Italy, Spain and Portugal the first immigrants arrived to work in the coal mines, steel and heavy industrie in the Ruhrgebiet. Some industry was established in West Berlin, which was cut off from the rest of the West in the eastern communist Germany. For some reason a lot of Turks established their homes their and became by far the biggest minority going in the hundred thousands.
It was in 1972 when Kadir Nurman in Berlin Kreuzberg merged two cultural occidents which each other. He knew that the Germans loved the unity of Meat, Vegetables and "Sättigungsbeilage" (a word for making you stuffed, something like saturation supplement). Sättigungsbeilage was invented in military terms and usually meant Potatoes. Later it was extended to Noodles (pasta), but the first of course was always bread. Bread, Meat and Vegetables to go – for a Turk in Berlin this could only mean to have meat grilled in a sausage like consistence on a stick, use turkish white bread and put in the vegetables you know: White Cabbage, Red Cabbage, Unions, Cucumber and Tomatoe, some parsley and typical turkish white and red sauces. Döne to go was invented. More of a snack, it was easy to eat and at first it was served for people at least sitting for some minutes before they had to move on to the next shift. I visited Kadirs place in Berlin Kreuzberg and although I could identitfy the tradition, there Döner has evolved and the most delicious ones still are made in Berlin. Competition is vast and it is surprising even to Turks born in Germany that in Turkey the tradition is rather new and not well established, especially in the country side.
For us, say me, the Döner now is more. It is the most popular food in Germany by far. It has replaced Pizza (the first exotic food) from the main place and also the Berlin invented Currywurst (Grilled sausage with a spicy Ketchup). It is also a symbol of what we really are: A country of cultures, a melting pot despite our natural tendency not wanting to change to quickly. Whereas in America change is a constant, the Germans are a quite old society, average age is 48 now. Conservative ideas prevail especially in the country side and a lot of germans still find it difficult to adapt to changes. One of these changes is to admit, that there are more than two religions in Germany and of course the turkish brought their islam to Germany. Still, it is a wish that we are living in a open society that has no need to find cultural wars. However, conservative christians have difficulties with openess and so a lot of couples that are german-turkish still feel this in their relationship from both sides: Does it really go well together, Turkish and Germans? What is Germany if a woman with turkish heritage is born in Germany? Why is she not German? One can feel the resistance, Germany in a way considers itself a unique cultural identity that is stronger than the neighbour cultures and this goes back to the darkest chapters of Hitlers ideals. However, Germany is by constitution and american influence especially grown into something more – it is not multicultural, is has evolved and included cultural influences to a new culture which is the Germany that myself and my wife grew up in. We can remember that my wifes turkish born father was not allowed to rent a flat nor bring his family with him from Turkey, despite that he worked for a very german company, Bayer. It was the early eighties until he was finally allowed to bring his kids and wife to Germany. My wife was born in Leverkusen in 1978, she is so german as german as can be and in certain ways what you would call "Yankee White" in terms of values, moral ideals and how much she is convinved of the value of the constitution, alliance with America and so forth.
The sculpture itself is so strong, because it does something unexpected: A bronze is the longest lasting material one can use for sculpture. It almost lasts forever. A döner is for now, it is to eat and to forget. And this is something that is utterly wrong in Christophs thinking: We have to embrace the cultural diversity and richness we have and not despise it. Being open is what makes us rich and what is delicious. Love the exotic, love the new, change and adapt since that is what makes you stay alive. Almost forever. And this is, what arts wants anyway, to transcendent into the eternal. Even with the romantic look at your own culture and one does not know: Does he embrace our difficulties with these ideas or does he despise them? It is art, it is neither historic nor political. Therefore it does not need to bother we the strange way of thinking what is right or wrong – you just feel, you just do and use the craft that you know about. And suddenly, you have a Döner in bronze with oil.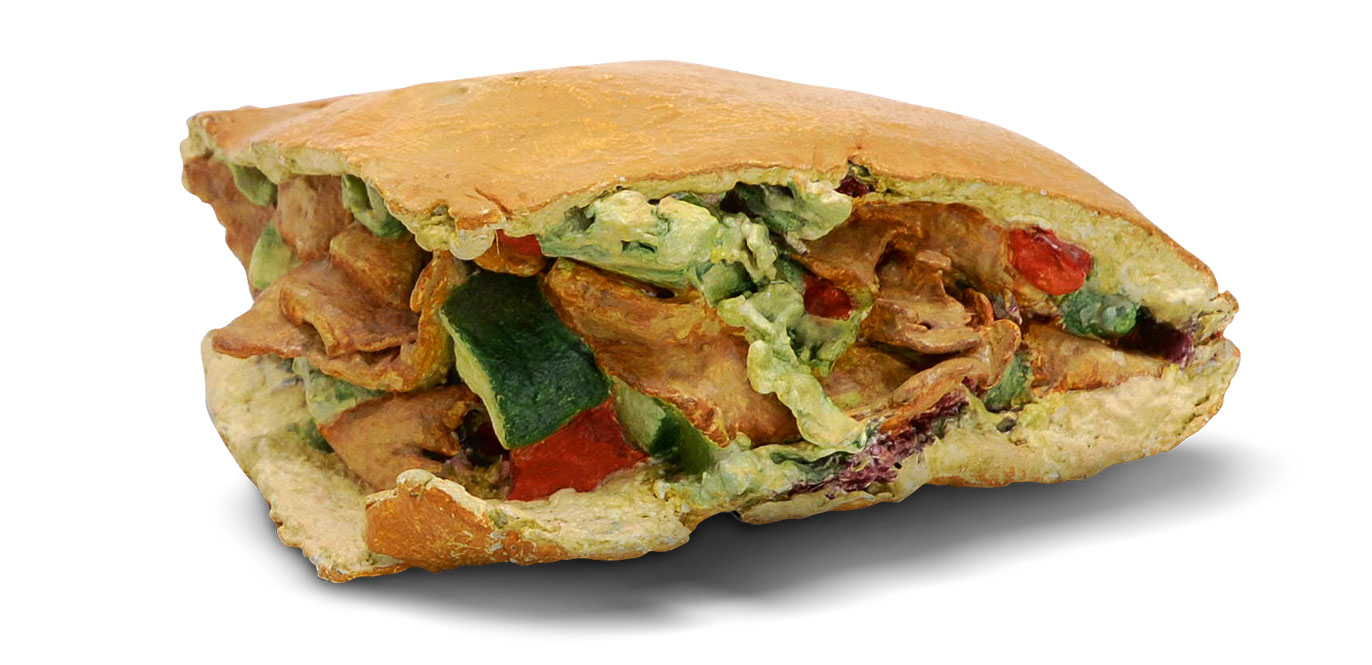 Curriculum Vitae
1983 born in Karlsruhe
lives and works in Düsseldorf
2004-2012 Kunstakademie Düsseldorf, Meisterschüler of Prof. Peter Doig 2009-2010 Chengdu Fine Arts College of SCCM, Chengdu, P.R. China 2011 Royal Academy of Arts, London
2012-2017 teaching assignment for painting, Institute of Fine Arts, TU Dortmund
since 2017 teaching assignment for painting at the Kunstakademie Düsseldorf
2018 guest lecturer at Academy of Visual Arts, Hong Kong Baptist University, Hong Kong, P.R.China
GRANTS AND AWARDS
2019 BKC Art Award
2018 Stiftung Kunstfonds Bonn (catalogue promotion)
2016 Artist-in-residence, grant of the Organhaus Artspace, Chongqing and the Office of Cultural Affairs, Düsseldorf
2013 Van Bommel van Dam prize Jurgen Ponto Scholarship
Bronner Residency, Tel Aviv, Israel
2012 Georg-Meistermann-Grant
2010 A.T. Kearney Art in the office artist scholarship
2009 RölfsPartner art award
Artist in residency of the Wang Chen Yun – Foundation, Mumashan Studios, Mumashan, P.R. China
2008 2nd prize of the XVth German International Triennial of Graphic Art
2007-2012
Scholarship of the Cusanuswerk, Bonn
SOLO EXHIBITIONS
2018 CHRISTOPH KNECHT
Plant of Opportunities, Künstlerverein Malkasten, Düsseldorf Universal Heritage, Unit 7, Hong Kong, P.R. China
2017 Europa, Van der Grinten Galerie, Cologne
2016 Christoph Knecht, Organhaus, Chongqing, P.R. China Europa, Künstlerforum Bonn (with Verena Schöttmer)
2015 open handed, MMK 3 – Museum für Moderne Kunst Frankfurt am Main (with Benjamin Hirte)
2014 Fortuna, Studio John & Joe presents, Düsseldorf (with Rafram Chaddad)
2013 Monday Shrimp Club, Galerie Rupert Pfab, Düsseldorf
2012 von der Nützlichkeit des Unbrauchbaren, Bruch&Dallas, Cologne Christoph Knecht, Kunstverein Bretten
2010 Ken Ding, Künstlerverein Malkasten, Düsseldorf (with Yu Ziwei)
2009 Shuangliu, Shuangliu, Mumashan Studios, Chengdu, P.R. China
2008 Christoph Knecht / Gerd und Uwe Tobias, Artleib, Düsseldorf (with Gerd and Uwe Tobias)
GROUP EXHIBITHIONS (EXTRACT)
2019 ESPACIO COMPARTIDO / TIEMPO LIMITADO, Lugar de trabajo, Mexico City, Mexico
2018 72. Bergische Kunstausstellung, Museum Baden, Solingen Massephase, Sprink, Düsseldorf
HERE AND ELSEWHERE, Edificio Vizcaya, Mexico City, Mexico
2017 Wiesenstück, Van der Grinten Galerie, Cologne
Erwarten Sie Wunder! Das Museum als Kuriositätenkabinett und Wunderkammer, Museum Ulm Every Cult its Castle, Werkschauhalle, Spinnerei Leipzig
2016 WALD, Van der Grinten Galerie, Cologne
ZOO, Lepisen Art Foundation, Düsseldorf
KUMSITZ, KIT, Düsseldorf
Julian Cording, Sebastian Lundwig, Christoph Knecht, Seb Koberstädt, Museo de Arte Contemporáneo de Oaxaca, Oaxaca, Mexico
2015 Temporary Relocation, Herzliya Museum of Contemporary Art, Israel Das Echo fragt warum, Van der Grinten Galerie, Cologne
2014 A glorious gift, Museum van Bommel van Dam, Venlo, Netherlands
Reality Sandwich, Van der Grinten Galerie, Cologne
Der Traum des Kolibri, Galerie Luis Campaña, Berlin
Paul Pretzer, Christoph Knecht, Stefan Lenke, ATELIER Seidel / Geiss, Leipzig
2013 HIPPIEJUMP, Atelier Seb Koberstädt, Düsseldorf
Stelldichein, Bruch&Dallas, Cologne
Van Bommel van Dam Prize 2013, Museum van Bommel van Dam, Venlo, Netherlands, and Rudolf- Scharp-Galerie (of Wilhelm-Hack-Museum), Ludwigshafen
2012 Sunday Park, Galerie Rupert Pfab, Düsseldorf
Single im Juli, Single Club, Düsseldorf
THE REALITY OF THE UNBUILT, Stiftung Insel Hombroich, Neuss
richtig schön aber falsch ist auch schön, Atelierfrankfurt, Frankfurt am Main
2011 CHRISTOPH KNECHT
Zwiefach, Forum Kunst, Rottweil
Roter Milan, Hawerkamphalle, Münster Schwarzwald, Dominikanermuseum, Rottweil
2010 Retourkutsche, Künstlerverein Maerz, Linz, Austria Landschaften, Städtisches Kaufhaus Leipzig
You can leave your head on, Schmelahaus, Düsseldorf Artleib / Die Editionen, Artleib, Düsseldorf
2009
Rundblick, Temporary Gallery, Cologne
Concrete Spaceroom 4, Blueroof Gallery, Chengdu, P.R. China
First Chongqing Biennal for the Young Artists, International Exhibition Center, Chongqing, P.R. China Inventur, Etching in Germany, Picasso Museum Münster
RölfsPartner Kunsttage, KIT Düsseldorf
2008 Gottesraum, art award of the Erzdiözese Freiburg, Morat Institut Freiburg
Interchange, Exhibition space of the Aichi Prefectual University of Fine Arts, Nagoya, Japan 1001 Bild, Villa de Bank, Enschede, Netherlands
Mischanlage von Dr. Urlaub, Zeche Zollverein, Essen
XVth German International Triennial of Graphic Art, Kunstverein Frechen
Spiegelbild, KIT Düsseldorf
Inventur. Etching in Germany, Kunstverein Reutlingen
Unterholz, Dina4 Projekte, Berlin
2007 61. Bergische Kunstausstellung, Museum Baden, Solingen first view, Kunsthalle Erfurt
Porno total Illegal – für eine Liebe, Meyerhof, Vienna, Austria the great show, Atelier Ostrowski / Sistig, Cologne
Grafik, Kulturbahnhof Eller, Düsseldorf