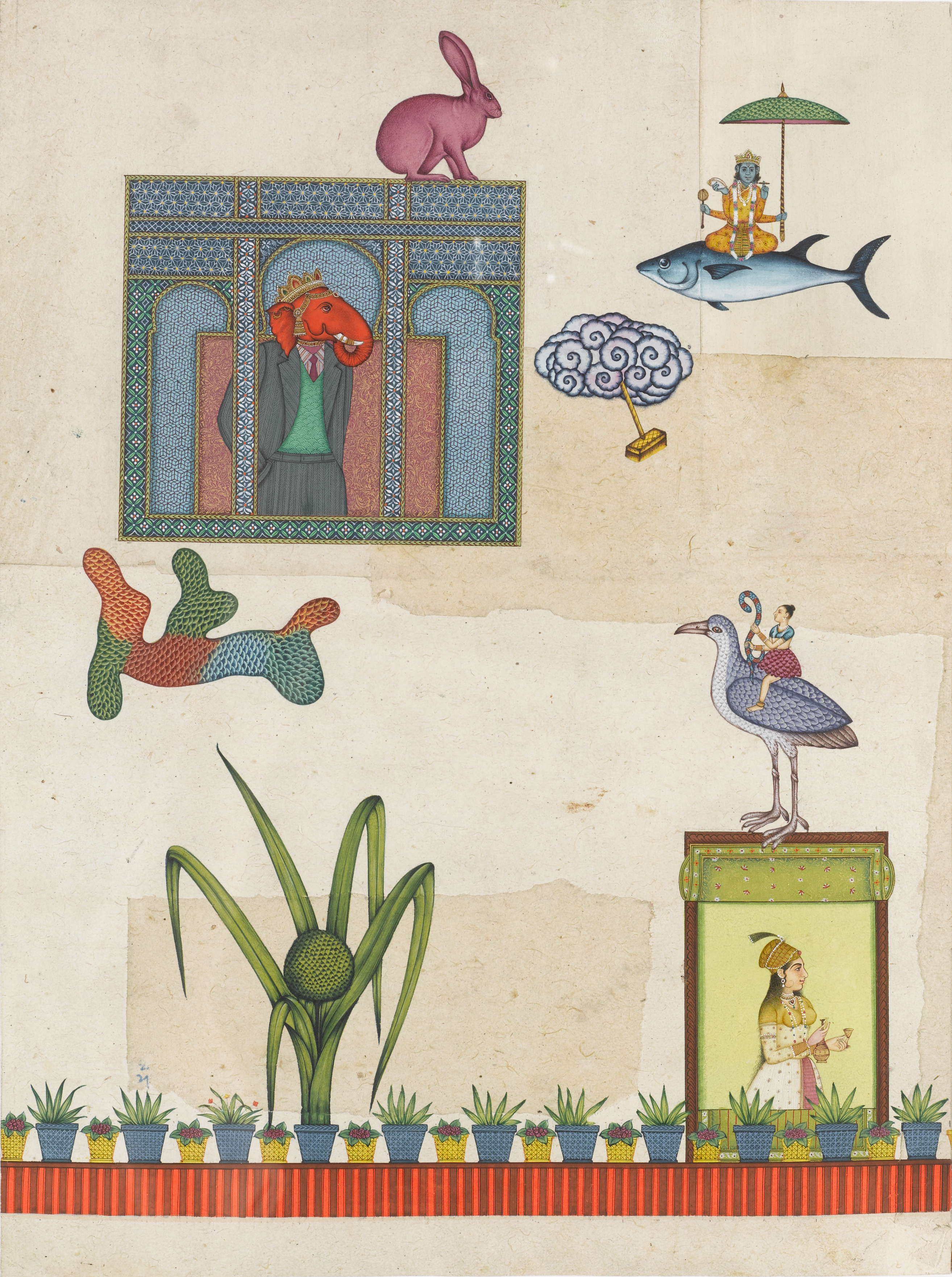 Alexander Gorlizki: Looking In – Looking out (2013), Gold and Paint on Paper, 42,5 x 32 cm. Added to the collection in 2014.
"Looking In – Looking Out" as well as "Do you smell the Coffee" were part of Alexander Gorlizkis solo representation "Are we there yet?" in 2013 that was mentioned in the "Frankfurter Allgemeine Zeitung", Germanys leading newspaper. Below: view of the installation the FAZ called a giant "Where's the Wally" panorama: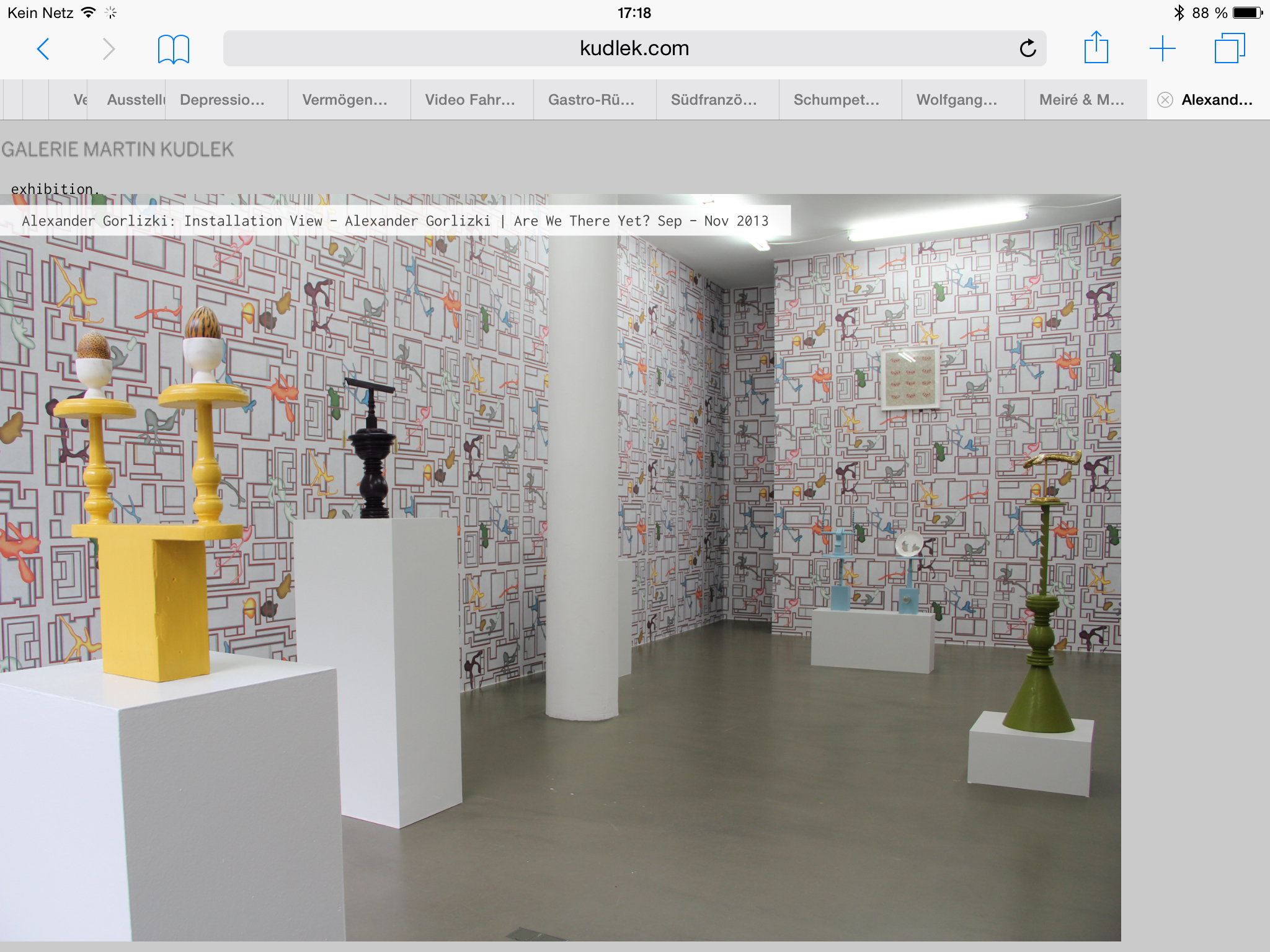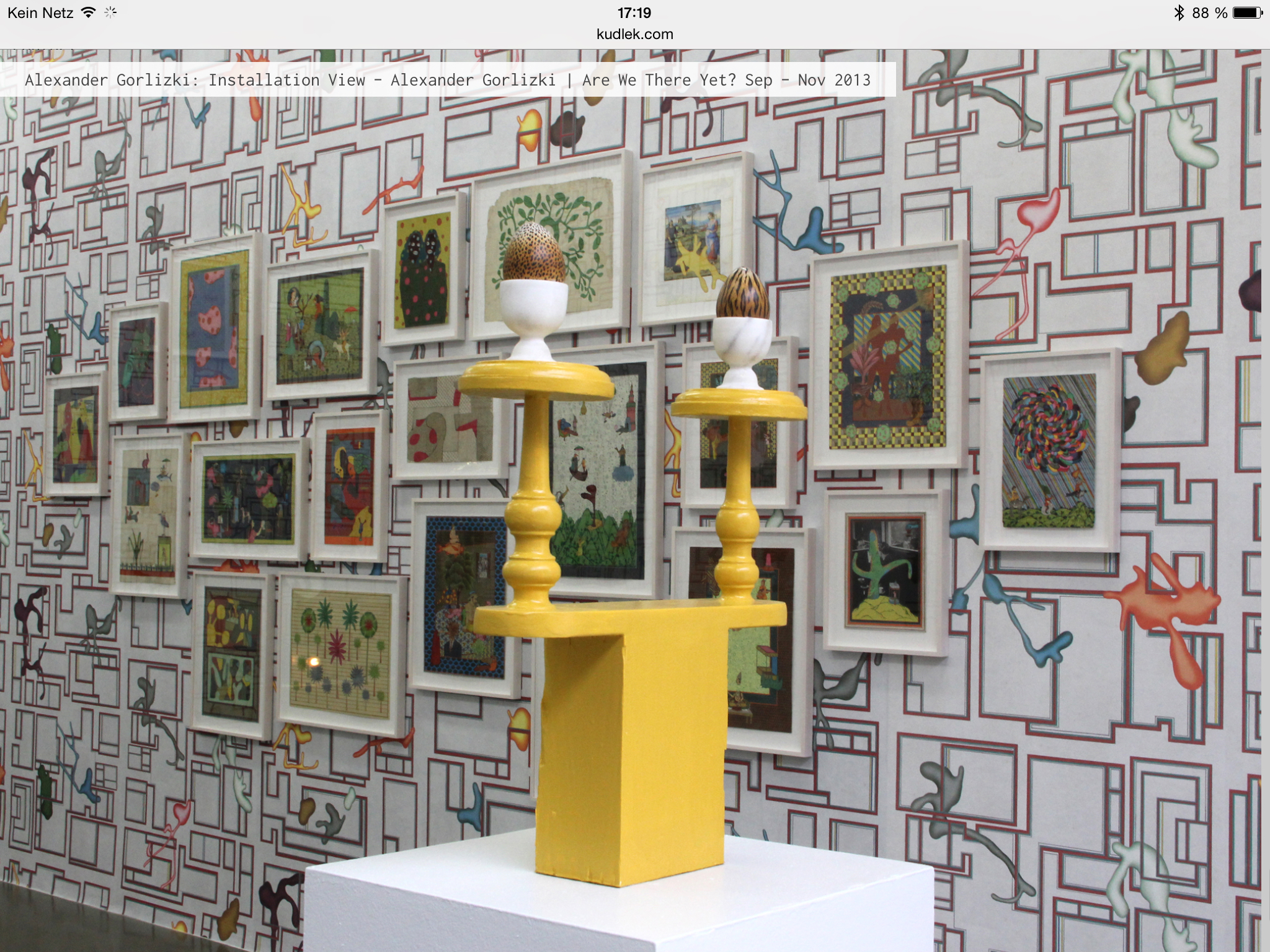 P.S. Alexander has a very funny instagram channel, inspirational, sometimes personal and always interesting to watch, check it out.
// Alexander Gorlizki / vita
1967 born in London/ UK
1994 MFA in Sculpture, Slade School, London/ UK
1992 B.A. Hons Fine Art, Bristol Polytechnic/ UK
1991 Foundation Course in Art and Design, Bristol Polytechnic/ UK
Currently lives and works in New York/ USA.
SOLO EXHIBITIONS
2017 Pink City Studio Beyond Malabar Gallery, Kochi/ IN
2016 Subtle Bodies, Saucy Lines, Galerie Martin Kudlek, Cologne/ D
2015-2016 Variable Dimensions, Crow Collection, Dallas/ USA
2015 Special Presentation, Van Doren Waxter, New York/ USA
2014 We Are One, Galerie Eric Mouchet, Paris/ F
What Gives?, Baldwin Gallery, Aspen/ USA
2013 Are We There Yet?, Galerie Martin Kudlek, Cologne/ D
For Immediate Release, Van Doren Waxter, New York/ USA
2012 We Like It Here, We're Not Moving, Jhaveri Contemporary, Mumbai/ IN
2011 Terms and Conditions Apply, Kudlek van der Grinten Galerie, Cologne/ D
2010 The First Time I Heard You Blink, Greenberg Van Doren Gallery, New York/ USA
Pre-existing conditions, John Berggruen Gallery, San Francisco/ USA
2009 Appointments & Disappointments, Kudlek van der Grinten Galerie, Cologne/ D
Soft Succulent Sublime, Daniel Weinberg Gallery, Los Angeles/ USA
2008 Lunchmeat on my Pantsuit, Gallery Joe, Philadelphia/ USA
What grows here?, Joost van den Bergh Gallery, London/ UK
Gallery Joe, Philadelphia/ USA
Alexander Gorlizki & Indian Spells, Ingleby Gallery, Edinburgh/ UK
Strange you can believe in, Daniel Weinberg Gallery, Los Angeles/ USA
2007 Works on Paper, Kudlek van der Grinten Galerie, Cologne/ D
2006 Pipedreams, collaboration with Riyaz Uddin, Joost van Bergh Gallery, London/ UK
2004 Plastic Mystic, Huddersfield City Art Gallery/ UK
Genuine Fake, Martin Kudlek Gallery, Cologne/ D
Out of This World, collaboration with Riyaz Uddin, Ben Jannsen Gallery, London/ UK
2003 Classroom, PS122 Project Space, New York/ USA
Breathless, in Collaboration with Riyaz Uddin. Ben Jannsen Gallery, London/ UK
North Sea Circle – Viewer's Cut, in collaboration with Richard Coldman, Globe Gallery, North Shields/ UK
2000 Introspektive, Martin Kudlek Gallery, Cologne/ D
Import/ Export, Vilma Gold Gallery, London/ UK
1999 Seven (Unknown) Famous Belgians, De Chiara/ Stewart Gallery, New York/ USA
1997 Alexander Gorlizki Collection, RAU, London/ UK
1995 24 Crucifix Lane, Bermondsey, London/ UK
 
GROUP EXHIBITIONS
2017 Washington 186, Aeroplastics Brussels/ B
Thinking Tantra, curated by Rebecca Heald, Peninsula Arts, Plymouth/ US
Zeichnung 17, Michael Sturm Gallery, Stuttgart / D
Drawing Biennial 2017, The Drawing Room, London/ UK
2016 LIMINAL LYRICS, curated by Hedwig Brouckaert, KUNSTRAUM Gallery, Brooklyn, NY/ USA
Thinking Tantra, The Drawing Room, London/ UK
Traversing Traditions/India, curated by Kathryn Myers, Charter Oak Cultural Center, Hartford, CT/ USA
Le Contemporaine Dessiné, Musée des Artes Décoratifs, Paris/ F
2015 Hoogtepunten uit de collectie, Museum de Buitenplaats, Eelde/ NL
2013 40 Years At The Daniel Weinberg Gallery, Ambach and Rice, Los Angeles/ USA
Considering Collage, Jhaveri Contemporary, Mumbai/ IN
Approaching Infinity: The Richard Green Collection of Meticulous Abstraction,
Crocker Art Museum, Sacramento/ USA
2012 Bear Necessities, John Berggruen Gallery, San Francisco/ USA
Embellised Reality: Indian Painted Photographs, Royal Ontario Museum/ CAN
Walking the Line IV, Galerie Martin Kudlek, Cologne/ D
2011 Espaces de destins – espèces de dessins, Le Dix-neuf, CRAC Montbéliard/ F
Walking the Line III, Kudlek van der Grinten, Cologne/ D
Watching Me Watching You, Denver ARt Museum, Denver/ USA
The Art of Giving, John Berggruen Gallery, San Francisco/ USA
2010 Walking the line II, Kudlek van der Grinten Galerie, Cologne/ D
Bestiary, The Wassaic Project, Wassaic, NY,
curated by Sally Morgan Lehman, Liz Parks, Sally Zunino, New York/ USA
2009 Drawing, Valerie McKenzie Fine Art, New York/ USA
On Paper, Galerie Karsten Greve, Paris/ F
Another Damned Drawing Show, Daniel Weinberg Gallery, Los Angeles/ USA
2008 Conversations, Kettles Yard, Cambrige/ UK
Newfangled Licks, Geoffrey Young Gallery, Great Barrington/ USA
Wir für Euch, Kudlek van der Grinten Galerie, Cologne/ D
Walking the line, Kudlek van der Grinten Galerie, Cologne/ D
It's Gouache and Gouache only, Jeff Bailey Gallery, New York/ USA
2007 Timothy Taylor Gallery, London/ UK
2006 The next Doing, Geoffrey Young Gallery, New Barrington/ USA
Table Top, Josee Bienvenu Gallery, New York/ USA
Fine Line, Adam Baumgold Gallery, New York/ USA
2005 Drawings, Martin Kudlek Gallery, Cologne/ D
2004 Project Artists, PS122 Studios, New York/ USA
2001 Drawings, Curated by Shirley Morales, De Chiara Gallery, New York/ USA
The Globe, Kunstlerhaus Palais Thurn und Taxis, Bregenz/ A
DarkLight, Martin Kudlek Gallery, Cologne/ D
2000 Where Have All The People Gone?, De Chiara/ Stewart Gallery, New York/ USA
Drawings, Martin Kudlek Gallery, Cologne/ D
1999 RWA Sculpture Triennial, Royal West of England Academy, Bristol/ UK
Father Apollinaris Said, Curated by Adrian George. Vilma Gold Gallery, London/ UK
1998 Absolut Cobblers, The Concourse Gallery, Barbican Centre, London/ UK
 
CURATED EXHIBITIONS
2002 Restless Spirits, Martin Kudlek Gallery, Cologne/ D
2001 DarkLight, Martin Kudlek Gallery, Cologne/ D
 
BIBLIOGRAPHY
2011 Crow, Kelly, "At Armory, Fast Food, 3-D and Some New Big Guns,"
The Wall Street Journal, Saturday / Sunday March 5-6, C14. (illus.)
Leigh, Bobbie, "Big Deals and Big Win at the Armory," www.luxist.com, March 5 (illus.).
2010 The Millbrook Independent, "Wassaic Project's Bestiary," Wednesday, June 30.
Smith, Roberta, "Alexander Gorlizki: The First Time I Heard You Blink,"
The New York Times, April 29.
Baker, Kenneth, "Alexander Gorlizki echoes India at Berggruen," San Francisco Chronicle, August 7.
2009 LA Times, "Revisiting the art of the minitature," Friday, November 13, 2009.
Kunstforum, March.
2008 Smith, Roberta, "Fair Goes From Feast to Tasting Menu," The New York Times, March 15.
2007 Eden, Laura, "Alexander Gorlizki," Elle Décor, December.
Herbert, Martin, "Paper Baglady and Other Stories," Time Out, London, July.
2000 "Kunst des Absurden," Kölner Stadt-Anzeiger, November 26.
Mattes, Steffan, Megacult.net.
Artist Newsletter, May, p.10.
Millennium Monument Magazine, September.
1996 Smith, Roberta, "Thaw," New York Times, September 13, p. C 30.
Hornor, Dave, "At Art in General, 'Thaw' Follows in Footsteps of 'Frieze.'"
The Tribeca Tribune, Nov. 2, p.28.
McClure, Lisa, Review Magazine, September 15, p. 28.
 
PUBLICATIONS
Vanishing Point, 2009.
What Grows Here?, exhibition catalogue, 2008.
Bart, Roland, The Globe Catalogue, 2007.
EG 2006 Conference Catalogue, 2006.
I Love You If You Love Me, Ed: 175, 2000.
The European Design Annual, 2000.
Seven (Unknown) Famous Belgians, in collaboration with Nick Eagleton, 1999.
Books by Artists, Ed. Sarah Bodman UWE, 1999.
RWA Sculpture Triennial Catalogue, 1999.
Fixture, exhibition catalogue, essay by Nick Eagleton, 1999.
Thaw, exhibition catalogue, essay by Laurie De Chiara, 1999.
Yori, Ed : 100, 1996.
And Other Drawings, Ed : 100, 1995.
 
SELECTED COLLECTIONS
Aspen Art Museum, Aspen, USA // Museum Kunst Palast, Düsseldorf, D // Royal Ontario Museum, Toronto, CA // Victoria & Albert Museum, London, GB // Denver Art Museum, Denver, USA // Collection Antoine de Galbert, Paris, F // Artothèque Limousin, Limoges, F // Museum de Buitenplaats, Eelde NL
AWARDS AND RESIDENCIES
2003/2004 PS122 Studio Residency, New York
2003 The Classroom. PS122 New York
Duveen Travel Award for research in Pakistan, China & Tibet
Research funding for publication from U.W.E. Bristol
European Design Annual 5, 2000 – Certificate of Excellence